Posts: 2012
Joined: Tue Jun 26, 2007 8:04 am
Location: Denver
Just finished a fascinating non-fiction book entitled
The White Cascade: The Great Northern Railway Disaster and America's Deadliest Avalanche
by Gary Krist. True, almost documentary-style, account of a real life natural tragedy that occurred in the early 1900's. The photos included are stirring, as are the personal journals and letters from those involved (and subsequent court records and testimony).
As if none of us have ever come back with a cool, quasi-epic story instead of being victim to tragic rockfall, a fatal stumble, a heart attack, an embolism, a lightning strike, a bear attack, collapsing cornice, some psycho with an axe, a falling tree, carbon monoxide, even falling asleep at the wheel getting to a mountain. If you can't accept the fact that sometimes "s**t happens", then you live with the illusion that your epic genius and profound wilderness intelligence has put you in total and complete control of yourself, your partners, and the mountain. How mystified you'll be when "s**t happens" to you! - FM
---
Posts: 922
Joined: Wed Oct 04, 2006 11:16 am
Location: Denver, CO
Matterhorn by Karl Marlantes. Terrific Vietnam War story.
Alif the Unseen by Willow Wilson. A Middle East hacker chased by corrupt government and worse creatures during Arab Spring.
Bill Lynn's Long Halftime Walk by Ben Fountain. Heroes of the Iraqi War paraded through a Dallas Cowboys halftime show to build support for the war.
Defending Jacob by William Landay. A prosecutor's 14-year-old son is accused of murdering a classmate.
The Snow Child by Eowyn Ivey. Alaskan pioneers living a Russian folk tale.
Rules of Civility by Amor Towles. Love triangle in the Flapper Era of Manhattan.
The White Tiger by Aravind Adiga. Booker Prize winner about a driver / hustler surviving in booming India.
A Fine Balance by Rohinton Mistry. Dickens-like tale of two poor tailors in India.
City of Thieves by David Benioff. Fun thriller about a Jew and a Russian war defector and their quest to find eggs during Hitler's starvation blockade of Leningrad.
Touring Colorado Hot Springs by Susan Joy Paul. Woo-hoo!
---
Posts: 2
Joined: Wed May 09, 2012 4:38 pm
Desert Reckoning: A town sherriff, a Mojave hermit and the biggest manhunt in modern California history by Deanne Stillman.
I just finished The Dog Stars by Peter Heller. It's a post-apocalyptic novel set in Colorado.
---
Posts: 52
Joined: Mon Oct 24, 2011 9:30 pm
Location: Overland Park, KS
"Ghost Soldiers" by Hampton Sides. Story of a WW2 mission to rescue ~500 POWs in a Phillipines prison camp.

Just finished Viesturs's "No Shortcuts To The Top".

Vacation coming up, now I get to add to the list!
Climb on!
---
Posts: 697
Joined: Sun Jul 17, 2011 4:31 pm
Location: Rosedale, Kansas
Desert Solitaire
by Edward Abbey
Some rise, some fall, some climb to get to terrapin
NoCoChris
: Now with less Colorado!
---
Posts: 148
Joined: Tue Oct 11, 2011 10:32 am
Location: albuquerque, nm
If you want post-apocalypse+Colorado, nothing beats the master, Stephen Kings The Stand. That being said, I'm studying for my promotional exam, so im reading fascinating tomes like "Personnel Mgt. in the Fire Service". Kill me now. Peace!
---
Posts: 1588
Joined: Mon Sep 07, 2009 6:58 pm
Location: Colorado Springs
Working my way through the Hunger Games trilogy for a 2nd time. Yes, it's for teenagers; yes I enjoyed the books (although I could do w/o the love triangle).

Interesting what political themes people draw comparisons to from the book, generally biased toward their own political beliefs.
Last edited by
djkest
on Fri Sep 07, 2012 6:42 am, edited 1 time in total.
---
Posts: 431
Joined: Mon Mar 21, 2011 7:29 pm
Location: Denver, CO
I am reading this thread.

dj- saw the movie and liked it...looking forward to reading the books!

Also want to pick up the former SEAL's book about the Bin Laden raid.
---
Posts: 986
Joined: Fri Jul 18, 2008 9:12 am
Great thread. I need some ideas.

After too much of my usual diet of politics, history, economics, etc., I picked up some of the Conan series written by Robert E. Howard. I read all 12 in high school, on several occasions. I had forgotten how good of a storyteller Howard was.
I need more dehydrogenase.
---
Posts: 120
Joined: Mon Jan 09, 2012 4:45 pm
seano732 wrote:If you want post-apocalypse+Colorado, nothing beats the master, Stephen Kings The Stand.
+1 for Stephen King. I'm currently finishing The Shining, another great book that involves Colorado.
---
Posts: 1475
Joined: Sat May 10, 2008 6:43 pm
Location: Estes Park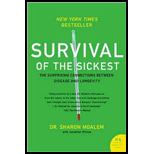 Survival of the Sickest

: The surprising connections
between disease and longevity
.
I WAS working on 3 other books but after having this book recommended by my old Biology Professor, I've dropped everything else to focus on this.
The beta contained therin is absolutely fascinating. He talks about how diseases like: diabetes, high cholesterol, plant [food] allergies, anemia, etc. were at one time
actually beneficial to human survival, adaption to the environment.
I'll type out parts of 2 paragraphs from a chapter called, "A Spoonful of Sugar Helps the Temperature Go Down". Only because it involves something we've all experienced...having to pee when it gets cold.
"The body has one more response to the cold that's not completely understood--but you've probably experienced it. When most people are exposed to the cold for a while, they need to pee. This response has puzzled medical researchers for hundreds of years. It was first noted in 1764 by Dr. Sutherland who was trying to document the benefits of submersing patients in healing but cold waters. After submersing his patients due to a myriad of ailments, Dr. Sutherland noticed that the patient was 'pissing more than he drank.' Sutherland chalked it up due to external pressure...he was wrong. It wasn't until 1909 that researchers connected increased urine flow, or diruesis, to cold exposure.
The leading explanation for cold diuresis-the need to pee when it's cold-is still pressure; but it's not external pressure, internal pressure. The theory is that as blood pressure climbs in the body's core because of constriction in the extremities, the body signals the kidneys to offload extra fluid. But that doesn't explain the whole process...more recently conducted studies by the military have shed light on a much bigger problem-like a disease that currently affects 171 million people...diabetes.
...Eliminating water and driving up blood sugar levels to deal with the cold: Grapes do it. Now we know that some amphibeans do it also. Is it possible that some humans adapted to do it, too?
Is it a coincidence that the people most likely to have a genetic propensity for a disease characterized by exactly that (excessive elimination of water and high levels of blood sugar) are people descended from exactly those places most ravaged by the sudden onset of an ice age about 13,000 years ago? It's hotly debated, but diabetes may have helped our European ancestors survive the cold of the last ice age...any adaptation to manage the cold, no matter how disadvantageous in normal times, might have made the difference between making it to adulthood (reproducing) and dying young."
The chapter than goes on to talk about the effects of fluids freezing in the body, blood sugar levels and how diabetes once helped to protect folks from cold.
It also talks about something I've NEVER come across in all my biology courses...
Brown Fat
.
Riveting book!!!
---
Posts: 18
Joined: Fri Aug 24, 2012 11:57 am
Location: Gunnison Colorado
Damn Dude, now I gotta read that!
I'm sure you've heard of it but I love the gaia hypothesis by james lovelock.
---
Who is online
Users browsing this forum: No registered users and 20 guests