Forum rules
Please be respectful when posting - family and friends of fallen climbers might be reading this forum.
Posts: 821
Joined: Wed Jun 22, 2005 12:20 pm
Location: Littleton
I thought I would start a thread where we can all record our peaks logged for TM so his spirit can carry on with us.
I'll go first. TM was with Roozers and I on Horseshoe Mtn. We placed a prayer flag at the top for him and made some peace. It was a befittingly gorgeous day. It was emotional for both of us but at the same time it was very nice to have someone close to him up there with me. We miss our friend.
There are some trips you never fully come back from.
---
Posts: 947
Joined: Tue May 16, 2006 1:00 pm
Location: Morrison, CO
---
Posts: 2372
Joined: Tue Jul 26, 2005 2:35 pm
I already posted this elsewhere, but here's the official place...
May 20th, I signed David's name alongside my own on the register of Humphrey's Peak, the Arizona highpoint. It was cool to look back in the register and see his entry from six months prior. As Humphrey's is a sacred peak to the Dine, I did not down any Colt .45, but hope he joined me as the highest man in AZ.
We are all greater artists than we realize
-FWN
A man is rich in proportion to the number of things he can afford to let alone.
-HDT
Peak List
---
Posts: 1293
Joined: Tue May 30, 2006 12:18 pm
Location: Lower Highlands/Denver, CO USA
Mt Sherman 5/18... You'll be missed TM.
On my first take-off, I hit second gear and went through the speed limit on a two-lane blacktop highway full of ranch traffic. By the time I went up to third, I was going 75 and the tach was barely above 4000 rpm....
And that's when the Ducati got its second wind. From 4000 to 6000 in third will take you from 75 mph to 95 in two seconds - and after that, Bubba, you still have fourth, fifth, and sixth. Ho, ho.
~Hunter S. Thompson, Song of the Sausage Creature

(VT)
---
Posts: 31
Joined: Tue May 08, 2007 6:34 pm
Location: North Carolina
Thank you, Tracy, and everyone else. Thank you for carrying on my brother's legacy, and his dreams. David would feel so honored.
Thank you all for loving my brother and being his friends. You all sound like amazing friends. I can't thank you enough. Holly Newsome
---
Posts: 493
Joined: Mon Jul 26, 2004 12:13 pm
I plan on having an area on TalusMonkey.com for this type of stuff.
---
Posts: 520
Joined: Thu Jun 16, 2005 1:17 pm
Location: Boulder, CO and Billings, MT
Thanks for posting that picture, Tracy, it was a very sad but special moment. I'm glad we were together on the summit to support each other and remember him. I can't think of a better place to have been able to say a proper good-bye to David.
---
Moderator
Posts: 1637
Joined: Thu Aug 04, 2005 9:46 pm
Location: San José del Cabo, BCS, México
I just climbed Mauna Kea, HI today- a highpoint David had future plans to do. I'll write a trip report later today.
Last edited by
USAKeller
on Fri May 25, 2007 6:05 pm, edited 2 times in total.
---
Posts: 926
Joined: Thu Jul 13, 2006 5:17 pm
Here is me at the Michigan high point, Mt. Arvon. The sign gives the name of the mountain and the altitude but unfortunately can't be read. The Mountain wasn't really a mountain but it was a fun trip and David's name is now on the summit register.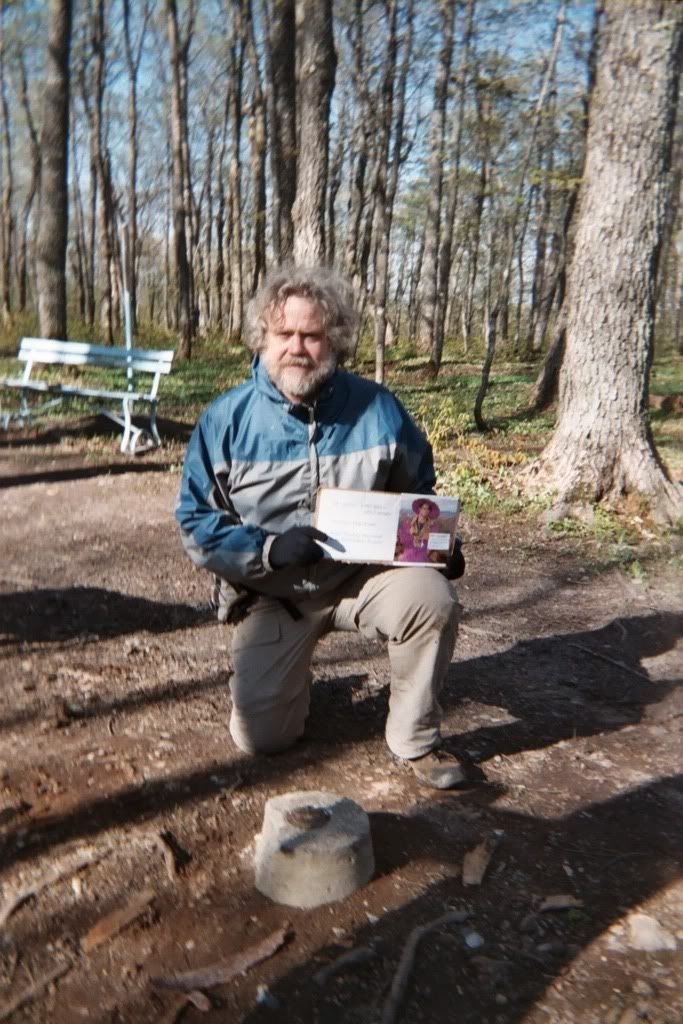 I'm really iching to get to Colorado! June 17th I get to start driving west for an extended stay
"Just because you have the gear does not mean that you are a Mountaineer!" My daughter's cynical comment about my hobby...
---
Posts: 109
Joined: Sun Jan 29, 2006 9:24 am
Location: Golden, Colorado
On my 2nd Anniversary of my 1st 14er (Bierstadt June 18, 2005) I went down to Quandary to get my 5th summit. I forgot the 8 oz Mountain Dew, but I brought my Mini-Talus Monkey I bought a few years ago here at the Fed Center. I will now bring it with me on all my 14er summits, and the pirate flag in tribute to David.
This is the look down from the summit
Talus Monkey lives on.............................
Sorry I didn't make the tribute hike, had to work till 10pm on Saturday
---
Posts: 264
Joined: Tue Sep 06, 2005 2:51 pm
Couple of days ago I summited Alta peak in Sequoia NP. Though it is just 11200', it is a good hike (7mi one way, 3800'+ elevation gain, beautiful views). I dedicated this hike to Talus Monkey.
The only thing better than mountains are mountains to which you have never been!
---
Posts: 161
Joined: Thu Jul 27, 2006 7:00 am
Location: DFW, TX
Last week I summited Mt. Whitney. I didn't bring any Mountain Dew, Cap'n, or any other mementos with me as it was hard enough on me with the minimum, but I had a great time and definitely pictured TM doing the Captain Morgan pose on top of the continental US as I was up there.
---
Who is online
Users browsing this forum: No registered users and 8 guests