Forum rules
Please be respectful when posting - family and friends of fallen climbers might be reading this forum.
Posts: 2000
Joined: Fri Sep 08, 2006 1:11 pm
Location: Colorado Springs
I just got some very tragic news about Spencer Swanger. Can anyone confirm his fall in the Dolomites? I'm sincerely hoping that my source is mistaken. We all know and love Spence, and this would be a truly devastating blow to all his friends, and the climbing community.
---
Posts: 2000
Joined: Fri Sep 08, 2006 1:11 pm
Location: Colorado Springs
Sadly, the worst has been confirmed. Rest in peace, Spencer, you were a great climber and an even better friend.
Mount Bross - May 4, 2006
The Crestones - September 1, 2006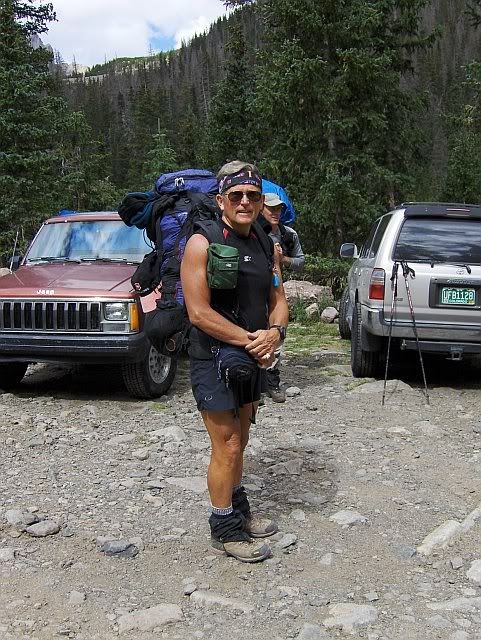 Heading up to Crestone Peak - September 2, 2006
Crestone Peak Summit - September 2, 2006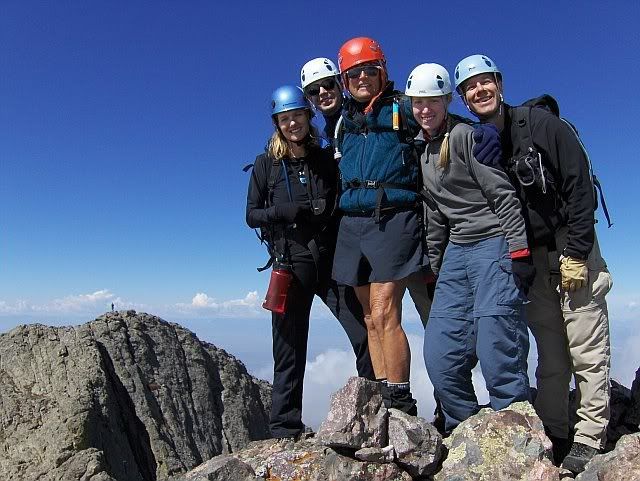 Crestone Needle Summit - September 3, 2006
---
Posts: 2691
Joined: Thu May 17, 2007 2:59 pm
Location: Littleton, CO
My sincere condolences.
Red, Rugged, and Rotten: The Elk Range - Borneman & Lampert
---
Posts: 1968
Joined: Sat Mar 11, 2006 7:33 pm
Location: Canon City, Colorado
I'm so sorry......thoughts are with you tonight. Sincere condolences to his family and friends. I'm sure his life touched many people.
"Life is not measured by the breaths you take, but by the moments that take your breath away."
---
Posts: 1717
Joined: Wed Nov 21, 2007 10:14 am
Location: Englewood, CO
Susan: Very, very sorry to hear of this. Condolences to his family and friends.
-Tom
---
Posts: 825
Joined: Thu Jul 02, 2009 6:49 am
Location: Golden, CO
---
Posts: 52
Joined: Sat Apr 19, 2008 8:30 am
Location: Colorado Springs, CO
Susan, thanks for posting all the photos of Spence. He's going to be missed by a lot of us who were lucky to be his friends and climbing partners. As you know, Spence had a quick smile and wit and would do anything for his friends.

I've known Spence since 1968 when I was a gangly high school kid and he was a bad-ass 30-something climber. Spence taught me a lot back then about moving in the mountains, climbing safely, paying attention to weather and snow conditions, and we had a lot of great adventures on the Fourteeners and other peaks. He was, if 14er.com readers aren't aware, the first person to climb the 100 highest peaks in Colorado. That was a great achievement.

One of the best was the first ascent we did with Carson Black and a couple others of Thunder Pyramid in August of 1970. We called it Thunder Mountain that day, as a storm roiled over the Bells. I talked to him last in early June and suggested we do a 40th anniversary ascent of the peak this August since the three of us were the last climbers still alive that did the first ascent of one of the Centennial peaks. He was unsure. Now he can't so it will have to be a memorial ascent for my friend Spencer Swanger...damn. Rest in peace brother.

Stewart Green
---
Posts: 5
Joined: Thu Jan 01, 2009 5:16 pm
Location: Colorado Springs
A sad day indeed.

I had the great privilege of knowing him, hiking with him and learning from him.

He was full of life.

He will be missed.
Attachments

Italy - Dolomites - 2008
DSC00115.jpg (154.94 KiB) Viewed 9788 times
---
Posts: 2000
Joined: Fri Sep 08, 2006 1:11 pm
Location: Colorado Springs
It's great to read stories and see photos from others who knew Spencer, so thanks for sharing them. I think that anyone who knew him has a story or two, or three, to tell!
I posted this a couple of years ago; it's an article I wrote about Spencer, for a newsletter. I think it's appropriate to repost it here, as a reminder of the profound effect Spence had on his climbing partners, and his historical influence on the climbing community in general. We owe him, and all those great mountaineers who came before us, a great deal of debt.
A Legend Speaks: Spencer Swanger Brings the Mountain Magic
September in the Sangre de Cristos. The 14er climbing season is coming to a close and you just don't want to let it go. These are the times you cling to - they slip through your fingertips like shattered sandstone on a granite ledge, and you know you'll never get them back. So you hold on to one more weekend, and manage to squeeze six more peaks into just a few days. You have the perfect campsite at the base of the most spectacular jumble of conglomerate rock in Colorado: the Crestones. A clear, cool creek babbles softly just a short hike from your site, providing an endless supply of refreshment. You sit up until dark with the best friends you've ever had, your climbing buddies. The trees shelter you from the light evening showers, and after the skies clear each night the stars twinkle gently through the branches like fireflies in the dark. You lie alone in your tent, after another perfect day of climbing, eyes wide open because you know that today you're the luckiest person in the whole world and you just don't want it to end.
These are what weekends are like with Spencer Swanger. I've had the pleasure of following Spence up Mounts Sherman, Sheridan and Bross in the Mosquitoes; Bierstadt in the Front Range; Uncompahgre and Wetterhorn in the San Juans; and Broken Hand, Crestone Needle, Crestone Peak and East Crestone Peak in the Sangres. There's something magical about these days that makes them more than just memories - they are times of real joy, and when they end you know you've just experienced something special, and even if you never see Spence again, he's going to be on a short list of the people you're most thankful to have met in your lifetime.
Spence's name is also on a short list of Rocky Mountain legends. It's not surprising, then, that these are the people he learned with. People like Carl Blaurock, the first person to summit all the Colorado 14ers, and Paul Petzoldt, who founded the well-known National Outdoor Leadership School (NOLS). Spence's collection of books carries personal inscriptions from more old friends whose names you may recognize: noted Colorado author, educator, and mountaineer Robert Ormes; Gudy Gaskill, the first woman president of the Colorado Mountain Club and "Mother of the Colorado Trail;" and William M. Bueler, who wrote
Roof of the Rockies, A History of Colorado Mountaineering
. Spencer makes a brief appearance in that particular tome, his place in history secure by the fact that he was the first person to summit the one hundred highest peaks in Colorado, known as "The Centennials." Spencer also appears in
The San Juan Mountains
by Robert F. Rosebrough; there's a splendid shot of him atop Pigeon Peak, one of the final peaks in his journey to complete the high one hundred.
Spence's iconic standing is not only due to his position as an active link between the history and the future of Colorado mountaineering - he's an amazingly prolific climber as well, completing more than seven hundred summits to date - seventy of them just in the past year. He's led hikes up all of the 14ers (including 23 trips to the Maroon Bells), and although he completed them all for the first time in 1972, he keeps going back, with at least four climbs on each, and dozens of climbs on many. Spence enjoys the more obscure wilderness areas of the state as well, and continues to lead both summit trips and long backpacks through the state, because, he notes,"I really enjoy taking all the young people out there."
Take a tour of the Southwestern casa Spencer shares with his beautiful partner, Karen, and you'll get a glimpse into an adventurous past filled with travel to more than thirty countries, a life Spence enjoyed as a professional outdoor photographer. Landing a coveted job for a national stock agency, Spencer hiked the world, from the Himalaya to the Serengeti, and showcased his magnificent photographs in prominent publications including
National Geographic
,
Backpacker
,
National Wildlife
and
Reader's Digest
magazines. His appreciation for the sheer beauty of the landscape and wildlife is evident in the lighting, color and form of the images he has captured on film, and is even more impressive in light of the fact they were created prior to the digital age. What you see is what Spence created with nature as his canvas, and a simple camera as his tool.
While Spencer's name carries a legendary status, in his own words, he is "every man." Climbing Crestone Needle last fall, Spence stopped a moment to enjoy the beauty of the climb. There he stood, striking a majestic silhouette against the pink and orange rock, taking a long, cool drink from his Nalgene bottle. A couple of guys were climbing alongside us in a gully 50 feet away, and one yelled out,"That's quite a pair of 55-gallon drums you got there, Mister!" Spence looked at the climber, then down at his climbing party, for an explanation for the outburst. "He's talking about your legs," explained Dave Dietz, one of Spencer's climbers. Spence just nodded slowly, holstered his water, and then moved on, unaffected by the anonymous salute to his muscularity. He was there for the mountains; he was there for the climb.
But all that history, and all those accomplishments, do not explain the mountain magic he brings to every outing. When Spencer first started hiking, "The sport was still young. We climbed in big clunky boots and carried heavy ropes, and there was no protection. We didn't even have harnesses back then. There were no trails, or cairns, or books that showed you where to go. It was a challenge. You had to figure it out and that was really the fun part." Spence continues to bring that sense of adventure to every outing. "I love being out with the younger people, who are seeing all this for the first time. I let everybody discover for themselves what we're going to do, where we're going to go. It has to be an adventure, or why bother?"
There is real beauty possible in every adventure, and Spence has mastered the skill of discovering it. And, perhaps even more importantly - he's mastered the art of making every outing an adventure. Rather than rely on high-tech gadgets and well-documented trail descriptions, he uses his own eyes, his own mind, to take him where he wants to go. He has effectively shunned the cold science of mountaineering and continues to pursue it in its most raw and truest state - as a rare and elusive art form, to be explored and enjoyed with all the senses. Therein, perhaps, lies the magic of Spencer Swanger.
Last edited by
susanjoypaul
on Thu Dec 01, 2011 5:21 am, edited 1 time in total.
---
Posts: 825
Joined: Thu Jul 02, 2009 6:49 am
Location: Golden, CO
That was a great article.

I don't know Spencer very well (and have never met him), but I'm enjoying the stories and photos. He must have been a blast to climb with.
---
Posts: 826
Joined: Thu May 19, 2005 11:30 am
Location: Highlands Ranch, CO (5780')
Very sad and shocking news, indeed. Thanks for sharing your well written article, Susan. Spencer will be sorely missed. I had the pleasure of hiking with Spencer back in 2003 on a CMC trip to Parnassus when I was just getting into peak bagging. I was instantly attracted to him as he was a very modest man and a natural leader. He warned me that my nose was looking a bit pink as we pressed on to the summit in high winds. I wish I could have hiked with him more while he was here. Rest in peace, Spence, and God be with his family and friends during this difficult time.
Always do what you are afraid to do. -Ralph Waldo Emerson
---
Posts: 7847
Joined: Thu Jun 08, 2006 1:23 pm
Location: Colorado Springs
I was fortunate to meet Spencer at a trailhead once. He was a very nice and friendly guy, who obviously loved mountains and mountaineering. My condolences to his family and his numerous friends.
Climbing at altitude is like hitting your head against a brick wall — it's great when you stop. -- Chris Darwin
---
Who is online
Users browsing this forum: dennywitte, RETEP 1 and 13 guests