Posts: 26
Joined: Sat Jul 17, 2010 8:26 am
Anyone have or use the Casio pathfinder, I just bought the triple sensor model and was wondering how accurate it was up in the mountains. Is the compass trustable ? Just wanting your all around thoughts on altimeter Watchs in general.
---
Posts: 209
Joined: Wed Dec 30, 2009 1:23 pm
Location: Westminster, CO
---
Posts: 3086
Joined: Thu Aug 17, 2006 4:04 pm
Location: Tabernash, CO
I've got a Suunto that I got as a gift and a Casio Pathfinder. I wear the Pathfinder. I think this watch is one that you either love or hate. I really like mine and have worn one for many years. I don't use the compass. It doesn't take the place of a real compass when you really need to use it in fog or in other situations. It uses barometric pressure to measure altitude so as the pressure changes you will get up to 300 ft. difference in altitude. On Kili, my watch and my dad's Suunto had almost the same altitude at any given time. There is nothing wrong with my Suunto, the Pathfinder is just easier to use.
---
Posts: 1806
Joined: Wed Dec 05, 2007 8:26 pm
Location: New York
I've used the Suunto Observer and T6C for 10yrs now (T6C has altimeter also but with HRM).

They are both great and good watches. The altimeters are pretty accurate, though
as any instrument, must be calibrated to read better. While it has a compass, I just use
my normal (analog, I suppose you call it thesedays) compass, coincidentally also made by Suunto.

I hear from others that the Casio Pathfinder is a good watch and seems to have some great features. Casio
is a good reputable company so that should give you some comfort. I've had a Casio G Shock for almost 20 yrs
and it was amazing, using the original battery all that time, while I beat the heck out of it!

As far as accuracy of the altimeter, just test it wherever you are or next time you come out; be sure to calibrate it for
each use to ensure most accurate readings.

Have fun with it!
---
Posts: 234
Joined: Mon Jul 02, 2007 7:41 pm
Location: Parker, CO
Taillon75 wrote:They suck.
I have to agree with Taillon75. I've had 2 Pathfinder watches and neither had a very accurate altimeter. I used to calibrate it constantly both at the trailhead and during the climb, and it was rarely even close to the real elevation at the summit. By that I mean off by
at least
200 feet every time, and many times even more than that. All the other features like compass/thermometer worked great, but the altimeter was nearly useless.
I switched to an Oregon Scientific unit that seems to be a little better. I use this OS altimeter and a GPS based altimeter for comparison to make sure I know exactly where I'm at. I'm finding that the GPS based reading is usually closer to actual elevation, although the Oregon Scientific is way better than the Pathfinder was.
chrismjx wrote:

Roald, in that one sentence you managed to demonstrate that A) you're an idiot and B) you're a hypocrite, and a perfect example of the cause of the modern-day problems in this country.
---
Posts: 476
Joined: Mon Aug 15, 2011 10:12 am
Location: Breckenridge
my casio was garbage. even with calibration, it was off by 300 or more feet, usually more like 500. returned it to rei....definitely not worth what they charge for it
Vincit Qui Patitur
---
Posts: 271
Joined: Wed Jan 20, 2010 11:50 am
Location: Gross Reservoir, CO
I've had good luck with mine so far... Knock on wood.
I got mine through a friend in the sporting goods industry and it only cost me $68 brand new. Not sure it is worth much more than that. It does require calibration a few times during the hike. Simple rise in tempature seems to throw off the barometer and altimeter by 100+'.
Last edited by
winmag4582001
on Sun Aug 05, 2012 2:21 pm, edited 2 times in total.
"Remember, you're unique, just like everybody else."
---
Posts: 34
Joined: Wed Sep 14, 2011 8:42 am
Location: Denver
I've had my Pathfinder about a year and am pretty happy with it. It's sturdy, reliable, and solar powered (my favorite feature).

Yes, it does need to be calibrated to get an accurate altitude, but that's b/c it's based off barometric pressure which will vary throughout the day.
Mountains are the means, the man is the end. The goal is not to reach the tops of mountains, but to improve the man ~ Walter Bonatti
---
Posts: 50
Joined: Tue Nov 10, 2009 10:42 am
Location: Golden, CO
My Casio Pathfinder behaves exactly like every other barometric altimeter-based watch I've ever owned; that is, fairly accurately considering the technology it uses. Any barometric altimeter will tend to read low at the summit of a 14er if not calibrated along the way, and the altimeter in a $2M helicopter is not much different than our watches (for climbing use).

I can't explain the reason for it, and questions to several meteorologists (NOAA included) shed no light on the issue. What I've observed after years of flying around the CO mountains is this: even under a widespread high-pressure system when you'd expect barometric altimeter settings to be relatively similar between two locations, there is about a 500' negative error when going from, say, Denver to the Divide. No amount of accounting for temperature, humidity or other transient characteristic of air masses could explain it, and since accurate meteorological data for high altitude locations is sparse at best, the cause continues to puzzle me. Copper (KCCU) has one of the few weather stations above 12k that gives pressure data, and if you study regional weather, you can see that the altimeter setting there is almost always higher than it 'should be' at that altitude, given a widespread consistent air mass over Colorado. This is a very persistent trend throughout the high pressure summer months especially, and it's my assumption that it has something to do with temperature-lapse rate assumptions that don't apply as directly to high altitude air masses than we might like.

Unless pressure happens to be dropping as you climb your typical 14er (which really shouldn't happen, most people turn tail under these conditions), you can pretty much count on your altimeter watch reading 300 to 500' low when reaching the summit, assuming of course you have calibrated at trailhead.
---
Posts: 1230
Joined: Mon Apr 14, 2008 8:38 pm
Location: Desert Hills AZ
Have had a Pathfinder for some time. When traveling overland and when elevation changes are rapid over a pass, changes always lag behind a known elevation. If you stay at a high point for 15 minutes, all else being equal, it will almost catch up.

Following an isobar while traveling overland is difficult enough, but one time under stable high presssure, the Casio registered elevations within 20 feet of known elevations at both Gunnison and Flagstaff, separated by 460 miles and about 8 hours of travel time.

Take a plane? Find out at what elevation the cabin is pressurized with a Pathfinder.
Not that I speak in respect of want: for I have learned, in whatever state I am, therewith to be content - Paul the Apostle.
Like it or not, I am a slow driver. Putt ... putt ... putt ...
Good day.
---
Posts: 75
Joined: Mon Aug 30, 2010 10:28 pm
Location: Grand Junction, CO
People either love them or hate them...
I have been very pleased with mine after owning it for a short ~5 months and taking it up and down about ~8 14ers this year. I went with the newer PRW5000Y-1 because I wanted to see a north needle when using the compass. It also happens to be the sexier of abc watches I've seen (which of course, is extremely important on the mountain
).
A couple things I've concluded with my pathfinder:
- The compass has been spot on from the factory. This photo was taken today with the factory calibration settings. All I did was calibrate the declination. The second hand indicates magnetic north. The digital angle shown is the angle between magnetic north and the 12 o'clock position.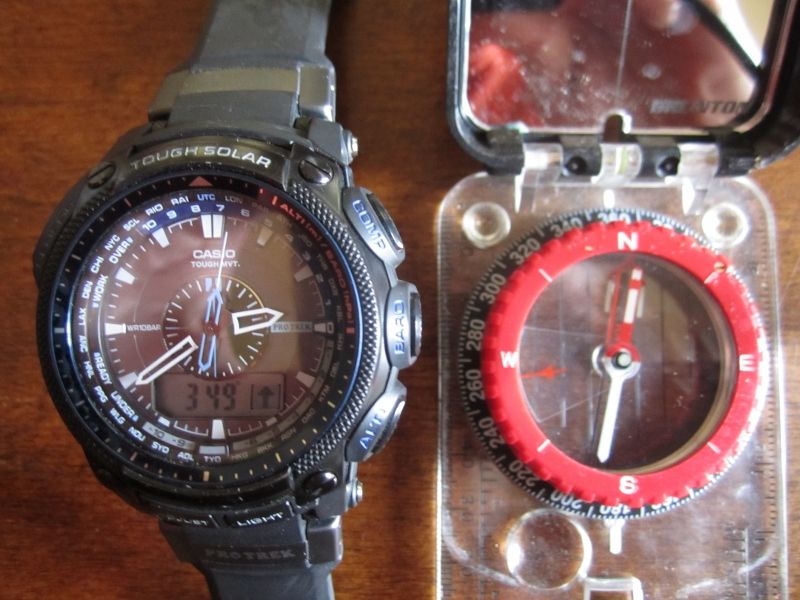 - I have been very pleased with the accuracy of the altimeter during the ascent. I have found that at critical points along the route (rock ribs, gulllies etc.) it has been accurate to within 40 ft if calibrated. Often times it has been spot on. If I don't calibrate it it's off by as much ~200 ft on the summit. Which given the drive from GJ to the peak, isn't THAT bad. Calibration at known elevations (TH's, passes) is essential if recognizing POI's at specific elevations is important.
- Monitoring barometric pressure during the ascent is useless, obviously due to the change in altitude. However, I have found it to be very representative and useful at camp in monitoring questionable weather overnight.
-The alarm could be louder. I'm an extremely light sleeper in the mountains though so it works for me.
-The light makes reading the digital display difficult sometimes.
As we all know it's just a tool in getting up the mountain, don't expect to rely on it exclusively.
Overall, I would recommend. Hope that helps and good luck with the new watch!
---
Who is online
Users browsing this forum: krusk412 and 40 guests