Forum rules
Please
do not use this forum to advertise, sell photos or other products or promote a commercial website
. For more details, please see the
Terms of Use
you agreed to when joining the forum.
Posts: 9
Joined: Tue Oct 04, 2011 2:11 pm
Thanks for the tips.
The long term plans is actually to go to gunnison to go to crested butte via ohio then kebler then next day. good to hear some spots might be protected!

thanks
alejandro
---
Moderator
Posts: 5043
Joined: Mon Jul 26, 2004 8:54 am
Location: Woodland Park, Colorado
Some photos this morning from my commute:





I love Colorado.
---
Posts: 594
Joined: Tue Aug 15, 2006 6:48 am
im slow. 9/25 south elbert trail/colorado trail
---
Posts: 1475
Joined: Sat May 10, 2008 6:43 pm
Location: Estes Park
Homestead Meadows
Great shots, Prestone!
---
Posts: 1968
Joined: Sat Mar 11, 2006 7:33 pm
Location: Canon City, Colorado
Here are two taken on Highway 9 near Hartsel on 10/2. I was amazed at the variety of colors this year. These pics are not color enhanced or edited in any way (I don't know how......
)
"Life is not measured by the breaths you take, but by the moments that take your breath away."
---
Posts: 47
Joined: Thu Nov 11, 2010 10:48 pm
I noticed that too. We went up Shavano from the Angel TH, so we had those first two miles on the Colorado Trail, a lot of it through the aspens... a ton of them were ORANGE this year, not the normal yellow/gold. No idea why. Really neat.
---
Posts: 87
Joined: Mon Sep 28, 2009 8:24 am
Location: Sherwood, OR
CO Native wrote:Some photos this morning from my commute:



I love Colorado.
I need to get a job somewhere on your drive. All I get to see are cops, broken down cars and a homeless people begging for change.
Steve-
---
Posts: 372
Joined: Tue Jul 27, 2004 7:28 pm
Location: Windsor, Colorado
---
Posts: 297
Joined: Mon Jun 13, 2011 6:24 pm
Location: San Jose
Mark Curtis wrote:
Very nice.
"There's only one thing I hate more than lying. Skim milk. Which is water that's lying about being milk" -Swanson, Ron
---
Posts: 1702
Joined: Mon Jul 07, 2008 7:24 pm
Location: Monument, CO
This was driving out of the Huerfano River drainage on Friday, 07 October, 2011 after climbing California Peak. I was surprised to see so many aspens still in "green" this late.
Attachments

Huerfano River drainage below California Peak
Huerfano-drainage.jpg (127.98 KiB) Viewed 1076 times
According to his great mercy, he has caused us to be born again to a living hope through the resurrection of Jesus Christ from the dead, to an inheritance that is imperishable, undefiled, and unfading, kept in heaven for you.
1 Peter 1:3-4
---
Posts: 2157
Joined: Fri Jan 05, 2007 11:31 pm
Location: People's Republic of Boulder
Last Weekend (Oct 1st) up in the Indian Peaks Wilderness out of the Hessie TH.
http://www.ericjlee.com/Photo/thumbnails.php?album=287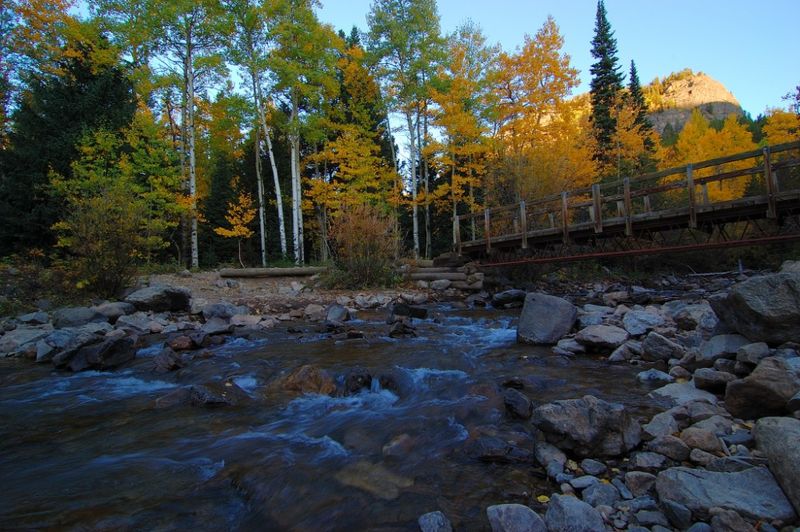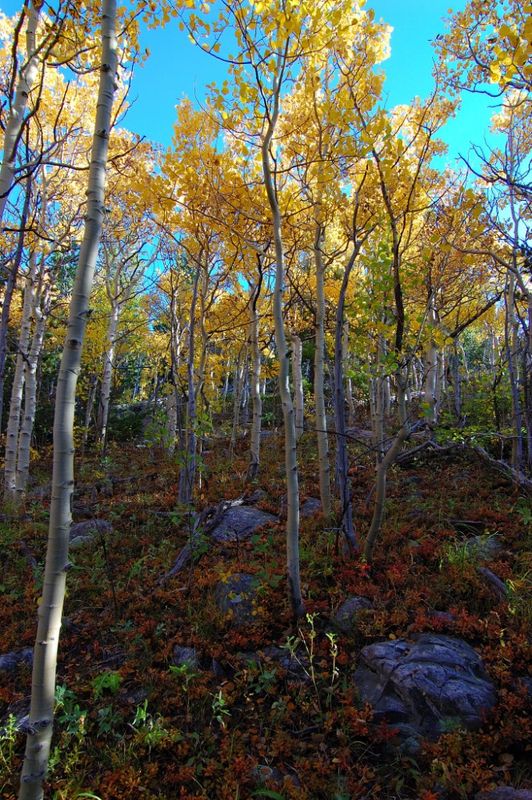 Eric
---
Posts: 203
Joined: Fri Mar 07, 2008 10:07 pm
Location: Salina, KS
Some photos from last week:
http://www.flickr.com/photos/35256183@N06/6225218578/in/photostream/
The Silver Jack Reservoir area was a bit early, on 9-30-11
Silver Jack Reservoir area 9-30-11
Ohio Pass area 10-1-11
Keber Pass area 10-1-11
East Beckwith Peak 10-1-11
West Beckwith Peak 10-1-11 Still lots of green
Above Twin Lakes 10-3-11
Above Twin Lakes 10-3-11
Last edited by
Gareth
on Wed Oct 12, 2011 6:36 am, edited 3 times in total.
"Most people never run far enough on their first wind to find out they've got a second."
- William James
---
Who is online
Users browsing this forum: No registered users and 5 guests