Posts: 7847
Joined: Thu Jun 08, 2006 1:23 pm
Location: Colorado Springs
Yesterday was a terrible day, since it started with the news that David had died. Today I decided that life was too short to sit in a cubicle feeling lousy, so I went out and climbed Stove Mountain, 9782', which is near the Springs. I thought I'd do something in memory of TalusMonkey, but I'm not really a drinker, so I thought I'd hoist a tall, frothy one of these instead: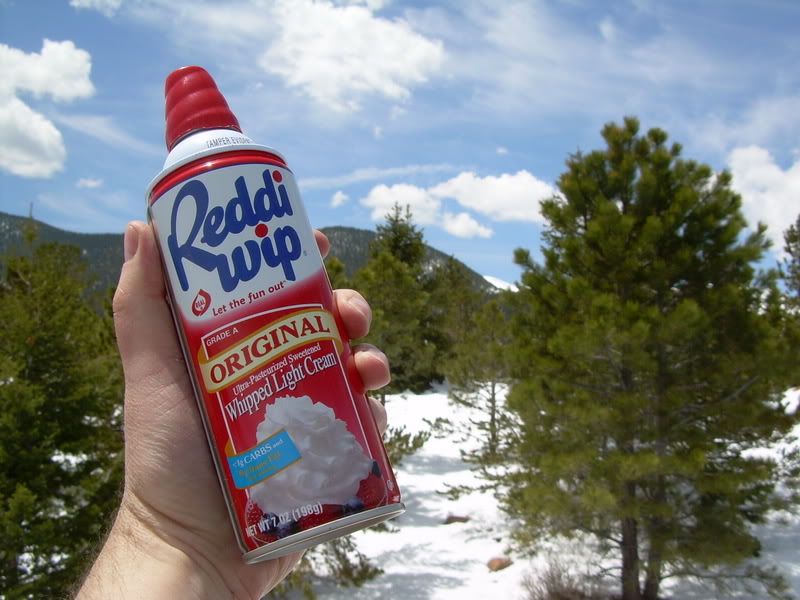 Since the Forest Service probably won't allow a permanent memorial, I decided to make an edible one at the summit: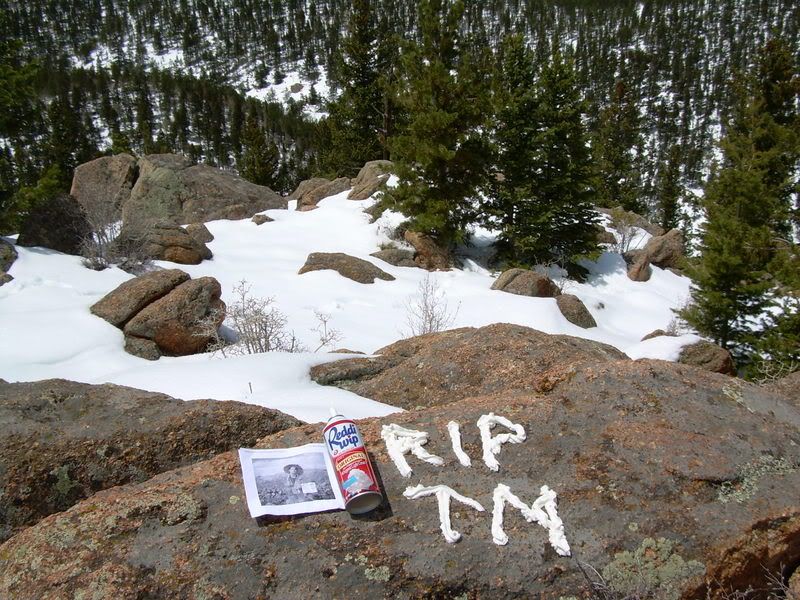 So long, David. Like so many others here, I never met you but considered you a friend.
Climbing at altitude is like hitting your head against a brick wall — it's great when you stop. -- Chris Darwin
---
Posts: 599
Joined: Wed Aug 16, 2006 4:23 pm
Location: Eagle, Colorado
Jim Davies - Very cool.

I also never met TM but found myself having a hard time getting through my workday. I think it may have something to do with it hitting very close to home. I see someone who reminds me of myself to an extent and someone who I feel I would have enjoyed hiking and talking with like many of my favorite climbing partners in the past and then to see something like this unfold certianly knocks me down a notch. I think of all the times I was careless and doing things I should not of been and I realize how very easily an accident could happen to me or anyone, especially if it could happen to someone as strong as TM.
---
Posts: 148
Joined: Sun Jul 23, 2006 8:00 am
Location: Denver
RenoBob wrote:

Aubrey wrote:Anyone else remember his earlier avatar with the Enzyte guy? That was so TM. You couldn't

not

laugh when you saw that thing.

Know that Jen and I will be thinking about him on Boundary Peak in a few weeks. RenoBob, we'll be right behind ya.

David touched so many people's lives. He certainly won't be forgotten.

Aubrey:

Yep, I remember the Enzyte avatar, I thought he was either bragging or very secure witha personal condition. We'll leave you a little surprise on Boundary and something for David too.
With no television and buried with schoolwork when I first stumbled upon 14ers.com I had no idea who the "enzyte" guy was. I simply thought TalusMonkey was the greatest username one could have for this site and figured the avatar was a humorous photo of him. I gained an immediate appreciation of his sense of humor when I finally learned that his avatar was "Bob", the well-known (except by me) icon of erectile dysfunction. Now, knowing TM's his affinity for Hooters, it adds another layer of humor to that particular avatar.
Like so many others I never met TM, having only communicated via PM. We too had discussed summer plans, I swear it must have been his goal to hike with every 14ers.com member this year. I deeply regret the missed opportunity to hike with him.
It is my hope that I can get out in the mountains with many of you this year and enjoy the places and company that he so loved, I am confident it is what he would want.
---
Posts: 23
Joined: Fri Aug 11, 2006 2:34 pm
Location: Oklahoma City
My thoughts and prayers go out to David's family for their loss. I too never had the pleasure of meeting him, but I enjoyed reading his comments and you could tell he loved being in the mountains.
" Great are the works of the Lord... He has made His wonders to be remembered... "
---
Posts: 672
Joined: Thu Feb 24, 2005 4:24 pm
Location: Denver, CO
Well my best friend and I made a hike today to the top of Devils Knob (8,821 feet I think) to take some tribute photos. David, you will be sorely missed but never forgotten.
Now the next shot we were going to do with Captain Morgan (and believe me, we tried...) but Propel was the best we could do.
Never argue with an idiot. They'll take you down to their level and beat you with experience.
---
Posts: 493
Joined: Mon Jul 26, 2004 12:13 pm
Amazing photos of the tribute hikes Jim and Steve!

Aubrey, et al. When I first saw the new member on 14ers.com by the name of TalusMonkey with the "Enzyte Bob" as his avatar I said to myself "Who is this guy?". Once I finally met him in person, I was immediately drawn to his personality and humor. As a tribute to TalusMonkey I'm bringing back Bob!
---
Posts: 319
Joined: Sat Aug 19, 2006 1:51 pm
Location: Tempe, AZ
I've been thinking about this a lot since I found out last night. This wrote itself a line at a time sitting in class and remembering.

Talus Monkey, when I think of you, a certain image comes to mind,
You're posing high on Sunlight Peak with a cloudless sky behind.
A single foot on jagged rock, the drop doesn't seem to phase you much.
It's a peak whose awkward apex I needed help of friends to touch.
Although it is often said by many and only lived by some,
You truly have reached skyward as though tomorrow wouldn't come.
Everyone knows your kind charisma; you're always doing something funny,
Like the time you climbed our highest peak in a "purple leopard suit with money"
I sorely wish that I had met you, you mischievous, half-known friend,
For now it seems, on Humboldt Peak, you've slipped and met your end.
---
Posts: 24
Joined: Wed Nov 30, 2005 12:26 am
Location: Montrose, Co
I never met the man but it seems like he didn't waste 1 minute.... I can't remember a time when I was so sad over the passing of a person I havn't met.
---
Posts: 251
Joined: Mon Jul 17, 2006 8:16 pm
Location: CO mtns
My sentiments exactly mikeyb, never met him personally, but felt like I knew him from this website. I even want to go to the memorial service on Saturday, but I feel weird about it because I never knew him personally or hiked with him, but I want to fully support the family and USA Keller, and from working at a mortuary for 13 years, I know that anyone who shows up at funerals or memorials are a huge support. Just showing up can mean so much to the family. If you can, show up!
---
Posts: 16
Joined: Thu Jun 01, 2006 1:25 pm
Location: Kansas
I, like so many, had never met David but feel the sadness of his loss. I always looked forward to reading his reports and to some degree living vicariously through them. For all the climbers from Kansas may I say he will truly be missed. May all who knew him celebrate his life.
---
Posts: 36
Joined: Tue May 08, 2007 5:25 pm
Location: Phoenix, AZ
All I can say is wow. I have be been glued to this website since finding out about the news on Tuesday.
I never had the pleasure of meeting David in person, but we did get to exchange a bunch of PM's over on
http://www.arizonahikers.com
He came out here over the winter and was inquiring about a local peak that I had climbed. We exchanged info and had some great talks on things from gear to summer plans. As it turned out we both were planning on climbing Mt. Rainier over the summer and as luck would have it, both going with RMI and it turned out our Summit Days were only going to be 1 day apart, so we would be passing each other at high camp. I was really looking forward to meeting him up there.
You could tell just from a trip report that this was a guy who would be a joy to hike. I wish I had the opportunity to do so.
I've been looking on here about every hour since Tuesday morning when I found out. Every hour I am just more amazed at how many people he affected, I even e-mailed my sister at work yesterday and she called me crying from it.
Everything from USAKellers strength through this, CONative and their valiant rescue effort of a friend at that, to all the comments from the community on here. It's amazing to see how 1 person can affect so many lives, mostly without that person knowing (until now).
I don't know what the future will hold, but I would like bring a picture of that great purple pimpsuited man up with me on Rainier this summer, I know he'll be up there with us all on the mountains this year.
-TIM-
Last edited by
Davis2001r6
on Thu May 10, 2007 10:51 am, edited 1 time in total.
---
Posts: 49
Joined: Thu May 18, 2006 9:23 am
Location: Indianapolis
I have followed these events over the last several days with a heavy heart. I too lived vicariously through David's posts and trip reports (kind of flat here in Indiana) I express my regrets to his family and friends. We will probably climb the Crestones and Humbolt during my annual trip to Colorado this July, and I know I will think of him in that beautiful area.
---
Who is online
Users browsing this forum: No registered users and 1 guest