FS: 190cm Atomic Powder Cruise $50
So I picked these up yesterday and this morning I have a bit of buyer's remorse. I wanted an in-bounds powder day ski to replace the Deep Powder's that I destroyed last year. It's just that I don't really ski in bounds much anymore and I'm thinking that these won't get any use. So I have $50 into them and that's what I'd like to get out of them. Looks like they have 2 mounts, most recently a Tyrolia Free Flex DIN 17 for a size 28 boot. Edges look fine, bases have seen some action with one repairable coreshot towards the back of one ski and some general scratches that would probably come out with a tune. Approx dimensions are 130-105-120.

Local pickup in Littleton or Lakewood preferred as shipping these would be a real pain in my a$$.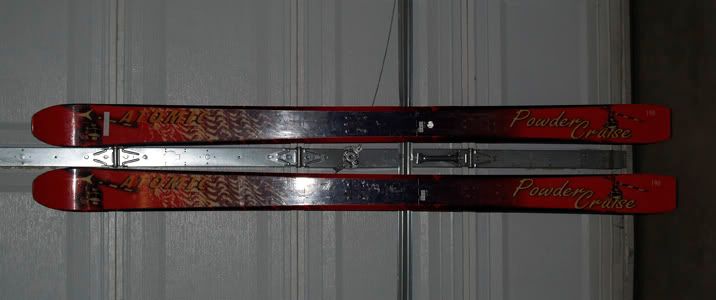 PM if you're interested in taking them or would like larger pics.
My Forum Profile (PM and Email Links)