There will be alot of snow that time of year and the weather will not have stabilized as much as it does later into the early summer. If you are down by Bachelor, the South and Middle Sister are a good time, but the snow closures on the HWY will add quite a bit of distance to your trip. If you're into rock climbing at all, Smith Rocks is a very cool place to go, and the weather there is usually much warmer and drier than in the central valley. If you're into waterfalls there are a lot and many are right off of the main roads. The coast is often very beautiful as well although it does rain quite alot there even into April. Other than the rain, I like Oregon alot.
South Sister looking north in Mid June. We were on snow from the car to the summit.
Monkey Face. Excellent and exposed climbing for the grade (5.7 C0).
Sahalie Falls (not my picture)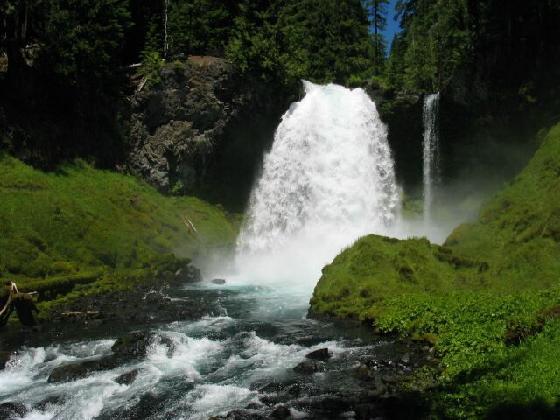 Sunset on the Pacific from near Florence