Forum rules
Please do not use this forum to advertise, sell photos or other products or promote a commercial website. For more details, please see the
Terms of Use
you agreed to when joining the forum.
Posts: 99
Joined: 6/27/2011
Square Top & Argentine
"The best climber....is the one having the most fun" ~ Alex Lowe
"Adopt the pace of nature; her secret is patience" ~ Ralph Waldo Emerson
"I believe in God, but not as one thing, not as an old man in the sky. I believe that what people call God is something in all of us. I believe that what Jesus and Mohammed and Buddha and all the rest said was right. It's just that the translations have gone wrong" ~ John Lennon
Posts: 2664
Joined: 1/7/2007
14er Checklist Not Entered
Contact:
quick shot from the ride today...whole fields of wildflowers are blooming still.
Posts: 312
Joined: 7/4/2005
Contact:
Amazing pictures, everybody! Here are a few more...

Sego Lily, Wild Basin, RMNP

This happy little fella goes by the name Death Camas (i.e. you probably don't want to eat it). Indian Peaks Wilderness

I have no idea what this flower is. Anyone? Indian Peaks Wilderness
"To play a wrong note is insignificant; to play without passion is inexcusable." -Ludwig van Beethoven
Instagram
Posts: 16
Joined: 11/27/2008
Contact:
The columbine are out on the road up to Kite Lake (of course, it's finally open

when you're up in the Democrat / Lincoln / Bross area. These were up on the slopes in the last 2 hairpin turns before reaching Kite Lake. There are no columbine once you get to Kite Lake and above.
Posts: 377
Joined: 7/27/2004
14er Checklist Not Entered
Contact:
This is great. Better than I imagined.....I really appreciate all of the photo entries!

Posts: 430
Joined: 11/7/2009
From American Basin yesterday, and Alpine loop today. Not a great photographer (zero editing skills), but a pretty area right now.
It is not the mountain we conquer but ourselves.
Edmund Hillary
Posts: 61
Joined: 7/7/2006
vonmackle wrote:
I have no idea what this flower is. Anyone? Indian Peaks Wilderness
This is a Star Gentian...
Posts: 80
Joined: 5/30/2009
Dry Gulch side of The Citadel...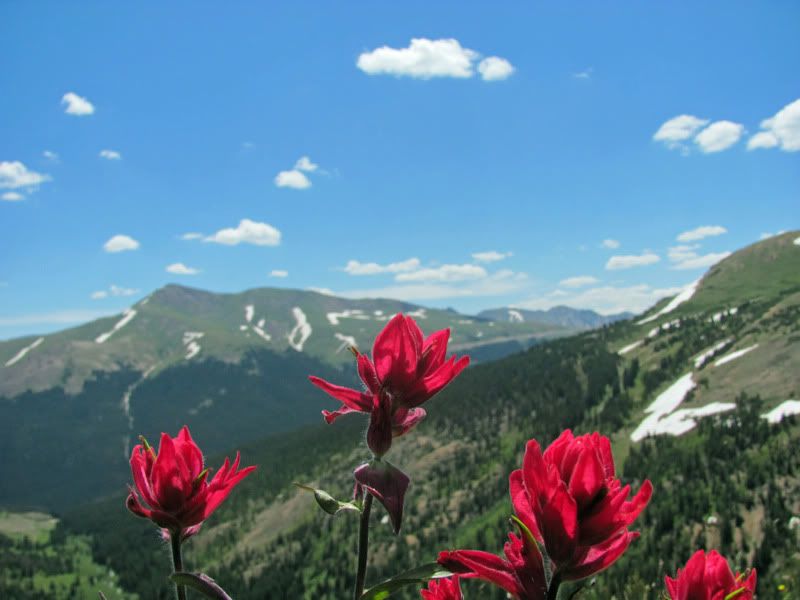 Just above the SE ridge on Audubon...
Posts: 1146
Joined: 8/24/2006
From American Basin (Handies) this past Saturday 8/6/11.

The Basin


Wildlife


Red, White and Blue - American Basin

...the mountain peaks belong to Him. -- PS 95:4

"All you need is love. But a little chocolate now and then doesn't hurt."
― Charles M. Schulz
Posts: 511
Joined: 5/29/2009
from vail pass, 2 elk loop last weekend.
Attachments

stand out.jpg (194.66 KiB) Viewed 624 times

mini panorama.jpg (231.2 KiB) Viewed 622 times

holy x.jpg (284.32 KiB) Viewed 623 times
Posts: 88
Joined: 3/20/2010
Contact:
Took a 4WD road up Weston Pass and saw this amazing field of Columbines.


Posts: 170
Joined: 6/19/2009
14er Checklist Not Entered
Contact:
---
Who is online
Users browsing this forum: No registered users and 37 guests