Posts: 926
Joined: 7/13/2006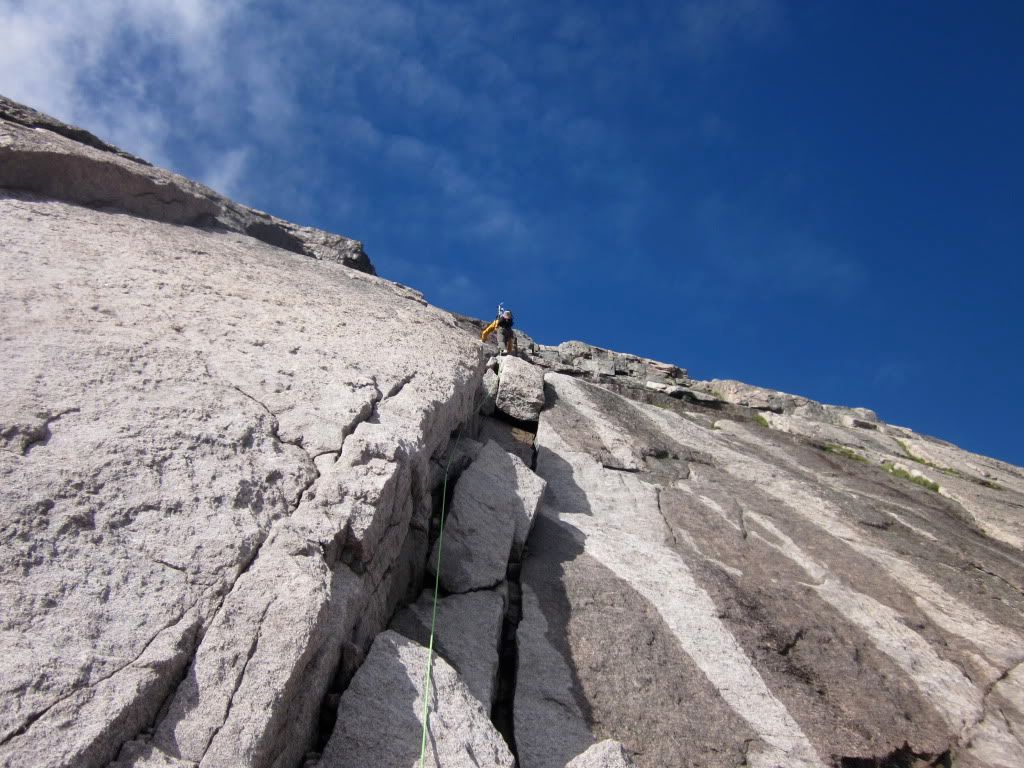 "Just because you have the gear does not mean that you are a Mountaineer!" My daughter's cynical comment about my hobby...
Posts: 568
Joined: 11/21/2006
Contact:
"i feel so extraordinary, somethings got a hold on me, I get this feeling I'm in motion, a sudden sence of liberty" new order
Posts: 29
Joined: 10/15/2004
Contact:
Mt Wilson to El Diente Traverse

Posts: 332
Joined: 5/12/2010
Barrett Cooper wrote:Mt Wilson to El Diente Traverse

That's nice!
Posts: 212
Joined: 7/15/2006
slide.
Posts: 692
Joined: 9/6/2008
14er Checklist Not Entered
Barry - thank you for your gracious compliment.

I appreciate it.
I love clouds, and there are a lot of great cloud images in this thread. I'll add some. This is looking towards Longs Peak from the top of the IPW on Saturday. That was a spectacular day to be out.
And the scene looking over to Navajo Peak with Longs in the distance...
Posts: 373
Joined: 7/10/2006
Clouds eh? This one turned out ok. I take lots of pictures from the top of peaks, often just to get the idea of what the peaks in an area look like, how one might climb some of the less well documented peaks, so I'm taking a picture I know won't be that interesting apart from that, but this one seemed a little better than usual. This is from the top of Frasco looking south, taken on 9/5, that big thing left of center is LaPlata, the pointy thing in the right front foreground is Casco.


Posts: 889
Joined: 7/8/2007
Quiet possibly my last 14er of the summer!
"The King will reply, 'I tell you the truth, whatever you did for one of the least of these brothers of mine, you did for me."
Matt 25:40
Posts: 237
Joined: 5/23/2007
That Milky Way photo is awesome!
Posts: 113
Joined: 4/26/2009
Kimo- I agree, clouds produce some great contrast.
"Climb if you will but remember that courage and strength are nought without prudence and that momentary negligence may destroy the happiness of a lifetime. Do nothing in haste; look well to each step, and from the beginning think what might be the end"
Posts: 24
Joined: 8/29/2008
14er Checklist Not Entered
Contact:
Kapelmuur wrote:

bif wrote:Kapelmuur,

Banner Peak
Awesome shot what were your setting , and film or digital?

Bif

It was digital, the Canon 5D Mk II and a 24-70. Without a tripod, I had to wing it, shooting two frames using the 10-sec timer, the lens propped up on a rock, guessing at focus because I could see nothing through the viewfinder and hoping the whole set-up wouldn't get blown into the lake by the gusting winds. Note to self to be much better prepared for these backcountry opportunities in the future.

@ Dave: My best quickie advice would be to start digging through this

blog

. Darwin captures some amazing images and does an excellent job explaining both the art and science.
Thanks to everyone for the camera advice!
"But friendship is precious, not only in the shade, but in the sunshine of life, and thanks to a benevolent arrangement the greater part of life is sunshine."

Thomas Jefferson

"Do not speak- unless it improves on silence"

Buddha
Posts: 918
Joined: 8/2/2007
JA_son27 wrote:

Quiet possibly my last 14er of the summer!
This picture actually came to mind when we were on our way up to South Colony Lakes back is Sept. The stars were so abundant on that clear morning. I wish my camera could get a good star shot. I love this picture.
Seems like the times that I need a mountain the most are the times that I can not get to them.
---
Return to "Mountaineering Tales"
Who is online
Users browsing this forum: No registered users and 4 guests