Posts: 2013
Joined: Tue Jun 26, 2007 8:04 am
Location: Denver
...
Last edited by
Presto
on Thu Oct 17, 2013 2:17 pm, edited 1 time in total.
As if none of us have ever come back with a cool, quasi-epic story instead of being victim to tragic rockfall, a fatal stumble, a heart attack, an embolism, a lightning strike, a bear attack, collapsing cornice, some psycho with an axe, a falling tree, carbon monoxide, even falling asleep at the wheel getting to a mountain. If you can't accept the fact that sometimes "s**t happens", then you live with the illusion that your epic genius and profound wilderness intelligence has put you in total and complete control of yourself, your partners, and the mountain. How mystified you'll be when "s**t happens" to you! - FM
---
Posts: 2236
Joined: Mon May 23, 2005 6:44 am
Grover wrote:Only on the Trinity Traverse was I forced to hustle to get off the peaks to avoid some storms in the area. Keep this in mind: If you get to the summit of Trinity Peak (the middle one) and are ready to launch to East Trinity (as part of the trifecta traverse), your quickest and safest way back down to Vestal Basin is up and over East Trinity. You won't know that until you get to Trinity Peak.
I wouldn't particularly enjoy descending any way off of "Middle" Trinity in inclement weather. The downclimb off of Trinity back to West would be spicy, but I imagine that the descent gully over to East could turn into a slip-n-slide if the weather is bad. I'll make sure the weather's going to be stable before I go anywhere up there!
I'll have to differ with Grover a bit on my suggestions...
Day 1: Late afternoon train from Silverton to Elk Park whistle stop
Elk Park is less than 10 miles outside of Silverton. You're going to pay almost $100 for less than twenty miles of train riding. If you were going to Needleton I'd recommend it, but for this... just drop a car at Molas Pass and follow the Colorado Trail to Elk Park. Fair warning: if you are out of shape, not acclimated, or tired then it will suck mightily when you have to climb 1500 feet on the way back to return to your car, but it's just a couple hours of suck and the burger and beer in Silverton will taste even better.
hiked to the Beaver Ponds at 9980 ft.; setup camp for the duration of my stay (Personally, I prefer to hike/climb a greater distance with a lighter pack, so that is why I stopped here with my big bag and setup camp. I left each morning at 5:30am with my day pack and supplies for that day, knowing I would come back down to camp at the Beaver Ponds.)
The stretch between the beaver ponds and Vestal Basin is the most arduous part of the inbound approach, and it's an additional 1700' vertical to treeline (and thus, your day). It will be slow going in some spots if you have a large pack... but it will be proportionately slow going with a smaller pack too. As rough as it can be with all your gear, I would say grin and bear it and do it the one time. A higher camp puts you in much better striking position to get up and down quick and avoid storms.
But I will agree with him for this:
Regardless of what you decide to do, DO NOT try to cram these peaks into two days. This is one of the best backpacking trips in the state, so take time to enjoy the area and these special peaks.
In two years, I've seen maybe 20 people in Vestal Basin over the course of about 6-8 days of camping/climbing over July 4th weekends. Many places are thronged with people over July 4th weekend...
I've camped near the upper edge of treeline (near the end of the trail) and it's an amazing area. This picture of Arrow from was taken
sitting in my tent
just as a storm was moving out.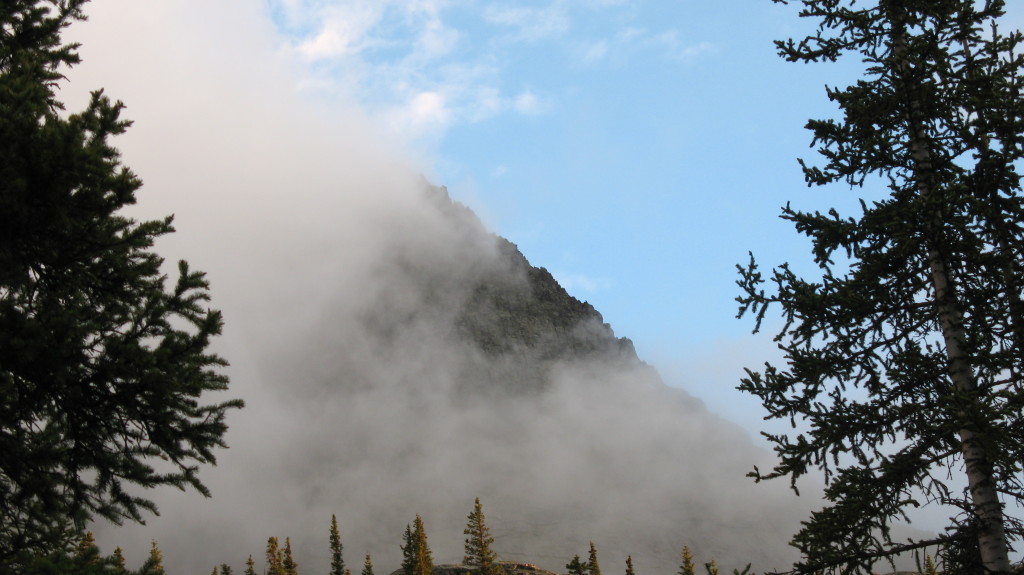 ---
Posts: 141
Joined: Sun Apr 02, 2006 1:19 pm
Location: Rockton, IL
Google Maps tells me a 6 hr drive time to the trailhead from the Denver area. Is this realistic or should I plan on longer?
---
Posts: 1081
Joined: Sat May 09, 2009 10:23 pm
Location: Durango, CO
Papillon wrote:I definitely agree with Floyd regarding skipping the train to Elk Park. There is simply no need. I took the train in September 2010, dealt with shaky weather after Vestal, and almost didn't get Arrow. If we wouldn't have gotten Arrow, there was talk of getting it on our last day, hiking out to Molas and thumbing a ride to our car in Silverton.

Flexibility is a very nice thing in The Weminuche.

Day 1: Molas to Vestal Basin
Day 2: Vestal/Arrow
Day 3: Trinities
Day 4: Pack out or climb and pack out to Molas

edit: I think the train from Silverton drops you at Elk Park around 2:45 or 3:00 PM. You could easily start hiking from Molas around 1 or 2 PM and be standing in the same spot at the same time as the train would drop you, but have freedom.
I agree, this is a perfect plan, albeit optimistic. Depends on how good of shape you are in. We did it in 4 days this way, but we did not do the Trinities because of weather... so if you get weather, it is nice to have a buffer day in there too.
---
Posts: 1702
Joined: Mon Jul 07, 2008 7:24 pm
Location: Monument, CO
emiller wrote:Google Maps tells me a 6 hr drive time to the trailhead from the Denver area. Is this realistic or should I plan on longer?
Think this is directly proportionate to how strong your bladder is.
I would need to plan longer.
According to his great mercy, he has caused us to be born again to a living hope through the resurrection of Jesus Christ from the dead, to an inheritance that is imperishable, undefiled, and unfading, kept in heaven for you.
1 Peter 1:3-4
---
Posts: 72
Joined: Wed Feb 08, 2012 2:31 pm
globreal wrote:

emiller wrote:Google Maps tells me a 6 hr drive time to the trailhead from the Denver area. Is this realistic or should I plan on longer?

Think this is directly proportionate to how strong your bladder is.

I would need to plan longer.
For me, it
Depends
---
Posts: 141
Joined: Sun Apr 02, 2006 1:19 pm
Location: Rockton, IL
So if you wanted the best chance at success, but needed to plan vacation time out would you go for the last week of July or the 1st week of August to attempt this? I realize this would be in monsoon season either way but they are really the only 2 choices I would have.
---
Posts: 199
Joined: Thu Aug 03, 2006 11:37 am
Location: Broomfield, CO
Both weeks are during the heart of the monsoon season, so which week probably doesn't matter. Give yourself some extra days, the more the better. If you get up early and see stars...hit the peaks as early as you can. Wham is probably the most committing, Arrow can be done fairly quickly, and the whole Trinity Traverse will be the longest day...but you can bail from any of them.

Plan on spending at least one day mostly in your tent. Mosquitoes and possibly goats will be your constant companions at camp.
Shawn D
Broomfield, CO
---
Posts: 1824
Joined: Fri Jun 29, 2012 3:25 pm
Presto wrote: if you enjoy camping

above treeline

... there's a huge flat,

grassy

area
"Camp on Durable Surfaces ...
fragility of vegetation ...
make it
less
likely that other backcountry travelers will camp in the same spot ..."
http://lnt.org/learn/principle-2
"Vistors: 609 right now | 6,079 today | 4,168,074 this year"
http://www.14ers.com/index.php
Not sure if I'll do more 14ers. The trip reports are too tiring.
---
Posts: 26
Joined: Thu Mar 31, 2011 6:17 pm
Location: Durango, CO
With this year as an exception, the longer you wait in the summer the better the weather gets. I am usually antsy to get some summer climbs in the San Juans in July, but often get rained out. August usually has better weather. This year was really rainy July/August and September.
---
Posts: 109
Joined: Mon Aug 22, 2011 6:50 pm
Weather days are key in Vestal Basin, I spent 3 days waiting out rainstorms in that basin one year in August and was only able to climb Arrow. The positive was that after that week I never worried about the durability of my tent in a rainstorm.
---
Posts: 266
Joined: Sun Sep 02, 2007 2:58 pm
Location: Denver, CO
Regarding travel time, 6 hours would only be accurate if driving in the late evening/early morning hours. With a normal bladder and summer traffic, six and a half is more realistic. With an early start and favorable weather, traversing the trinities from vestal is preferable to descending the cat litter saddle between vestal and arrow. But this area does often get socked in with stormy weather for hours/days on end, so it's all up to chance.
---
Who is online
Users browsing this forum: No registered users and 3 guests