Posts: 6
Joined: Mon May 25, 2009 5:09 pm
Location: Rosehill, Texas
Has anyone driven up the jeep trail/ County Road 277 on the west side of Antero? It looks like you can drive from Buena Vista to Nathrop, then take Co Rd 162 west to Alpine Lake. Then go south on County Road 277 and climb the switch back up to about 13,000 ft and park. Then hike about 1/2 mile east to intersect the Antero summit trail. I apologize if this is a redundant post - but I did search for this topic. I am certain that this would be limited to July/ August time frame due to road conditions.
---
Posts: 949
Joined: Tue Jun 30, 2009 12:27 pm
Location: Littleton, CO
• It's by getting away from life that we can see it most clearly... It's by depriving ourselves of the myriad of everyday experiences that we renew our appreciation for them...I've learned from my experiences in the mountains that I love life. —
Dave Johnston
• Mountains are not climbed merely to reach a geographical location — but as personal and spiritual challenges to the participants. —
David Stein
• The best climber in the world is the one who's having the most fun.—
Alex Lowe
• Why do I climb the mountain? Because I'm in love! —
The Captain
---
Posts: 6
Joined: Mon May 25, 2009 5:09 pm
Location: Rosehill, Texas
Thanks Geojed. I was thinking about camping out of my truck on the Co Rd 277.
---
Posts: 7
Joined: Fri Nov 16, 2012 6:17 pm
Location: Austin, Tx
I drove this road last July in a Jeep Wrangler. The lower half of the road is worse that the upper stretches. Once you get up out of Baldwin Gulch the road was dry and smooth. Great drive for a 4WD. Wish I had spent more time exploring all the available side roads that day.
---
Posts: 1702
Joined: Mon Jul 07, 2008 7:24 pm
Location: Monument, CO
blue73camaro wrote: I am certain that this would be limited to July/ August time frame due to road conditions.
I wouldn't say those are the only two months you could drive this road. I just hiked this it a few weeks ago and the ice over the road in several spots would be my biggest concern...more than the snow. The ice totally covers the road where it's a sloping angle, and so you put rubber tires on that and any vehicle would most certainly slide off the edge. I even found myself thinking, I wouldn't even drive this road with chains on my 4x4!
So come summer, I would think it's just a matter of; when is that ice melted out enough to drive over those spots? It may be June, who knows. And then when does the ice come back...maybe not until late September.
According to his great mercy, he has caused us to be born again to a living hope through the resurrection of Jesus Christ from the dead, to an inheritance that is imperishable, undefiled, and unfading, kept in heaven for you.
1 Peter 1:3-4
---
Moderator
Posts: 5043
Joined: Mon Jul 26, 2004 8:54 am
Location: Woodland Park, Colorado
Even with last year being a low snow year, we still got stuck in some snow in early June.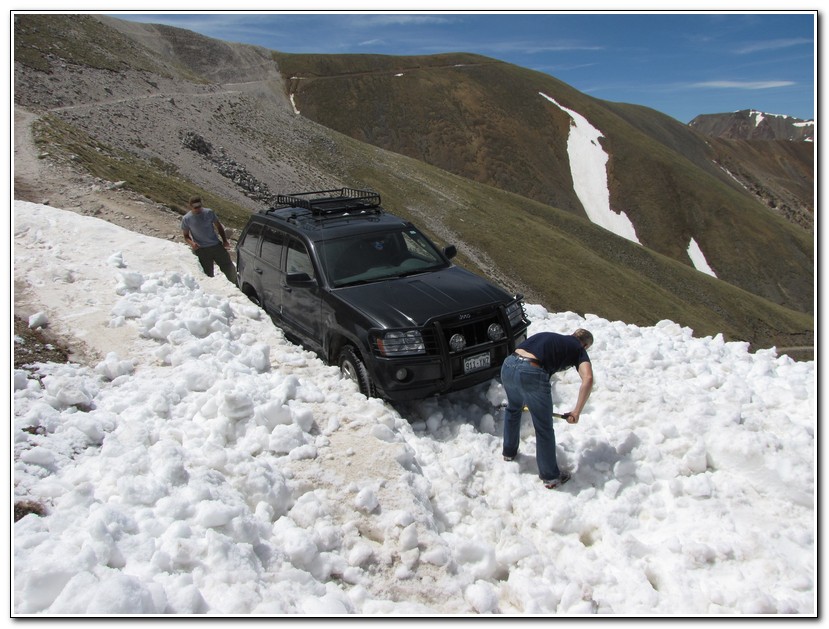 We drove about as far as you are thinking. The Grand Cherokee was unmodified and only scraped a couple of times. It's not too bad of a road. The last stretch from 13,200 to 13,800 is pretty loose stuff so that part would be pretty tough to drive without some pretty good tires.
There are several pull outs along way before treeline where people frequently camp.
---
Posts: 331
Joined: Mon May 30, 2011 4:03 pm
Location: Lafayette, CO
As Geojed noted, the road goes all the way to a small "parking lot" at about 13,800' on Antero's south flanks. The peak is then about another 1/2 mile and 500' vertical feet away. I took my stock 2002 Jeep Grand Cherokee up there last year. (See picture below) As CO native noted, it is passable by a stock Jeep easily enough, although like him I did smack my skid plates a few times. (I have about 9 inches of clearance at my center transfer case bar.) I also should note that the last 5 switchbacks are a bit of a pain as they are very sharp and are angled up pretty high so you really get some decent suspension flex. I also had to do a 3 point turn on two of the switchbacks to avoid taking my left side front end out on rocks. Globreal is also correct that ice and snow frequently lingers until later in the summer. As he noted, the ice is the major issue. Snow is an annoyance as CO Native demonstrated, but I wouldn't mess with the ice. All in all, VERY fun road.
"Climbing mountains is the only thing I know that combines the best of the physical, spiritual, and emotional world all rolled into one." -Steve Gladbach
---
Posts: 6
Joined: Mon May 25, 2009 5:09 pm
Location: Rosehill, Texas
This is great info - one of the many reasons 14ers.com is the absolute best. Since I will be driving ~650 miles one way (from West Texas) to get to the trailhead - I don't want to jeopardize my transportation back home. I would rather hike a little further than risk it with my inexperienced mountain driving skills. I have a 2013 Toyota Tacoma 4X4 that would surely make it up the higher elevation trails. I was thinking how cool it would be to get my truck up that high. Then hike the summit from there. Maybe I will meet up with a Jeep convoy and that will give me a little back up support through the tough sections.
Thanks.
---
Who is online
Users browsing this forum: No registered users and 12 guests