Posts: 1034
Joined: Fri Nov 13, 2009 9:16 am
Location: Westcliffe (sort of)
Scandinavians seem to like lard and salt sandwiches on white bread.
Or at least one of my old partners did.
---
Posts: 2157
Joined: Fri Oct 14, 2005 12:55 pm
Bacon, butter, and cheese:
http://www.foxnews.com/story/0,2933,478407,00.html
Apparently it will get you to the South Pole so I'm sure it would get you up a peak too...
---
Posts: 2733
Joined: Wed Nov 02, 2005 9:49 pm
Snickers freeze hard once they get cold enough, but become extremely brittle and are easy to eat. I always try to take some better food but always end up with a stash of snickers in my pack. I really should convince them to sponsor me. Used one to avert an imminent hard-bonk in a partner yesterday.
Last edited by
Bean
on Mon Jan 24, 2011 9:27 am, edited 1 time in total.
---
Posts: 1398
Joined: Sun Sep 14, 2008 7:30 am
Location: Fort Collins
Peanut Butter M&M's rock. I buy the big bag and then use zipper sandwich bags for "individual servings"... about 400 calories.
In his hand are the depths of the earth; the heights of the mountains are his also. - Psalm 95:4

"I would be doing myself a disservice and every member of this band if I didn't perform the hell out of this." - Gene
---
Posts: 259
Joined: Thu Apr 22, 2010 11:42 am
Location: Boulder, CO
Great thread, and some good suggestions I will try.

Anyone have anything new to add here?

I tend to not want to eat anything when it is cold and windy, and for the most part, wait until I am back at the car. The food I bring tastes horrible, like it morphs into something different in the cold alpine. I need to change this though, I know, for obvious reasons regarding energy, but for also simply enjoying the adventure more.

Has anyone ever brought hot water in a thermos and poured it into pouch food? Take too long?

Thanks!
---
Posts: 354
Joined: Sun May 28, 2006 6:46 pm
Location: Littleton, CO
Mindy wrote:Has anyone ever brought hot water in a thermos and poured it into pouch food? Take too long?

Thanks!
Why don't you just put some type of soup/chili in your thermos?
---
Posts: 56
Joined: Tue Nov 02, 2010 8:53 am
Location: Aurora, CO
+1 on Bean's Snickers comment. They have become my go-to food, summer and winter. "Snickers satisfy"
---
Posts: 275
Joined: Sat Feb 13, 2010 3:08 pm
Location: Golden, CO
hard candy in a pant pocket (life savers, gobstoppers, jolly ranchers, etc.). And you don't need to stop to eat'em.
---
Posts: 2627
Joined: Wed Jun 17, 2009 4:19 pm
hotrod wrote: I let real butter get soft at room temperature and then mix it with equal parts of powdered sugar with a fork.
Pure fat has 225% calorie density of pure carbs. More like 300% when you consider many carb sources have fiber and moisture. The first guys to reach the South Pole, exactly a century ago this year, carried lots of lard.
---
Posts: 210
Joined: Mon Sep 27, 2010 2:00 pm
Location: Jackson, WY
I love the white and pink frosted animal crackers with sprinkles when its cold.
---
Posts: 692
Joined: Mon Nov 10, 2008 5:05 pm
Location: Lakewood, CO
How about some Chicharrones for that matter (Mexican style not Colombian Style). They are very light weight and have tons of fat on them. Not to mention they are Mmmm so tasty!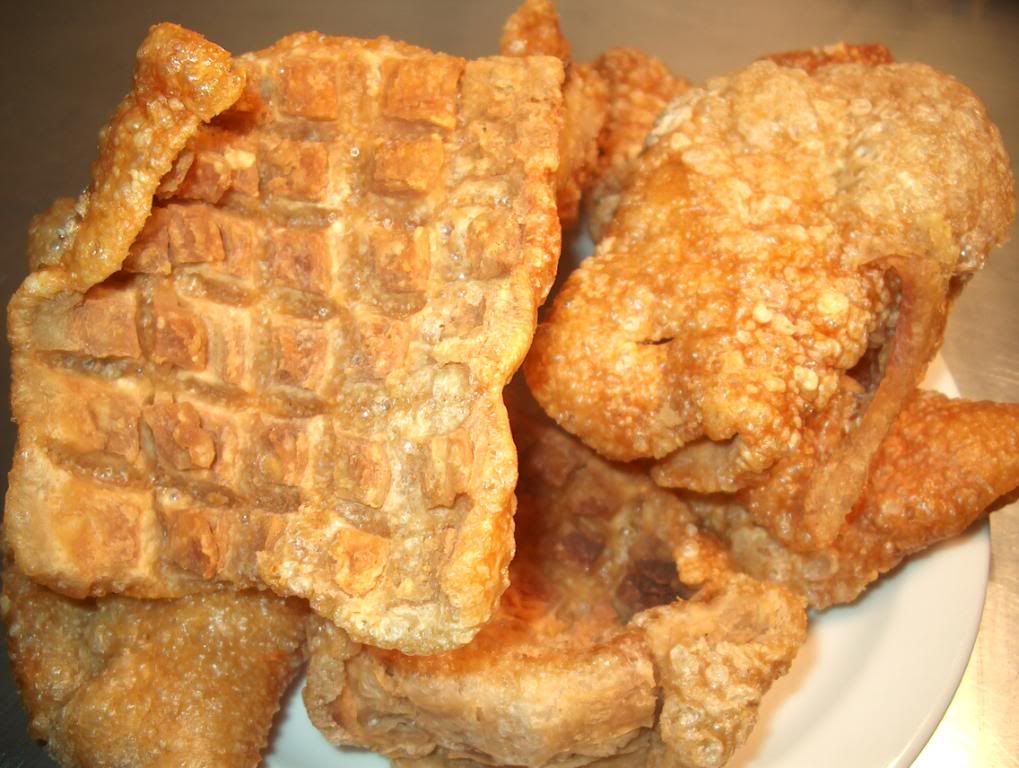 ---
Posts: 100
Joined: Fri Sep 21, 2012 5:10 am
I've been trying the Honey Stinger products which someone mentioned in another thread or TR, and really like them. The waffle is good, but the peanut butta pro bar is my new favorite.
I'm not anti-social, I'm anti-stupid!
---
Who is online
Users browsing this forum: Boggy B, davebobk47, gb, glaciergirl, mtgirl, seano, sigepnader, spiderman and 39 guests