Posts: 2236
Joined: Mon May 23, 2005 6:44 am
jdawud wrote:Relax and don't hate, you might have more fun.
No hate here, just a healthy dose of skepticism. Remember that you're the one who publicized it, so be willing to take the bad with the good.
I'm sure that even an attempt will be an amazing experience. Go for it.
---
Posts: 124
Joined: Fri Jul 27, 2012 10:52 am
Location: Boulder, CO
Doug, you're certainly right to be skeptical since no one (as far as I've been able to tell) has done it. To be sure I step into uncertain territory, and that carries the risk of failure. Anyone is certainly free and perhaps justified in saying I can't do it or that I'm just talk.

Kenton, i'm trying to get the google earth embed to work. That particular traverse between Blanca and Lindsey doesn't look easy and may not be feasible. There is another traverse in the Elks (or hell, the Elk in general) that will be difficult. There are several such points that will present the choice of ridiculously difficult traverse or annoyingly longer mileage. Beta and research are certainly necessary, but I've found no logistical reason to think this is anything other than completely doable. I would not have made a website, postponed my CDT hike, or announced it here if I didn't think it is possible and that I can do it. I have done few of the Colorado 14ers, but none of them are beyond my skill set or experience level. Honestly, this is mostly a hiking trip, the peaks themselves represent relatively little of the difficulty of the overall trip. The majority are walk ups. That said, I have no delusions that it will be easy.

In any case, I'm excited for the next few months of additional planning and preparation. Getting to the trailhead prepared is always half the challenge.
---
Posts: 806
Joined: Thu Sep 28, 2006 8:46 pm
Location: A plane ride from the mountains
If completed, it will be an epic. Right now it is a dream of an epic.
As far as overusing the word "epic", sounds more like a backlash against a current generationally-hot word. In America you say "awesome" quite a bit. In England you say "Brilliant" to describe many things. Does that make them actually awesome or brilliant? In most cases, no, but it's just a word with collogquial meaning. Get over it.
Publicizing grand intentions sometimes makes them more real. Like buying a non-refundable plane ticket to Kathmandu. You say to yourself, "I'm really doing this."
There will certainly be challenges, but people have circumnavigated Switzerland, which I'm pretty sure is a bit more technical than this endeavor(included glacier travel and the most difficult ridge on the Matterhorn).
http://unofficialnetworks.com/adventurer-john-harlin-iii-completes-circumnavigation-entire-swiss-border-41565/
Keep a journal, take photos, get a book deal afterwards.
---
Posts: 7846
Joined: Thu Jun 08, 2006 1:23 pm
Location: Colorado Springs
As a nerd, I automatically think of the
travelling salesman problem
, although you don't have to return to the start. But you have other constraints (like scheduling Culebra), so it's not a perfect match.
As a hiker, I'll suggest that the hardest part Blanca-Lindsey ridge can be avoided by dropping into Winchell Lakes to the south. Getting from Lindsey to the Crestones might give you the biggest private-property headaches, but you might take a look at the Rainbow Trail as an alternative to going back over to the Sand Dunes. The path up Sand Creek from the dunes toward Music Pass is a beautiful hike (if you go that way), but you'll have to wade through the creek about 10 times, so plan your footwear accordingly.
Good luck! It sounds like you know the magnitude of what you're undertaking, unlike some of the previous "pre-announcers" that have Doug so ticked off.
Are you planning to post real-time updates? It won't be as exciting as John Prater's attempt, but I'm sure you'll have a lot of people interested.
Climbing at altitude is like hitting your head against a brick wall — it's great when you stop. -- Chris Darwin
---
Posts: 2627
Joined: Wed Jun 17, 2009 4:19 pm
The Colorado Mountain Trail and Colorado Divide Trails skirt about half of the 14ers. These have guidebooks. The tradeoff is better marked trails versus crowds.
Andrew Skurka who has done several 1000+ mile hikes, is talking at CMC Dec 5. He has some good ideas on efficient hiking. Several of his trips his Mom would mail prepared food/gear packages to mail drops every four days or so. Last Skurka talk I heard, about Alaska at Neptune, Andy claims to never lost a package in all his trips
---
Posts: 1806
Joined: Wed Dec 05, 2007 8:26 pm
Location: New York
jdawud, sounds like a grand plan! Good luck and let us know how it progresses. I'd be interested to see your proposed route once you have the logistics nailed down.

I'm trying to think about how many Powerbars I'd need for that...
---
Posts: 49
Joined: Tue Aug 28, 2012 6:59 am
Location: Conifer, CO
"Whatever you can do, or dream you can do, begin it. Boldness has a genius, power and magic in it" -Goethe

Good luck! Excited to follow your progress!
"because in the end, you won't remember the time you spent working in the office or mowing the lawn. climb that goddamn mountain" -jack kerouac

"here is your chance to find your own way. go on your own. be adventuresome. don't forever seek the easiest way. go the way you find. don't demand trail signs and sturdy bridges. don't demand we show you the mountains. see them and find them yourself. here's your chance to get lost, fall in the creek, find a beautiful place." -randy morgenson
---
Posts: 924
Joined: Tue Feb 26, 2008 3:22 pm
Location: highlands ranch, co
'Do or do not, there is no try' - Yoda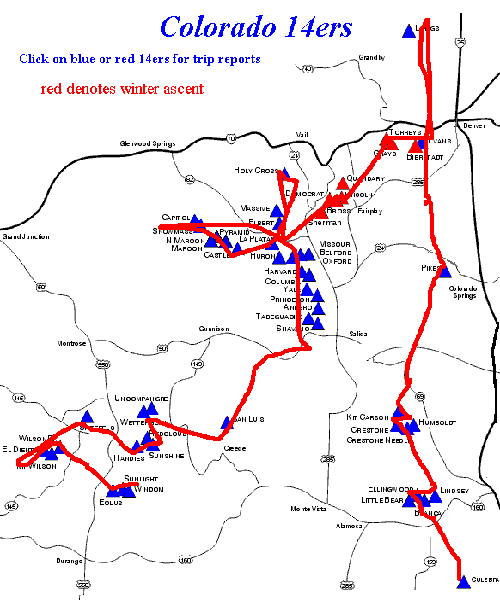 ---
Posts: 1477
Joined: Wed Jun 16, 2010 2:33 pm
Location: Crestone, CO and/or Chapel Hill, NC
I too question why you'd backtrack for holy cross. But I don't know where all the good trails are.
Attachments

14ermap1.gif (26.64 KiB) Viewed 499 times
-Jason Dorje Short
---
Posts: 43
Joined: Thu May 19, 2011 7:56 am
Location: Fort Collins, CO
Epic? Not epic? Who cares? Either way it will be a great personel adventure, whether you get all 58 or not. Best of luck. Enjoy the next couple of months of planning and have a great and safe hike this summer. I'll be following you on your site
---
Posts: 961
Joined: Mon Jun 13, 2011 8:14 pm
we're debating the use of the word "epic"? ha! it blows my mind how rigid some the people on this site are. you guys are hilarious and seriously need to get laid.
---
Posts: 1477
Joined: Wed Jun 16, 2010 2:33 pm
Location: Crestone, CO and/or Chapel Hill, NC
It's an epic debate anyway.
-Jason Dorje Short
---
Who is online
Users browsing this forum: No registered users and 10 guests