Posts: 517
Joined: Tue Feb 26, 2008 3:22 pm
Location: highlands ranch, co
I wanted to ask him about the roc noir, "it was at that point I felt I was leaving the land of the living, and entering the land of the dead", that's how I felt at the wendy's drive thru around 12:30 am last night.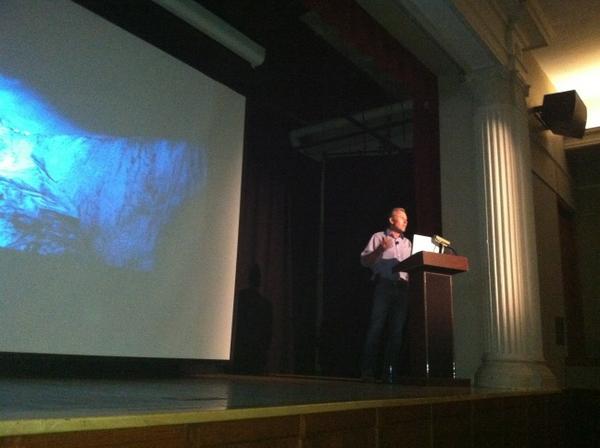 ---
Posts: 1465
Joined: Mon Jun 14, 2010 2:44 pm
Fletch wrote:Big THANKS to Alpinedude (Keegan) and the rest of the AAC for hosting the pre-party. And many thanks to those who let me have a beer. I owe you anytime.

Great to see everyone.
So did he win you over, Fletch?
No one cares that you don't like hoppy beers.
---
Posts: 1465
Joined: Mon Jun 14, 2010 2:44 pm
Fletch wrote:I felt like I was at a sales conference and he was the key note speaker (to 'encourage us' to sell more...).
Same feeling I get when reading his books, thanks for the summation.
No one cares that you don't like hoppy beers.
---
Posts: 876
Joined: Fri Aug 14, 2009 2:53 pm
Location: Denver, CO
I had a great time at the event last night. Special thanks to AlpineDude for organizing the pre-party. The attendance was high for Ed's talk and Big City Mountaineers (who received all proceeds) seems like a pretty cool organization. The talk was fairly general and was intended for a broad range of people. I felt Ed did a good job speaking, was entertaining and seemed like a classy guy. Although he is known for the mountains he has climbed, he spent a good bit of the presentation talking about the times he turned around. He was much more humble than I expected. I'm always amazed when I hear a successful person speak or read an autobiography, how much time they talk about their failures. The after-party was fun as well and I always enjoy hanging out with the folks from this website.
---
Posts: 1609
Joined: Thu Aug 20, 2009 2:27 pm
Location: Denver/Golden
Thanks to AlpineDude and the AAC for hosting an awesome pre-party. To echo what MonGoose said, it's always fun to hang out with 14ers.com folks. I enjoyed the talk, though it was basically a regurgitation of No Shortcuts to the Top. Nothing new or insightful. Still, say what you want about the guy, but he helped raise a lot of dough for a good cause (Big City Mountaineers).
Oh, and whoever asked if he'd ever "conquered any Colorado 14ers"...
Last edited by
SurfNTurf
on Fri Oct 19, 2012 9:59 am, edited 1 time in total.
Ice and Trail (Blog)
"There are two kinds of climbers: those who climb because their heart sings when they're in the mountains, and all the rest." - Alex Lowe
"There have been joys too great to describe in words, and there have been griefs upon which I cannot dare to dwell; and with those in mind I say, 'Climb if you will, but remember that courage and strength are nought without prudence, and that a momentary negligence may destroy the happiness of a lifetime. Do nothing in haste, look well to each step, and from the beginning think what may be the end.'" - Edward Whymper
---
Posts: 358
Joined: Sat Nov 15, 2008 7:35 pm
Location: Louisville, CO
Thanks Reegan for a very cool get together. Good to meet some new folks! (Jay, Ben, Mike, others!)
Preso was way to mom & pop for the forum, but is was good I suppose. Would have been better at a sales conference for sure.

I learned about and signed up to volunteer at Big City Mountaineers, which seems like a great org.

Chuck
---
Posts: 721
Joined: Mon Jul 18, 2011 3:38 pm
Location: Boulder
Fletch wrote:

Dave B wrote:So did he win you over, Fletch?

Alright, you got me. My thoughts (and they are just mine, so take away what you will):

He was very charming, very polished, and a very good speaker. I enjoyed last night very much, but mostly because I got to hang out with everybody here (14ers.com and CMC crowds). He showed us his books a few times (go figure), continued to defend himself over 1996 (I presume he does that every time), and plugged Wittaker/First Ascent (which he gets paid to do), so I wasn't all that suprised. Nor as to the content (Endeavour 8,000). And it's quite obvious, he's a capitalist.

My main critique would be that I would have liked to see him talk to us more as climbers (it was at the CMC/AAC after all) and less as some motivational seminar. I felt like I was at a sales conference and he was the key note speaker (to 'encourage us' to sell more...). He could have done that speech with his eyes closed. You could tell he has done that speech a bazillion times. He even had the slides perfectly timed to his 'jokes.'

I guess I'm still baffled by the guy. Obviously, he's a great climber, great speaker, etc. But I never really got the impression that he was letting us into his world at all. It was almost like he was telling us stuff he thought we

should

hear, not stuff we

wanted

to hear. Like, yes I know how tall Mt Rainier is (he actually read off the elevation at one point). Slight nuance (and I'm probably being picky), but that was my impression.

And I never knew how short he is. Who knew?

Conclusion: I still think he's very motivated to get paid to climb. He's also very accomplished and probably a good dude away from all the smoke that gets blown up his rear. But, the jury is still out for me. Oh well, just have to go to another one of these things.
Well said. This is pretty much how I felt, and what I expected to find. I would have liked to have met him and asked some actual questions...like what he thinks of Lib Ridge
Also - he never said anything about his "mistake" on K2, which I found very surprising. He seemed to say "If you make the right decision you will ALWAYS be ok. That's what I did and look at me."
I was grateful to get the book signed tho!! (thanks Keegan!!!!!!!!)
You can

touch

the void, just don't

fall

into it.
I fly a starship across the universe divide....and when I reach the other side...I'll find a place to rest my spirit if I can. Perhaps I may become a
Mountain Man
again.
To me there is only one style of climbing, Alpine Style.
---
Posts: 536
Joined: Thu Aug 02, 2007 2:25 pm
Location: Broomfield, CO
SurfNTurf wrote:it was basically a regurgitation of No Shortcuts to the Top.
Yeah, I agree with that. But, hey, I hadn't read the book for a quite a while. I also agree with Fletch that I wish he could have tailored his speech more towards an actual mountaineering crowd. I pretty much expected the sales pitchy/self-promotion stuff (he at least tries to be a little self-deprecating about it all). But I enjoyed it nonetheless. I was pleasantly surprised that he's a decent speaker after witnessing his "acting" on a few occasions.
Last edited by
smoove
on Fri Oct 19, 2012 11:15 am, edited 1 time in total.
---
Posts: 21
Joined: Wed Jul 11, 2012 10:16 am
Location: Westminster, CO
I liked one thing he said at the end. He referred to the climb itself as the test and all of the training beforehand as the homework. Being new to climbing 14ers, that put an interesting perspective on it for me. I haven't been doing enough "homework".
---
Posts: 87
Joined: Mon Feb 21, 2011 9:45 am
Location: Denver
I agree w/ Jeff as well. It felt like a chronological account of his peaks, with the same stories and photos from the book. While he is incredibly talented, I was a little disappointed with the presentation. It was okay, but I think I expected to be blown away. I like hearing the small details and stories that aren't written anywhere, photos that were not published, even videos would have been sweet.

I saw Cory Richards speak a while back, and left feeling a lot more impacted after his presentation. It did seem like this one was more of a presentation to non-hikers. (and it seemed like he had to point out at every chance that he does not use O's, and then point out which people on the climbs do use them)

Again, he's a badass in my book for his talents, I just figured his presentation would blow us away, after doing them for so many years!
---
Posts: 696
Joined: Mon Feb 28, 2011 12:29 pm
Location: Boulder, dude
marie123 wrote:I saw Cory Richards speak a while back, and left feeling a lot more impacted after his presentation.
Was there too, but not last night. Cory is probably less used to talking to crowds than Ed so he just talked like a normal person would.
Side note: Saw Cory and his wife at Movement the other day. His wife is a beast climber.
Everyday is a
G
r
A
t
E
f
U
L
Day here in the CO
---
Posts: 134
Joined: Sun Jul 10, 2005 10:29 am
Well, he became famous for his climbing abilities, not his speaking/acting abilities.
---
Who is online
Users browsing this forum: No registered users and 10 guests