Posts: 371
Joined: Wed Feb 17, 2010 3:43 pm
Location: Durango, co
I think the biggest bang for your buck is to take the alpine loop north of silverton, TONs of cool stuff all over the place with easy hikes like the Mary lakes. Highland mary lakes are awesome and here is lost lake, not much cover from T storms at lost, but at the lower lakes there are plenty of options.


alpineloop.com
Attachments

lost lake
226904_1058692837509_1531534805_30159934_6164_n.jpg (37.65 KiB) Viewed 494 times
Climb up Pints down
---
Posts: 3086
Joined: Thu Aug 17, 2006 4:04 pm
Location: Tabernash, CO
Biggest bang for your buck would be to hike into Ice Lakes and camp near Island Lake.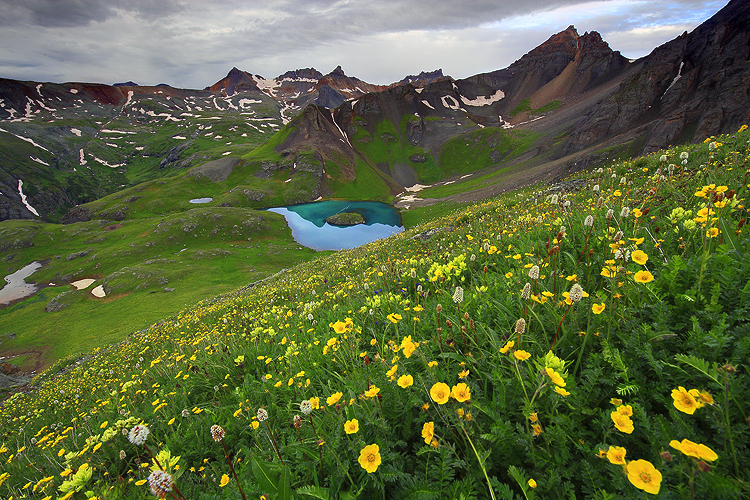 ---
Posts: 230
Joined: Thu Dec 04, 2008 8:15 pm
Location: Denvair
PaliKona wrote:I will check all these out, thank you for the suggestions.
In looking at the maps...what about backpacking into Vestal Basin from Molas Pass? How long is that? Looks like the return trip back up from the Animas is a pain, but...
Also, while in the basin, how hard is it to hike Peak 3? I've seen photos of Storm King Peak from that location that blow me away, not to mention the Grenadiers.
Vestal Basin is a great option, though probably longer and tougher than you were originally hoping for. I think it's 3-4 miles (and 40+ switchbacks!) from the pass down to the river, and 3ish miles up to the Beaver Ponds and the Vestal turnoff. From there it's a fairly burly user trail the last couple miles up to the lower campsites in the basin (I'd recommend soldiering on another 15 minutes to better campsites above the ones even with the Vestal-Arrow saddle). So maybe 8-9 miles total to get in there from Molas, one way?
Last 4th of July, a friend and I hiked up to the top of Point 12,931 just west of Peak 3, in hopes of seeing the fireworks in Silverton (couldn't see from there - we only saw the reflections of the fireworks on the clouds). The upper half of the slope from the basin to the ridge was pretty loose with flat, plate-y rocks, but manageable. I'd guess a route up Peak 3 would be similar.
A trip into Vestal would be quite a bit more difficult than the Highland Marys area, and probably harder than Ice Lakes Basin, though I haven't been up in there yet. Ice Lakes is obviously spectacular, as is Vestal Basin. I'd say Highland Marys is a little less scenic than the other two, but still very beautiful.
The only time I lower the bar is après
---
Posts: 371
Joined: Wed Feb 17, 2010 3:43 pm
Location: Durango, co
I guess i was talking about all the side hikes off of the alpine loop if you have a 4wd, it is endless. But yeah if you want one place in the san juans that will blow the doors off, ice lakes is your spot. Just make sure you see them in the full on sunshine. the color is incredible
Attachments

decent..
208796_1031862566769_1531534805_30086404_8142_n.jpg (62.75 KiB) Viewed 365 times
Climb up Pints down
---
All amazing ideas.

What about the Blue Lakes near Dallas Peak...is that a hike in or a 4wd road? I don't know the area well and can't tell from the map.
---
Posts: 633
Joined: Mon Jul 18, 2011 8:14 am
There is a really cool new Falcon guide out about 'Touring Colorado Hot Springs.' I think there looks to be a nice undeveloped pool to hike to in the San Juans that you could backpack to. Get the book for more info.
---
My plans changed a bit for late July - my east coast friend wants to do a San Juan 14er. I'm thinking Handies or Sneffels. He's in good shape and hikes with me a lot when he's out here, but hasn't done a 14er and coming from sea level will take it's toll I'm sure.

We're planning on being in T-ride for 2-3 days, and also driving around to the Silverton area, and out to Lake City.
Which is more scenic and stunningly beautiful? Is Sneffles likely a bit too much?
---
Posts: 1120
Joined: Sun Jul 16, 2006 6:11 pm
Location: Centennial, CO
PaliKona wrote:Which is more scenic and stunningly beautiful? Is Sneffles likely a bit too much?
My 60 year-old Dad
with bad knees/back/shoulders/etc made it up Sneffels a couple days after leaving sea level. Handies has some of the best views of any 14er IMO and American Basin is gorgeous. While you won't be disappointed in either, Sneffels is the superior mountain (again, IMO) and has comparable views and Yankee Boy is amazing in its own right.
"Athletes express themselves physically, this is their art. As an athlete, exhausting oneself on the field or or on the track or on the trail or on the mountain brings calm and satisfaction. Thrashing about… our expression." - Steve Gleason
---
I guess I'd add Uncompadre as well to the list...

We'll camp the night before so which area is nicest? American Basin?

BTW, that's an awesome pic with you and your Dad! Good for him!
---
Who is online
Users browsing this forum: No registered users and 2 guests