Site Administrator
Posts: 7523
Joined: Sun Jul 25, 2004 7:34 pm
Location: Breckenridge, CO
I've added embedded Google Earth functionality into various parts of the site so maps can be viewed in 3-D without having to open Google Earth separately. The new process requires a Google browser plug-in, so you may be asked to install it the first time you try to access the "Earth" link on maps. Once the plug-in is installed, you can easily use Google Earth when you see "
Earth
" as a map type on a 14ers.com Google Map.
Here are some of the places where it shows up:
Routes: Maps (click on the Google Map/Earth link, above the map)
Trip Reports: When a Google Map has been included (in this report, it's near the bottom)
Main 14er Photo Pages: "Map of Nearby Peaks," near the top)
Sample map from
Mt. Yale Route #1
: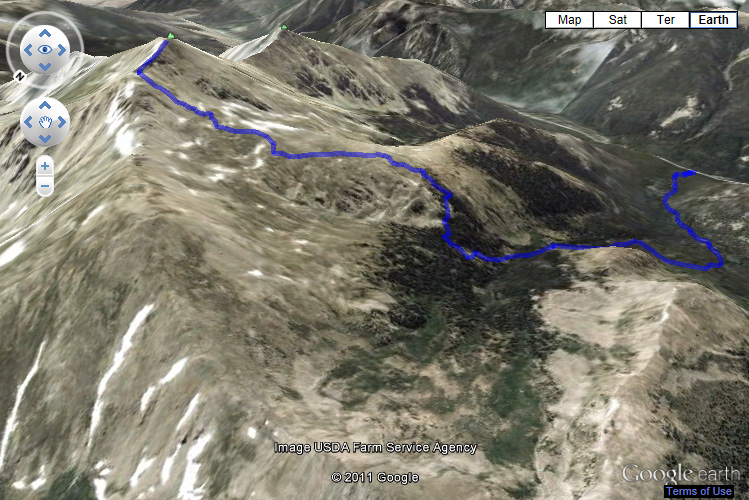 I'll get this on
www.13ers.com
soon...
---
Posts: 3856
Joined: Wed Jul 02, 2008 8:56 pm
Sweet addition. Thanks for continuously enhancing the functionality of this site!
---
Posts: 992
Joined: Thu Dec 17, 2009 8:13 am
Location: Grand Junction, CO
That is a pretty awesome addition, thanks Bill!
"The greatest battle is not physical but psychological. The demons telling us to give up when we push ourselves to the limit can never be silenced for good. They must always be answered by the quiet, steady dignity that simply refuses to give in. Courage. We all suffer. Keep going." - Graeme Fife
"I found that nothing truly matters, that you cannot find for free." - The Gaslight Anthem
---
Posts: 2174
Joined: Tue Apr 01, 2008 9:50 am
Location: Northwest Denver
That's a great addition, Bill! Thanks for all you do.
You've never really stopped even if you feel like you have.
---
Site Administrator
Posts: 7523
Joined: Sun Jul 25, 2004 7:34 pm
Location: Breckenridge, CO
---
Posts: 1007
Joined: Thu Dec 24, 2009 1:03 pm
Thanks Bill, sweet fearture.
---
Posts: 653
Joined: Sun May 13, 2007 11:15 am
Location: Colorado Springs, CO
Bill, how soon until you add 3D holographic displays with realtime satellite imagery feeds?
(You never know unless you ask, right?)
Thanks for always making this site the best on the web! Great addition!
---
Posts: 4
Joined: Mon Oct 10, 2011 5:44 pm
Location: Meeker, CO
Awesome!! I'll be using it a lot!!
---
Posts: 2734
Joined: Wed Nov 02, 2005 9:49 pm
We're in the future! Pretty cool addition to the site.
---
Posts: 951
Joined: Tue Jul 31, 2007 1:39 pm
Location: Fremont County, CO
Just when I thought this website couldn't possibly be any dumber, you go and do something like this...
and totally redeem yourself!
"It is not the critic who counts, not the man who points out how the strong man stumbled, or where the doer of deeds could have done better. The credit belongs to the man who is actually in the arena; whose face is marred by the dust and sweat and blood; who strives valiantly; who errs and comes short again and again; who knows the great enthusiasms, the great devotions and spends himself in a worthy course; who at the best, knows in the end the triumph of high achievement, and who, at worst, if he fails, at least fails while daring greatly; so that his place shall never be with those cold and timid souls who know neither victory or defeat." (Theodore Roosevelt)

"Wilderness is not a luxury but a necessity of the human spirit." (Edward Abbey)
---
Posts: 1230
Joined: Mon Apr 14, 2008 8:38 pm
Location: Desert Hills AZ
It's getting harder to find an excuse to get lost on a hike or climb.

Very soon, the thread labeled "What can I do to improve 14ers.com" will be obsolete.
Not that I speak in respect of want: for I have learned, in whatever state I am, therewith to be content - Paul the Apostle.
Like it or not, I am a slow driver. Putt ... putt ... putt ...
Good day.
---
Site Administrator
Posts: 7523
Joined: Sun Jul 25, 2004 7:34 pm
Location: Breckenridge, CO
I'm working on adding Google Earth tours to all of the KML files on the site. We will then be able to run an Earth tour for the route lines.
Here are a couple that I've finished (on the Route Maps page, click "Route Tour" link above the map):
Belford (standard route)
Bierstadt (standard route)
Antero (standard route)
To view in full-screen, click the
icon.
Only another 120+ to do!!
---
Who is online
Users browsing this forum: No registered users and 4 guests