Posts: 41
Joined: Fri Mar 27, 2009 9:30 am
Location: Cupertino, CA
I was planning to do a quick hike up Mount Adams in the White Mountains, NH (just a random selection); I'm in the area for a day.

I want to keep the hike a class 2 (or low class 3). Looking at the maps, it appears that Airline trail fits this criteria. Do you guys agree? Any other routes up the mountain that are scenic? If time and weather permit, I plan to do the ridge that connects Mt Adams and Mt Madison.

Cheers!
---
Posts: 98
Joined: Tue Aug 14, 2007 8:18 am
I went up Valley Way, and back down Airline. The top part of Airline is really scenic and is not to be missed if you're heading that way. As far as going up Mt. Adams, there are a couple of ways to summit from the hut. I went up the way that is closer to the lake up there (more fun scrambling than the other way), and then descended the opposite side.

All of that should be class 2.
---
Posts: 473
Joined: Thu Jun 16, 2005 11:21 am
Location: Iowa City, IA
All the trails in the Whites are pretty much class 2. While I preferred the Airline, the Valley Way has the scenic advantage of several beautiful falls shortly after the trail starts from the north, but it becomes very steep and slippery if wet, which can happen a lot out there. You might go up the Valley and down the Airline. There are literally tons of trails that you can almost always do a loop and enjoy different trails on each hike. Beautiful area! Enjoy!!
---
Posts: 193
Joined: Thu May 07, 2009 4:10 pm
Location: Colorado Springs
I highly recommend the King Ravine Trail on the way up (you can take Air Line on the way down). There are some great boulders, a "subway" section, an ice cave, and a nice headwall to climb (~1,100' vert in half a mile) to get up to Adams' ridge.
http://www.summitpost.org/king-ravine-trail/164794
I wasn't in very good shape back in those days so I never made the summit of Adams but I definitely went back a couple times just to climb that trail.
A photo I found online showing a typical section of the headwall climb: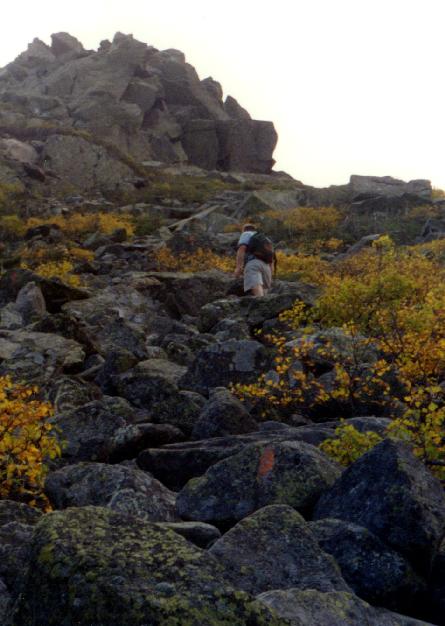 ---
Posts: 397
Joined: Wed Aug 11, 2010 3:02 pm
Location: K-town (near the Smokies)
One other possibility--take the Caps Ridge trail up Jefferson, then the ridge over to Adams. It's a great hike, and is mostly class 2 (I think the Caps have a bit of 2+). There's a good dirt road up to the notch just west of Jefferson at 3000' up, so the overall elevation gain is comparable to most other ways up Adams, but you get two peaks for the price of one
That said, I've heard good things about King Ravine...never got a chance to hike it though.
"If trees could scream, would we be so cavalier about cutting them down? We might, if they screamed all the time, for no good reason."
— Jack Handy
Mah peaks
---
Posts: 41
Joined: Fri Mar 27, 2009 9:30 am
Location: Cupertino, CA
Thanks for all the information!
---
Posts: 107
Joined: Sat Sep 23, 2006 9:25 am
Location: Allegheny
Vermont Mike wrote:I highly recommend the King Ravine Trail on the way up
I agree, the King Ravine headwall is not to be missed.
---
Who is online
Users browsing this forum: No registered users and 6 guests