Forum rules
Let's try to keep the topics related to mountaineering, please.
Posts: 24
Joined: Mon Jun 23, 2008 7:22 pm
My min pin, Thor has done several climbs in the sawatch, he is retired now (hip).
---
Posts: 798
Joined: Thu Jun 28, 2007 9:00 pm
Location: Colorado Springs
I like the thought. Unfortunately, my story is not of a great or even good 14er dog. Molly Mae (Black Lab) has gone hiking with me many times without a problem. In 2006/2007 we started to see problems. On the longer hikes, she began to tear one or two pads on at least one of her paws. This tended to happen on the longer hikes (15+ miles). After the first incident, I talked to my Vet who gave me a plan of action. It was simply, clean the pad area, place Neosporin on the "raw" area, and then place human socks on her feet to stop her from licking the infected area. This regime worked well when it was put to use. I climbed Almagre and to Barr Camp in the CS area. They were 20+ and 16+ respectively and we experienced the pad issue.
In November, 2007, I wanted to climb a 14er. With no willing partners at the time, I decided to take my trusty Molly to Mt. Sherman. Her Pads were my major concern, but the climb was less than 6 miles. Figured it wouldn't be an issue. As we started the climb, I wondered what the cold was doing. Along the way, I checked her pads regularly without any problems. We summitted (Dumb me, without a camera) and began to descend the standard trail. About a mile into the decent, I saw the first signs, a limp in her walk. Figured it was time to slow down a little. When we reached the Hilltop Mine, things began to progress rapidly. We were less than 1.5 miles from the car (as the eagle flies). As she stepped, I saw blood in the snow. She was hurting. Just below the Hilltop Mine, she just stopped and layed down. I was scared because she would not get up for anything. What was I going to do? I immediately, checked her paws and noticed almost all her pads were torn. Not good. After looking around, I noticed a long stretch of snow. I pulled out my snow pants, place her on them and dragged her down the mountain. We reached a spot where we could not continue in this fashion, but there was plenty of soft tundra. I was able to get her to walk across this tundra until we met the rocky road. Again, she sat down and would not get up. I was about 1/2 mile from the gate and car. It was time to carry this 60+ pound dog. Little by little, I picked her up and carried her 50 - 100 yrds at a time before taking a rest. It was a grueling activity, but got us to the car were I was able to lay her down and examine her paws. Every pad on every paw was torn or missing. I wrapped them up the best I could and headed back home. On the way, I checked her to see if we needed to see the vet.
Upon reaching Colorado Springs, she seemed to be alright systemically, but her paws looked pretty bad. I remembered the Vet's instructions and stopped at the local Walgreen's and dropped a pretty penny on supplies. When we got home, I carried her down to my woodshop and placed her on one of my work benches. Here, I prepared a solution of iodine to clean her pads, neosporine to prevent infection, gauze to start the wrap, and finally, clean cotton socks to complete the dressing. One thing I didn't anticipate was her reaction to the care. I had staining iodine in a tray to place on her pads when her "happy" tail began to wag and splash iodine all over my workshop. Upon dressing her wounds, I took her up stairs to her spot and let her rest. Once my 5 year old daughter got home, she turned into the nurse. Every 10 or so hours, we checked her wounds and changed the dressings. After a couple days, she was able to walk around and healed up quite nicely.
Since then, we have avoided 14ers and kept to the local hikes. Also, I have purchased some shoes to help her out. She loves to explore and get out, but after Sherman, our 14er days are over. In the end, I think it was her weight and the downclimb that caused the problems. Since then, there haven't been any. I love to go out with her, but remain cautious after the Sherman experience.
Molly after the Sherman Climb
Molly a year later on a hike up Kineo in the CS area
There is a fine line between fishing and just standing on the shore like an idiot.
---
Posts: 179
Joined: Wed Jul 02, 2008 9:20 pm
Yes I have to agree... dog boots are a must for any dog climbing a mountain. Their tender pads just can't take the sharp talus rocks above tree line and close to the summit. I prefer Ruff Wear brand. We tried both Ruff Wear and the REI brand, and the Ruff Wear survived the hike
The mountains are calling and I must go. ~ John Muir
---
Posts: 262
Joined: Tue Apr 11, 2006 4:21 pm
Location: Greeley
I hope people don't mind but I may bump this post to the top over the next few days. I'd still like to continue hearing about people's dogs and see how I might be able to include them in my book. Honestly, I hope to see many posts here so I can sort through them. Perhaps there will be a way to include more people than I originally thought possible. That is why I hope more responses continue to flow in.
With man this is impossible, but with God all things are possible.
---
Posts: 28
Joined: Tue Jun 26, 2007 4:55 pm
Location: Colo Spgs
Hey Inky,

How is Sawyer doing?
---
Posts: 677
Joined: Tue Dec 26, 2006 11:07 pm
Location: Highlands Ranch, CO
sweet book, here's my puppy, i haven't taken him on a 14er yet, I was waiting till he got a little older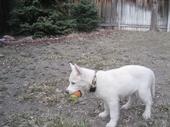 ---
Posts: 262
Joined: Tue Apr 11, 2006 4:21 pm
Location: Greeley
Spangle71 wrote:
Hey Inky,

How is Sawyer doing?
Thanks for asking! He is doing much better than when I retired him. For seven months his improvement was marginal at best....hence my post about ending our journey. In the last two months he has improved in leaps and bounds. I'm shocked because I never expected to see this happen. I have been swimming him a lot which I believe has helped a lot. He's been in Lake Loveland 3-4 hours a week fetching toys I throw out there for him. I would not say he is ready to return to the 14ers at this point in time - and my gut tells me that our journey is still over. I don't know. My personal belief is that it's in God's hands. Time will tell as Sawyer continues to heal or remains where he is now.
Josh
With man this is impossible, but with God all things are possible.
---
Posts: 20
Joined: Fri May 25, 2007 12:28 pm
Location: Breckenridge
I would be more than happy to help you out in any way with your book. My yellow lab (Dooley) has climbed 16 14ers so far. He is only 2.5 years old and I didn't start hiking him until he was 1. I take him every chance I can get and part of the enjoyment of why I hike the 14ers is watching him have fun. He is my pace setter up the hill and just won't quit until we get to the summit. When he finds a patch of snow in the late summer or any chance to cool himself off in a lake or stream it is always worth it for me to watch him have fun with the simple things in life. Sometimes I enjoy hiking with him more than a person since it is just us outside enjoying the hike. I can send you some pictures when I get a chance if you would like them. He is a stud of a dog and the best climbing partner anyone could ever ask for.
Good luck with you book and I look forward to reading it.

Paul
PDMeier
---
Posts: 44
Joined: Sun Aug 05, 2007 5:22 pm
Location: Centennial, CO
I have a mutt named Bourbon that has climbed roughly 35 individual 14ers, and summitted a 14er about 40 times. I'm not sure what kind of dog he is, but think he is a Border Collie/Retriever or a Australian Shepherd/Retriever Mix. I learned quickly that most class 3 and class 4 14ers are no place for a dog to be, but he has done the Sawtooth and Wetterhorn. He just turned 12 and still climbs with me. This year we have climbed North Massive and Holy Cross (up the Standard route around Halo Ridge and down Notch Mountain). He's still really strong. PM me and I can send you pictures if you'd like.
---
Posts: 262
Joined: Tue Apr 11, 2006 4:21 pm
Location: Greeley
I thought I should reply to everyone and let them know that I have selected the "top dogs" that will be used in the history section of my book. I have confirmation from everyone on the list except one. I'm hoping that this individual will still let me include them and their dog in my book. Most of my selection came before this posting as I've always been interested in this topic but was never able to find any written record of dogs and the 14ers all compiled into one place. In many ways I've been researching this for the last eight or nine years. No matter how good of a job I do on this history portion of the book, I'm sure it will only be a piece of the puzzle as more people will come forward in years to come.

With that in mind, I do hope people continue to post about their dogs. I'm still debating whether or not it is possible to include additional dogs and owners but do so in a lesser role. It's something I don't know yet and probably won't know for a while. If people continue to post, I can always reference this site and these postings in upcoming months. It will help me evaluate how many additional dogs I could include and give me access to sending those individuals a PM. I would prefer to leave my options open because the book is still being worked on and developed.

Josh
With man this is impossible, but with God all things are possible.
---
Posts: 102
Joined: Fri Aug 03, 2007 5:56 pm
Location: Fort Collins, Colorado
Our dog, Goldie (a 3-4 year old golden/lab mix we got from a rescue), has done only one so far - Redcloud a week ago. She also had trouble with her paws. I saw a sore spot on one of her pads on the way and put on her booties but she kicked them off. On the way down, near treeline, she whined and stopped. I checked her paws and several pads were sore (not torn up or bleeding but pink). I put her booties back on and she seemed relieved (even wagging her tail) and didn't try to kick them off this time (I don't think she will kick them off again intentionally since I think she know understands their purpose) and she got down just fine. I also reccomend RuffWear booties - they seem very tough, particularly with Vibram soles. She enjoyed the hike very much and played in the snowfields. It was a 4 day weekend hiking/camping trip and she didn't want to go home! She still wants to sleep on the sleeping bags that are next to the laundry machine.

We attempted Massive with her 2 years ago but was forced to turn around just below the saddle due to weather. We are going to do another class 1 or 2 14er next weekend with Goldie and re-attempt Massive in August. I expect she will come with us on most of the class 1 and 2 14ers. A great hiking companion - I just need to figure out how to get her to stop pulling as much on the way down.

I will post pics of her after I get them resized down to 275K.
---
Posts: 137
Joined: Sat Feb 16, 2008 10:26 pm
Location: Trinidad, CO
Here are some pictures of my dog Suka. She is a Husky/Samoyed mix that I rescued. She had climbed 15 14er's thus far and will continue to climb with me. Her stamina is actually quite obsurd... Anywho, thought I'd throw this out there. Have a good one
John
Attachments

suka 3.jpg (215.36 KiB) Viewed 764 times

Suka 2.jpg (221.79 KiB) Viewed 763 times

suka.jpg (242.56 KiB) Viewed 765 times
---
Who is online
Users browsing this forum: No registered users and 2 guests