Posts: 170
Joined: Thu Apr 06, 2006 5:25 pm
Location: Thornton, CO
On Tuesday I was coming down from Sneffels when I heard an unusual sound. It took me a couple of seconds to figure out what it was and locate where the sound was coming from. Across Yankee Boy Basin and at the head of Governor Basin I could see a large plume of dust coming from below the St Sophia Ridge. I grabbed my digital camera to get a video of the slide (which I did) however the quality is very poor and the wind drowned out the sound. I did get a fairly good pic of the aftermath and just happen to get a pic of the area earlier that morning (although it's difficult to distinguish details since I wasn't taking a pic of that particular mountain/ridge just the area).
The first pic is of the area and the second is enlarged to show just the west face before the slide. In the third pic you can definitely see the crown of the slide and the debris left on the west face. For scale, the point is around 13,000 and the bottom of the run out is between 12,400-12,600. I'm not sure how to attach a video however even if I could all you can make out is the large plume of dust.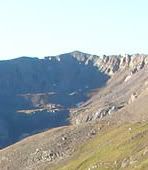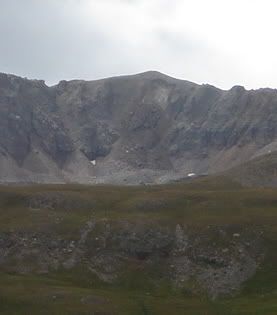 I have seen rock fall many times however this is the first time I have ever seen something on this scale and needless to say it was quite impressive. Anyway just thought I would share this experience.
Last edited by
dixonallred
on Thu Sep 06, 2007 10:59 am, edited 1 time in total.
Joe
---
Posts: 111
Joined: Mon Jun 13, 2005 8:17 am
Location: denver co
---
Posts: 1065
Joined: Tue Oct 17, 2006 1:33 pm
Location: PUEBLO
That's pretty cool!

I'm certain that you'll get some other opinions, but to me the slide seems to have come off the summit of Mendota; I can't see any of the St Sophia ridge in your photo.
"We knocked the bastard off." Hillary, 1953
"It is not the mountain we conquer but ourselves." Hillary, 2003
Couldn't we all use 50 years of humble growth?
---
Who is online
Users browsing this forum: No registered users and 3 guests