Posts: 15
Joined: Wed Aug 06, 2008 9:00 am
Location: Chicago
I thought this story was too funny not to post online...
Last Tuesday, I hiked Mt. Princeton with Caverdude. On the way back down, when we reached the intersection of the trail and the upper 4x4 road, we heard the sound of a car coming up the road. The road is fairly narrow with a large drop-off at that point, so we decided to wait higher on the trail for the car to pass. As the car came around the bend, we were amazed to see that it was actually an Astro Minivan! Then, we were even more amazed to see a second vehicle - a Nissan Altima - come around the bend as well! When the driver of the van saw us standing along the trail, he jumped out of the car and ran to talk to us. "Hey, how much further to Mt. Princeton Hot Springs??" After we told him he was going the wrong way, 10 more people piled out of the two cars. Everyone was standing around in sandals, shorts and tee-shirts, trying to figure out where they had gone wrong. It turns out, the driver of the minivan put "Mt. Princeton" into the map application on his phone, and followed it almost to the end of the road. Nicely done.
After they figured out they were going the wrong way, the two cars had to reverse down the road for over a mile until they reached a switchback that gave them enough room to turn around. We ended up following them down the last two miles of road, and watched them destroy their bumpers and the bottom of their cars. They were lucky they made it off the road at all.
Fortunately I was able to get a few pics with my phone... Enjoy!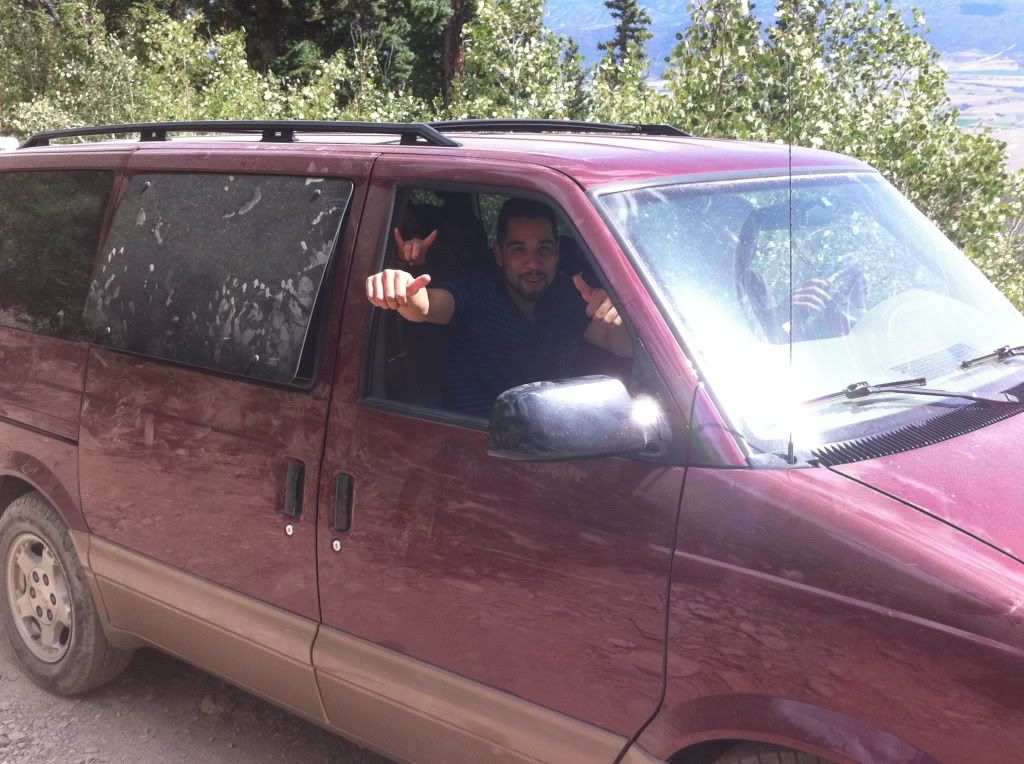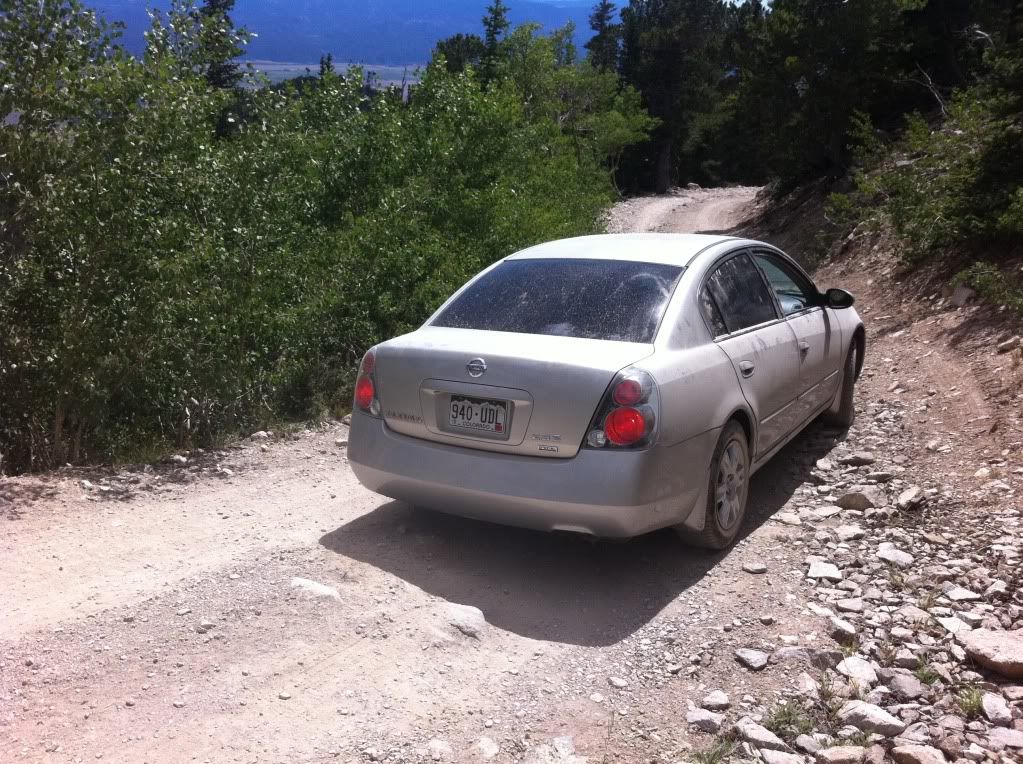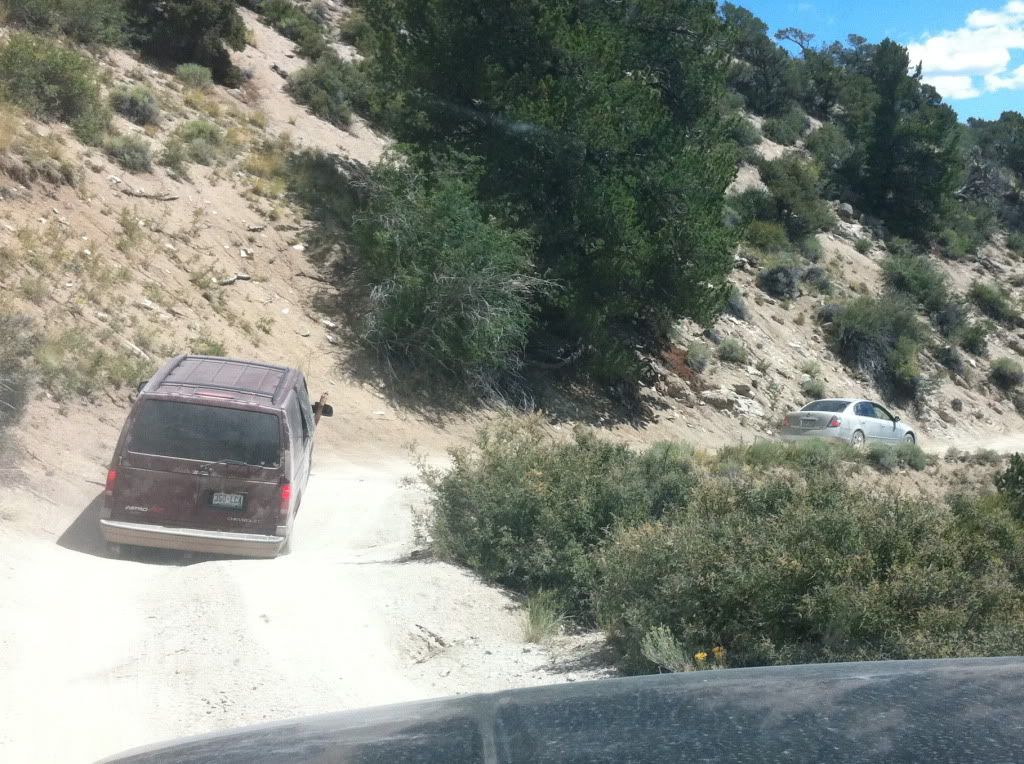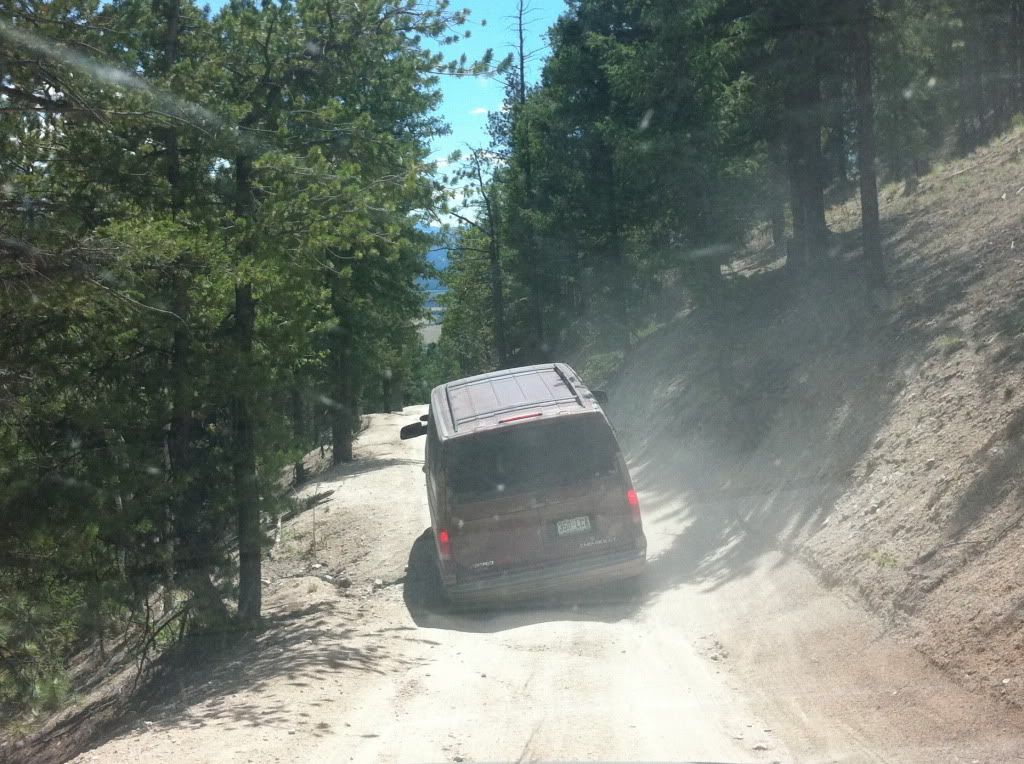 ---
Posts: 3856
Joined: Wed Jul 02, 2008 8:56 pm
LOL, awesome.
---
Posts: 376
Joined: Wed Sep 09, 2009 11:18 am
Location: Breckenridge, Colorado
Outstanding!
"I sang out from a mountain top, out to the valley down below
Because my cup doth overflow
With the beauty of the days gone by." - Van Morrison
---
Posts: 242
Joined: Sat Feb 14, 2009 6:33 pm
Location: Highlands Raunch, CO
Having recently hiked Princeton (Sat.), I find this hilarious!
---
Posts: 108
Joined: Sat Sep 12, 2009 4:44 pm
Location: Tucson, AZ
Scizzo and I were amazed that this crew continued past the numerous pullouts and past where the 4x4 vehicles were parked. That's blind faith in your electronic technology at its finest!
---
Posts: 203
Joined: Mon Jul 02, 2007 7:41 pm
Location: Parker, CO
Unfortunately, GPS and other modern technology has turned many people into navigational idiots. Thanks for sharing.
chrismjx wrote:

Roald, in that one sentence you managed to demonstrate that A) you're an idiot and B) you're a hypocrite, and a perfect example of the cause of the modern-day problems in this country.
---
Posts: 787
Joined: Mon Jan 10, 2011 8:47 pm
Location: Denver, DC
...and's it's almost impossible to reason with someone who is following their dashboard GPS.
I am unable to walk away from the mountain without climbing it. An unclimbed mountain tugs at my consciousness with the eternal weight of time itself. Until I've pressed my face into it's alpine winds, hugged it's ancient granite walls, and put it's weathered summit beneath my heal I'm unable to resist it's attraction.Knowing nature gives the mountain more time than she gives us adds urgency to the obsession. As has been said before; the mountain doesn't care.

It can wait forever. I cannot.
---
Posts: 944
Joined: Tue Jul 31, 2007 1:39 pm
Location: Fremont County, CO
That is funny. Very very funny. Reminds me of this comic I have posted on my fridge.


"It is not the critic who counts, not the man who points out how the strong man stumbled, or where the doer of deeds could have done better. The credit belongs to the man who is actually in the arena; whose face is marred by the dust and sweat and blood; who strives valiantly; who errs and comes short again and again; who knows the great enthusiasms, the great devotions and spends himself in a worthy course; who at the best, knows in the end the triumph of high achievement, and who, at worst, if he fails, at least fails while daring greatly; so that his place shall never be with those cold and timid souls who know neither victory or defeat." (Theodore Roosevelt)

"Wilderness is not a luxury but a necessity of the human spirit." (Edward Abbey)
---
Posts: 89
Joined: Mon Sep 07, 2009 4:49 pm
Location: Palmer Lake, CO
Now that was really, really funny. Even funnier than when I did it in Denver.
---
Posts: 115
Joined: Mon Aug 15, 2011 5:05 am
Location: Northglenn, CO
I always find a good old fashion map comes in handy. Besides, the hotsprings are off the main road to St Elmo. And the Mt Princeton road is not meant for those vehicles. Be kind to dumb animals, or atleast try. In my experience, people in general are idiots. Nice pics though. Atleast they managed to keep the dirty side down.
The spaces between is where I reside, In the moment is where I live, and my family and friends are who I love.
---
Posts: 1214
Joined: Mon May 24, 2010 11:57 am
Location: Littleton, CO
---
Posts: 20
Joined: Fri Dec 31, 2010 6:57 am
Location: Denver, CO
Were they feeding the bears?
---
Who is online
Users browsing this forum: No registered users and 3 guests