Posts: 1065
Joined: Tue Oct 17, 2006 2:33 pm
Location: PUEBLO
............ but his girl is beautiful!!
Alise and I on Blanca before heading to Ellingwood. She'll be 12 in 3 weeks. That leaves a whole year before she hates Daddy, right?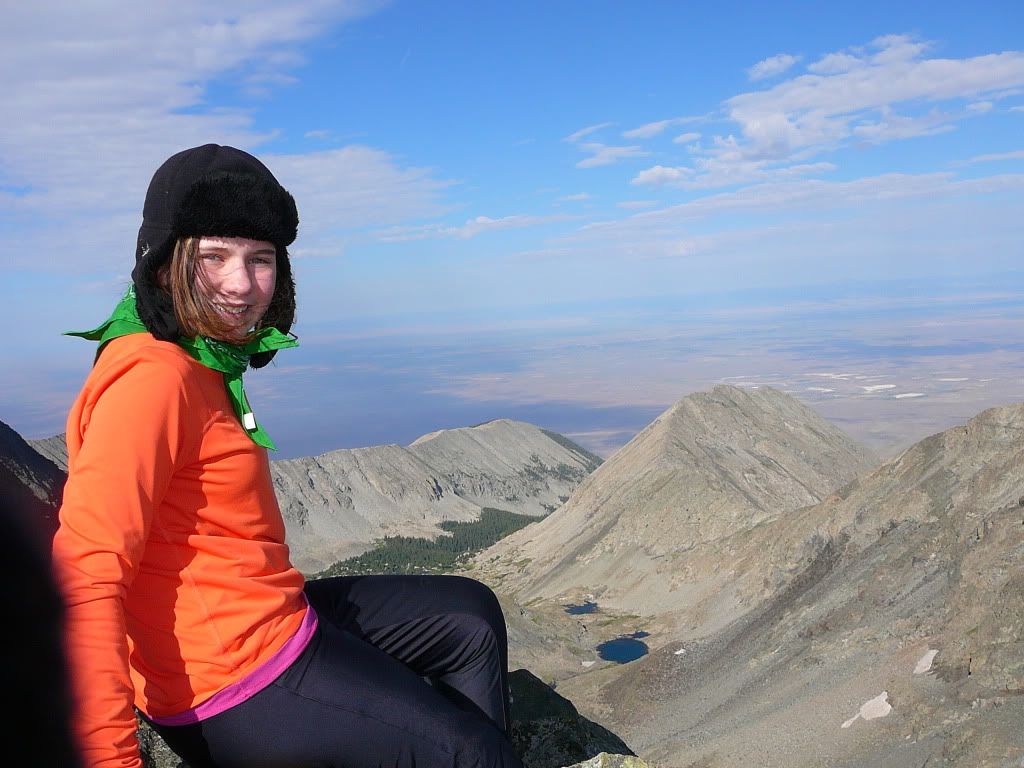 Last edited by
sgladbach
on Wed Jul 13, 2011 12:38 am, edited 1 time in total.
"We knocked the bastard off." Hillary, 1953
"It is not the mountain we conquer but ourselves." Hillary, 2003
Couldn't we all use 50 years of humble growth?
---
Posts: 726
Joined: Tue Jul 25, 2006 7:28 am
Location: Cable, WI
Steve,
if you still have her at almost 12, I think you're relatively safe. Great shot and you both look like you are enjoying your climbing partner.
Perseverance
- The courage to ignore the obvious wisdom of turning back.
---
Posts: 523
Joined: Wed Jun 11, 2008 8:17 am
Location: Colorado Springs
Great shot, SG. I'm so impressed by her peak list so far! Can she catch her dad someday?
Save a place for me up in the high country.
There's still space to breathe.
- Gregory Alan Isakov
---
Posts: 718
Joined: Thu Jul 02, 2009 7:49 am
Location: Golden, CO
---
Posts: 1340
Joined: Sat May 10, 2008 7:43 pm
Location: Estes Park
Really nice shot, Steve! I'm glad to hear that Alise has been enjoying getting out with you on these trips. I think you and Scott have the right idea. Tell her I said good job!
---
Posts: 424
Joined: Wed Aug 01, 2007 1:16 pm
Location: Aurora, CO
Wow! Your daughter is quite the climber! I am envious!
I take the mountain climber's approach to housekeeping - don't look down
---
Posts: 1333
Joined: Sun Sep 14, 2008 8:30 am
Location: Fort Collins
Very nice!

As for the age thing.... I certainly am no expert but I do have a 12 year old daughter... what 1 person told me is to be the man you want your daughter to marry. I try....
---
Posts: 796
Joined: Wed Jun 22, 2005 1:20 pm
Location: Littleton
I've heard through the grapevine that you are a pretty stand up guy Steve. It looks like you're a good daddy too taking your daughter out into the mountains. AND she looks like she had fun. Thanks for sharing.
There are some trips you never fully come back from.
---
Posts: 97
Joined: Wed May 30, 2007 9:49 pm
Location: Fair Oaks Ranch, TX (1200')
As a dad of two daughters myself, nice going, sir. It was a pleasure to visit with you briefly on the trail to Humboldt a few weeks back, when it seems you and Cooper were introducing another small bunch of young folks to the joys of the mountains. Happy trails always.
"Happy trails to you ..."
- Roy Rogers
---
Site Administrator
Posts: 6384
Joined: Sun Jul 25, 2004 8:34 pm
Location: Breckenridge, CO
Very nice, Steve!
I'm "enjoying" 16 right now.
"
There's no recess and no rules in the school of life
" - D. Mustaine
---
Posts: 796
Joined: Wed Jun 22, 2005 1:20 pm
Location: Littleton
Me too Bill. Half boy/half man but still totally awesome.
There are some trips you never fully come back from.
---
Posts: 825
Joined: Thu Aug 13, 2009 12:44 pm
Location: Denver
That is awesome. I can't wait to take my girl up... but since she's just 9 months it will be a little while!
"Wilderness settles peace on the soul because it needs no help. It is beyond human contrivance." -- E.O. Wilson
---
Who is online
Users browsing this forum: No registered users and 2 guests