Posts: 713
Joined: Sun May 13, 2007 11:32 am
Location: Golden, CO
This is on the NPS morning report today. I know Tucker. He's a great guy. Excellent work Tucker...
8)
Denali National Park & Preserve (AK)
Off-Duty Ranger Saves Young Boy's Life
Tucker Chenoweth, a veteran seasonal mountaineering ranger at Denali National Park and Preserve, recently returned to the park's mountaineering base of operations in Talkeetna following a grueling three week patrol on Mt. McKinley. During the patrol, his team was involved in numerous SAR operations and provided EMS care to multiple climbers at the 14,000-foot Ranger Camp. Following such stints on McKinley, mountaineering rangers staff the Talkeetna Ranger Station, providing orientation and other services to incoming expeditions. On June 28th, Chenoweth was off duty and enjoying a dinner with his fiancé at the Wildflower Cafe in Talkeetna when a 12-year-old boy began showing signs of distress. Chenoweth determined that the boy, who had run out of the restaurant with his mother, was unable to breathe due to a food obstruction. Tucker quickly performed the Heimlich maneuver on the boy, standing behind him and employing five or six progressively stronger thrusts to his abdomen until a large chunk of steak was dislodged. The boy's grateful, yet still-distressed family bought Tucker and his party a few beers for his prompt intervention and life-saving efforts. Names were not exchanged with the vacationing family. Just all in a day's work for Chenoweth. [Submitted by Pete Armington, Chief Ranger]
"True love is much easier to find with a helicopter."
---
Posts: 1938
Joined: Fri Sep 08, 2006 1:11 pm
Location: Colorado Springs
Thanks for posting this, Halstead. And again, here's to all the great folks out there who put their lives and reputations on the line every day - often to the uneducated judgment and derision of others - to keep people suffering from mental illness, physical distress, unpreparedness, or just a piece of food stuck in their throats, alive out there. Well done.
---
Posts: 42
Joined: Thu Jul 10, 2008 11:11 am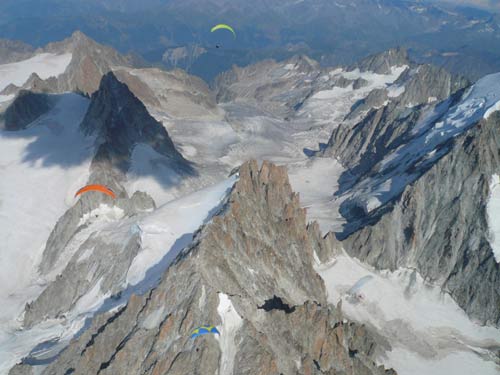 He should have gone to France. Very normal behavior there...
While his outlook appears a bit extreme, and it seems like the guy was not overly stable, Mr. Cheeseburgler's outlook is not too far wrong I fear. Those who have not attended Camp Denali probably don't have the frame of reference to interpret correrctly.
The mountain is a nut-case magnet. It's chock-full-of-nuts.
Sitting on one's sleeping bag and being cold are normal.
Not wanting to talk to the arrogant guided climbers should also be considered normal.
Not carrying out one's excrements makes sense, as he would not have been able to do so.
That he didn't have full equipment is normal, since what equipment he had would be mostly lost on the descent.
A takeoff from the summit would have been difficult, as it's pretty much a knife edge. He could have started several hundred feet lower though.
The park service is constantly pulling people off the mountain. It's like a MASH rerun.
When they see a likely rescue case, they will do what they can to stop it from occuring. They are normally at the "standard" camps to do this.
They wanted this guy off the mountain and issuing him a parking ticket for carrying a paraglider wasn't going to do that.
IMO they declared him "insane" as that did legally allow his removal. As with so many similar government actions, which side you're on can be a difficult call.
---
Posts: 713
Joined: Sun May 13, 2007 11:32 am
Location: Golden, CO
From the Anchorage Daily News today
Climber might be charged for removal from Mount McKinley
The Associated Press
Published: July 14th, 2010 04:05 PM
Last Modified: July 14th, 2010 04:06 PM
FAIRBANKS -- The National Park Service says it might seek reimbursement from a solo climber evacuated from Mount McKinley last week.
The Park Service called on military helicopters to take 25-year-old Andrew Randolph off the mountain after camp doctors determined his behavior was erratic.
The removal operation cost tens of thousands of dollars. The Park Service is investigating whether criminal charges or the climber's insurance can help cover the cost.
John Leonard, a Denali National Park and Preserve ranger, says Mount McKinley sees only about a dozen solo climbers a year. Those climbers encounter higher rates of trouble than those who are part of a group.
"True love is much easier to find with a helicopter."
---
Posts: 41
Joined: Thu Apr 16, 2009 7:08 pm
Location: Gunnison
rickinco123 wrote:

silverlafs wrote:We were camping near Gothic/Crested Butte over the weekend and some guy had some psychotic episode as well..........running around the woods at 4am, screaming and hitting people's tents. Strange, it's not something to be expected while camping or hiking, but I guess that's just a limited perspective on my end. Glad it all ended well!

Based on where you were camping, I would expect your psychotic experience was a purposeful event. Crested Butte ( especially Gothic ) has become the home for trustafarian hippies starting back in the 70s. If their parents would just do the right thing and cut them off they wouldn't be able to afford drugs.
This is off topic but I felt somewhat compelled. To rickinco123 I say PISS-OFF. There are plenty of us in the Gunnison Valley who are hard working individuals and do not rely on a trust fund for sustenance. In fact, I have several friends who work two or more jobs just to afford life in the valley. Secondly, not all of us are running around tripping on acid. While I won't deny that we have our fair share of drug loving trustafarians, your comments are simply ignorant and hateful. In my humble opinion, I would suggest the folks of the Gunnison Valley are much more down to earth than the Denver suburbanites living in their McMansions.
To the posters who feel their opinions trump those of the physicians who evaluated the individual in person I would suggest you hold your tongue instead of speculating on topics you are unqualified to opine on. While I'm only in the process of obtaining my M.D., I at least know that no respectable medical professional would even consider making a diagnosis based on a brief news article.
"Extreme skiing is more like controlled falling"
---
Who is online
Users browsing this forum: No registered users and 2 guests