Posts: 34
Joined: Thu Sep 04, 2008 7:01 pm
Last Saturday (8/30/08) I decided to climb South Arapaho Peak (13,397') in the Indian Peaks Wilderness of the Colorado Rockies. I had been meaning to do this hike since last year when I had climbed Arapaho Pass, and seen the peak to the north: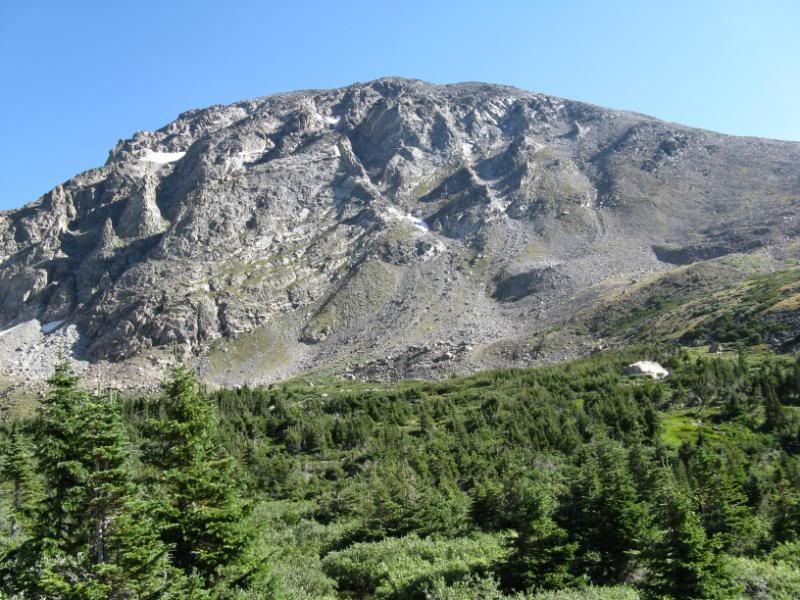 As you can see, it's a pretty tall mountain, and starting out from about 10,100 feet meant that I had nearly 3,300 feet to climb.
Anyway, as I was on my way up to the saddle below the peak, I came across a marmot minding his own business. Well, he must have seen me, and he scurried across the rocks before streching out on a boulder. Not being able to leave well enough alone, I went back down the trail a bit to take a photo of him. He first looked vacantly ahead, and then gave me this annoyed look: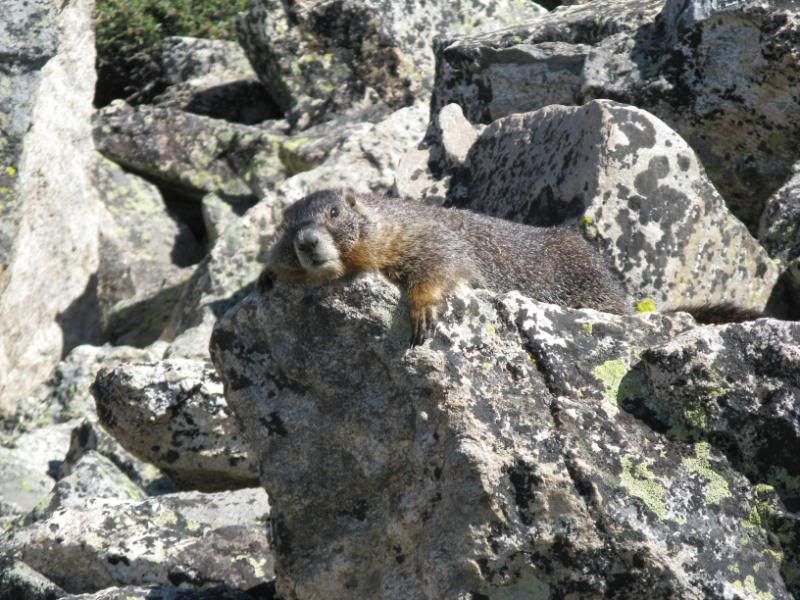 I mean, just look at the irritated expression on his marmot face: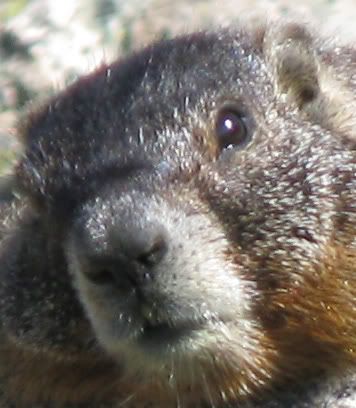 The way he just curled his lip at me said it all - "What are YOU looking at?"
Not wanting to start an incident in the marmot world, I decided to continue on to the saddle below South Arapaho Peak at 12,700 feet. Just below the saddle, I took this picture of the peak: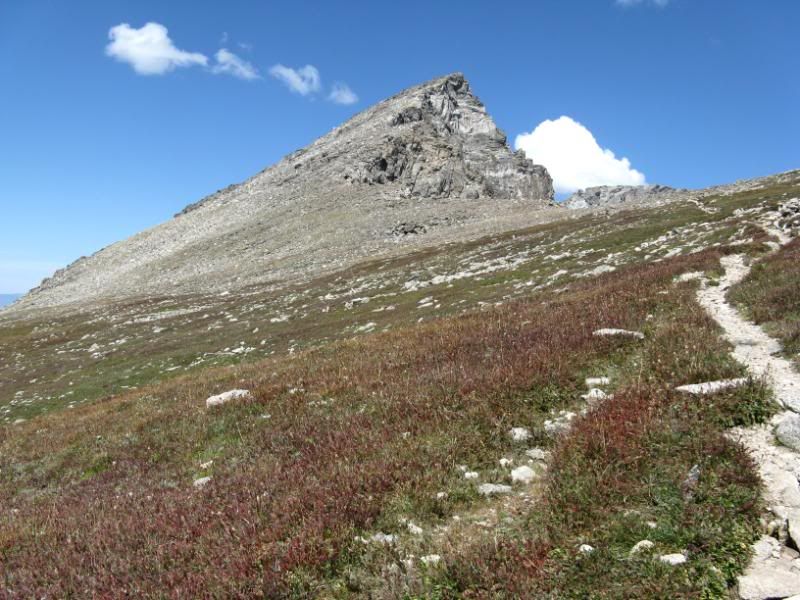 The saddle overlooks the Arapaho Glacier, which is owned by the city of Boulder for its water supply: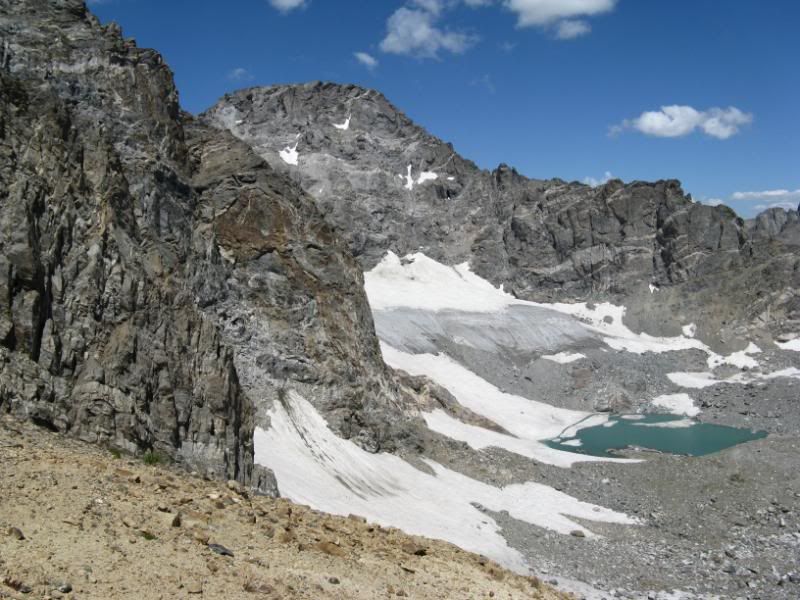 The last 700 feet to the top were steep and rocky, but I finally made it: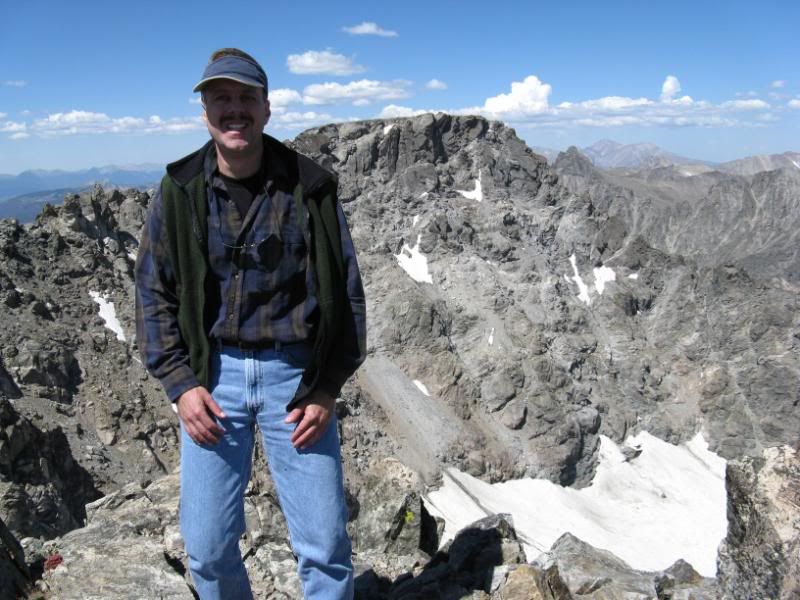 There was a small group of people at the top, and one of them took the above picture of me (that's North Arapaho Peak in the background). An older man also chatted with me about hiking and the scenery. It's interesting how total strangers can be friendly and helpful in situations like hiking, when people generally ignore one another in an urban area.
I took a nice photo of Arapaho Pass (on the continental divide) and Dorothy Lake while on the peak: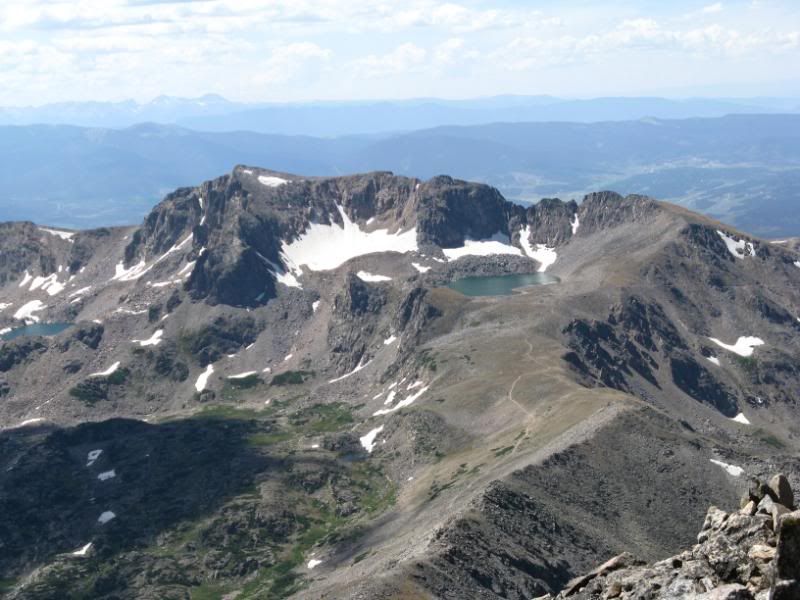 Then it was time to descend. This turned out to be the most dangerous part of the hike, as I had inadvertently gone off the trail to the right somehow, and didn't realize it until I had descended about 300 feet and noticed that the view was different from the way it was on the way up. I worked my way sideways across the rocks and boulders, and noticed that the young man that took my photo had also gotten off trail with the other members of his group. He said that it was easy to do on the steep slopes, and that he had done it before. They followed me as I worked my way back to the main trail. At one point I stepped on a loose rock, and it went sliding down the mountain as I regained my footing. We finally got back to the main trail, and I let the group pass me, as they were faster.
On the way down, I looked back at the mountain, and realized that there were some cliffs even on the relatively less steep south face of the mountain that I had come down, and I wondered if I had come close to them.
And as I got down to the treeline, I saw another marmot right next to the trail, just munching away at the vegetation. I looked at him for several seconds, and he momentarily gave me that annoyed marmot look before going back to eating. He probably got together his marmot buddies that night to discuss the irritating human he encountered on the trail, and the first marmot probably said that he saw me too.
Anyway, it was getting to be late in the afternoon and I was quite tired as I got to my car at the trailhead, and drove home.
---
Posts: 77
Joined: Wed Apr 18, 2007 9:18 am
Location: Denver
This may be the oddest thing I've ever read...
---
Posts: 2361
Joined: Tue Feb 19, 2008 1:26 pm
Location: The nether regions. CO
Freeheeler wrote:This may be the oddest thing I've ever read...
---
Posts: 945
Joined: Tue Jul 31, 2007 1:39 pm
Location: Fremont County, CO
fun trip report.... great pic of the marmot.... you better hope the "cotton nazis" don't see your summit shot!
"It is not the critic who counts, not the man who points out how the strong man stumbled, or where the doer of deeds could have done better. The credit belongs to the man who is actually in the arena; whose face is marred by the dust and sweat and blood; who strives valiantly; who errs and comes short again and again; who knows the great enthusiasms, the great devotions and spends himself in a worthy course; who at the best, knows in the end the triumph of high achievement, and who, at worst, if he fails, at least fails while daring greatly; so that his place shall never be with those cold and timid souls who know neither victory or defeat." (Theodore Roosevelt)

"Wilderness is not a luxury but a necessity of the human spirit." (Edward Abbey)
---
Posts: 555
Joined: Wed Aug 09, 2006 10:54 am
Location: Tulsa
DENIM RULZ!!!!
Dreams don't care if you are happy. They only care that they have been lived.
---
Posts: 1570
Joined: Fri May 05, 2006 11:05 am
Location: Denver, CO
Sporting the Flanel and Jeans! Have I seen you before on the trail?
Freeheeler wrote:This may be the oddest thing I've ever read...
+1
Kojones
Climbing partner: "Is this uphill the whole way?"
Kojones: "No, only half the hike is uphill."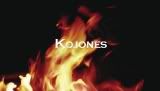 ---
Posts: 280
Joined: Fri Sep 07, 2007 9:37 am
Location: Dillon, CO
This is definitely one of my favorite trip reports so far this year. Looking forward to more
---
Posts: 288
Joined: Fri May 30, 2008 6:49 am
Location: St. Louis, MO
Kojones wrote:Sporting the Flanel and Jeans! Have I seen you before on the trail?

Freeheeler wrote:This may be the oddest thing I've ever read...

+1

Kojones
+2
---
Posts: 620
Joined: Sun Aug 05, 2007 5:45 pm
Good stuff. Thanks for posting.
You guys have fun climbing this weekend. I can't go. Lumbergh's gonna have me come in on Saturday, I just know it.
---
Posts: 129
Joined: Tue Apr 24, 2007 12:52 pm
Location: Denver, CO
You may be correct in the marmot's intent. It appears to be as close to that rock as possible to avoid being punted. It's a small circle those marmots run in, I'm sure they've heard the rumors by now.
---
Posts: 56
Joined: Sat Aug 29, 2009 3:06 pm
Freeheeler wrote:This may be the oddest thing I've ever read...
+3
I love these things!
Nice summit pic, you look really glad to be up in the high country.
If laughing is good for you, I'm going to live forever! You have a great sense of humor
---
Posts: 191
Joined: Sun Nov 08, 2009 9:35 am
Location: Louisville, CO
I was up there on the same day and saw that Marmot. He whistled shrilly at me, which I took to mean "Can you spare two thin dimes for a bottle of vodka?"
---
Who is online
Users browsing this forum: No registered users and 2 guests