Posts: 1766
Joined: Sat Mar 11, 2006 8:33 pm
Location: Canon City, Colorado
Been on lots of 13ers this summer, and none have "bored" me. I found the climb up this one and the view from the summit far from "boring". Not to mention the lack of crowds is refreshing !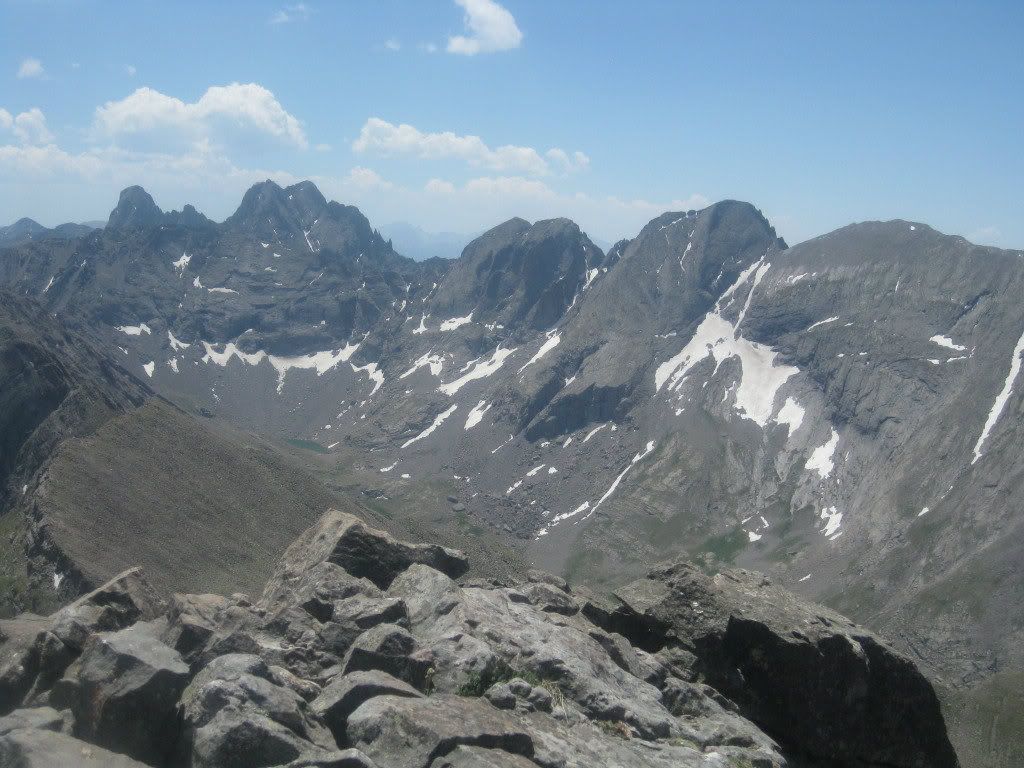 This one wasn't too shabby either on Friday.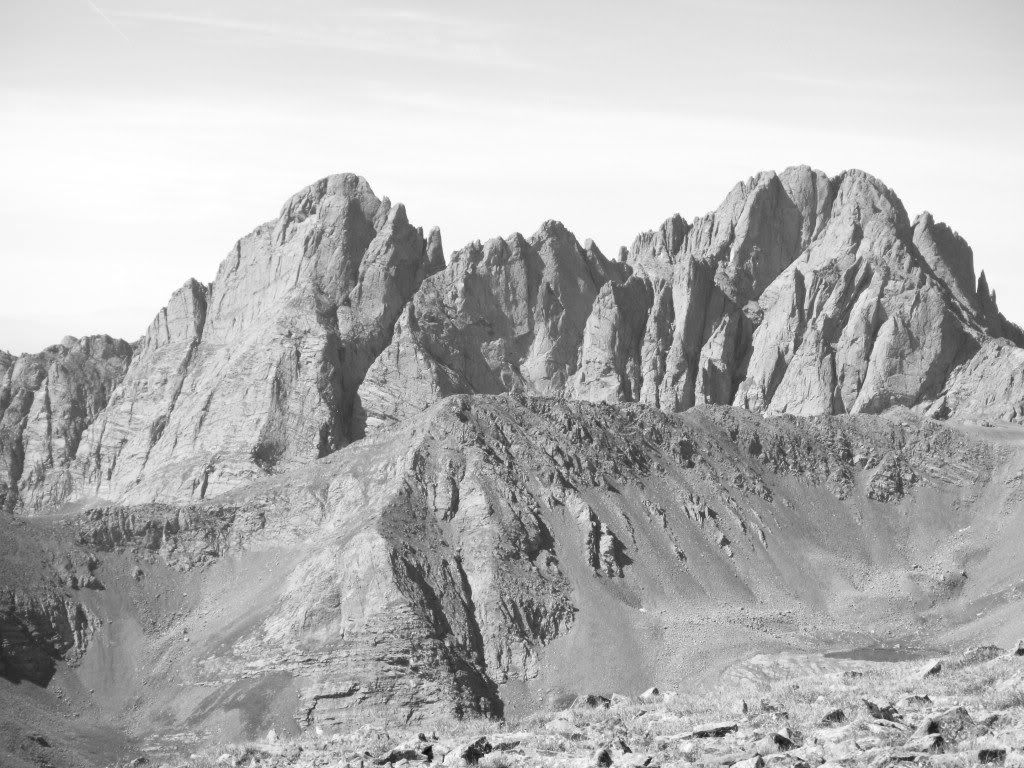 "Life is not measured by the breaths you take, but by the moments that take your breath away."
---
Posts: 2270
Joined: Tue Jul 26, 2005 3:35 pm
13ers are fun. There are so many that I'll never finish them all--only 470 to go...
Even sticking to one elevation range is hard for me. There are too many fun peaks out there to be bored.
(Helmut is never bored. He chooses wisely).
Boring reflects a state of mind. Here are some thoughts on boredom.
GK Chesterson wrote:There are no uninteresting things, only uninterested people.
Nietzsche wrote:Is life not a thousand times too short for us to bore ourselves?
David Foster Wallace wrote:Bliss—a-second-by-second joy and gratitude at the gift of being alive, conscious—lies on the other side of crushing, crushing boredom. Pay close attention to the most tedious thing you can find (Tax Returns, Televised Golf) and, in waves, a boredom like you've never known will wash over you and just about kill you. Ride these out, and it's like stepping from black and white into color. Like water after days in the desert. Instant bliss in every atom
And my favorite:
Kierkegaard wrote:Boredom is the root of all evil
How could you ever get bored with 13ers? I hate winter hiking, and I still see no end to my fun in the Colorado mountains
We are all greater artists than we realize
-FWN
A man is rich in proportion to the number of things he can afford to let alone.
-HDT
Peak List
---
Posts: 336
Joined: Sun May 20, 2007 6:13 pm
Is this for real? Come on, we all know that 14,000 is the magic number and nothing else matters in Colorado.

On a serious note, 13ers are one of the best things that have happened to me. Some might find the task of climbing (all of) the 13ers boring, uninteresting and tedious but I beg to differ. Is Princeton or Antero really that spectacular? Mt White (by Antero) was a way better climb along with the 3 13ers to the west of Princeton. Each 13er is special in its own way and one of my favorite thing about the "boring" ones, is trying to make healthy, efficient day out the climbs. Highly rewarding.

Each 13er is its own adventure and not a paved highway to the top.
---
Posts: 949
Joined: Wed Nov 03, 2010 11:55 pm
Location: Broomfield, CO
It feels strange to contradict the almighty Furthermore, but the statement about Princeton and Antero actually supports my point. Both Fire and Monster5 here are witnesses that we tried to make Antero interesting - and we did! and I had great time. But to go through the same exercise with hundreds of 13ers of the similar level of difficulty seems futile.

My priority will be to concentrate on something that I find interesting from the get- go instead of «making» it interesting.
---
Posts: 336
Joined: Sun May 20, 2007 6:13 pm
---
Posts: 1402
Joined: Wed Jun 29, 2005 10:17 am
Location: Dillon
Scott P wrote:Doing all the 6ers and 7ers would be incredibly impressive.

Even if you do just the ones in Moffat County. Far harder than the 12ers, 13ers or 14ers.
I've done all the 6ers and 7ers in Summit and Park counties. Still working on Lake.
So pleas'd at first the towering Alps we try,
Mount o'er the vales, and seem to tread the sky,
Th' increasing prospects tire our wand'ring eyes,
Hills peep o'er hills, and Alps on Alps arise! -- Alexander Pope
---
Posts: 5195
Joined: Wed May 04, 2005 11:46 am
Location: Craig
I've done all the 6ers and 7ers in Summit and Park counties.
Yes, but some of the ones in Moffat County have either only been climbed once or still haven't been climbed.
I'm slow and fat. Unfortunately, those are my good qualities.
---
Posts: 32
Joined: Mon Aug 01, 2011 1:48 pm
I went out about a week ago with a group from Kansas City to go hike a 13er. We ended up doing Mt. Arkansas that is near Leadville, CO. It was a much tougher mountain than we anticipated. It was well worth our trip. At some point, I hope to post a trip report about the route, etc. More info about Mt. Arkansas can be found here along with a route:
http://13ers.com/peaks/peak.php?peakkey=750&peak=Mt.+Arkansas
---
Posts: 153
Joined: Thu May 10, 2007 11:59 pm
Location: Denver
After moving to Colorado, I hiked twelve 13ers and eight 12ers before doing a front range 14er. After hiking 20 alpine summits I decided to do Bierstadt. The hike up Bierstadt felt no different then any 13er that I have done. The only difference was the crowds. The only reason I knew I was on a 14er is because the map said so. I've been in Colorado for 8 years now and have only hiked six 14ers since I moved here. I don't care if the 13er is a walk up, I love doing it and I never get bored of doing less then class 3 hikes. In Flagstaff my only option for alpine hiking was Humphreys Peak. Or if I really felt daring, I could do an illegal ascent up Agassiz Peak. I love the seemingly endless peaks I can pick from here.
---
Posts: 107
Joined: Sun Aug 16, 2009 1:26 pm
Location: Co.
13ers are not boring. I think there are alot of challenging 13ers that are fun to climb and not so over crowded with people. I think 14ers class1 2 and 3 or boring.
---
Posts: 1438
Joined: Mon Sep 07, 2009 7:58 pm
Location: Colorado Springs
This year I have climbed 20 different ranked peaks, 3 were 13ers. Two times they have felt overcrowded. Of the 14ers, 9 of them I had complete solitude on, meaning no one else other than myself and my climber partner were there. Of those, several were on mountains that we didn't see another soul on the entire time. (San Luis Peak, Mt. Yale). We also did Mt. Sneffels on a high wind day- no one else made it to the top. And most of these climbs were on weekends. So yeah, not always that crowded. It is a bit ironic that on 14ers.com there is a topic about how lame 14ers are, but this is the 13er subsection I suppose.
---
Posts: 915
Joined: Mon Jun 13, 2011 9:14 pm
all I know is that the most epic day in the mountains I've had is doing the Apostles and Ice Mountain, and the major reason is we were constantly stopping and finding our route. We went on a Sat and no one else was on there. After I get through next season of some of the major/difficult 14ers out of the way I'll be concentrating on 13ers. I really have no desire to hike every 14er just because they are above 14,000ft. I want good climbs!
---
Who is online
Users browsing this forum: No registered users and 3 guests