Posts: 241
Joined: Thu Jul 05, 2012 10:09 am
Location: Lincoln, Nebraska
Hello all, hope you can help me out a little bit here..

Wifey and I are taking our gaggle of munchkins to RMNP in September and I need to get backpacks for the bigger kids for a couple of decent hikes we're planning...

Linus is 7 and Sally is 5...

they are both average height, and thin, but strong.

I've looked at the Kelty Minnow & Grommet, but wasn't too impressed, nice price though. I also looked at the REI Sprig and Tarn... I like those a lot.

Sally will be hauling spare shoes and socks, hat, her own snacks, a water bottle, and a jacket (if she's not wearing it at the time)... her longest stint will be 4-5 miles

Linus will have the same stuff, but more water... his long trek will be 10.5mi (he did 9.3 last year!)

anyone have experience with any of those or other kids packs?

we've got the two little ones squared away in carriers, but these two need to be more self-sufficient!
---
Posts: 741
Joined: Mon Jun 25, 2007 12:32 pm
Location: Divide, CO
How big is Linus?
A women's pack might fit him.

We did an over nighter off Monarch Pass and the one of our kids used my wife's women's Camelback and, I hate to say, our youngest used her HelloKitty school backpack. Niether had much in it.
My wife and I carried the camping gear in our packs, but ended up with their packs too. (be prepared for that.)

Would love to know which packs you get and how they worked out.

JQ
---
Moderator
Posts: 5043
Joined: Mon Jul 26, 2004 8:54 am
Location: Woodland Park, Colorado
My daughter has the Sprig Pack (purple one in photos below). It's been a great pack for her. Big enough to handle her needs for all the hikes she's done, yet it snugs down well too so it's not bulky or floppy for her to wear. Hydration pack compatible as well which really helps keep her hydrated. It certainly could carry everything you've mentioned.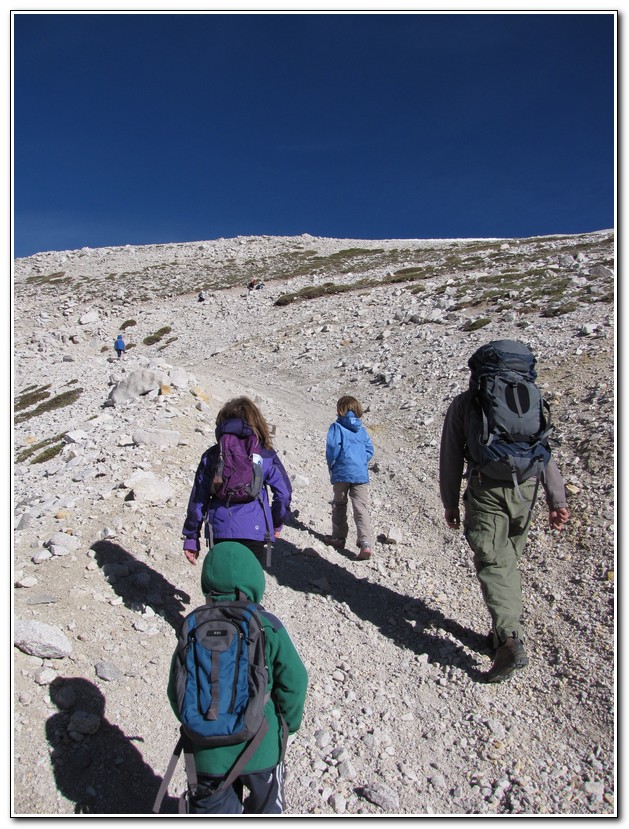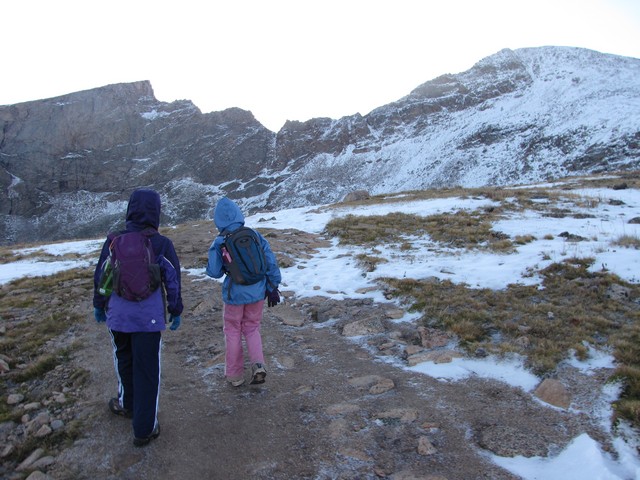 ---
Posts: 546
Joined: Mon Sep 26, 2011 8:22 am
Location: Louisville, CO
My son had one of those REI packs. It was too small to carry a meaningful amount of anything, and not that comfortable for him.
One of the keys that I have found with kids packs is to minimize the empty weight of the pack. They can only carry a little bit of weight so I don't want to waste it with the backpack itself. When he was 10, we got him a lightweight (<1 lb) Mountain Hardware pack for dayhikes and a 9 oz Zpack for overnighters. The ultralight Zpack Blast 36L has been fabulous for our hikes together. It can hold so much stuff, but becomes uncomfortable for loads over twenty pounds. Not a problem since he can't carry more than that weight anyway. I put 10-15 lbs of bulky in his pack (sleeping bags, jackets, ground pads) and carry everything else in mine. The combination allows me to use a 32L pack for backpacking trips all year long. Before buying that pack, winter overnighters and multi-day trips requiring harnesses and other technical gear were royal pains because I had to bring a much larger and heavier pack. Definitely look into lightweight packs for Linus in a couple of years. Western Mountaineering sleeping bags also are a big help for backpacking with kids, but that is getting both expensive and off-topic.
http://www.zpacks.com/backpacks/blast.shtml
---
Posts: 241
Joined: Thu Jul 05, 2012 10:09 am
Location: Lincoln, Nebraska
JQ, he's not nearly big enough for a women's pack... He still weighs less than 45 pounds. He carried his "thomas the train" pack last year, but it was bulky and uncomfortable.
Native, thanks for the info... I want something they CAN'T overload, but that can be snugged to them so the weight that is there is easy to carry... and whatever we get will be passed down for a few years... so I expect to buy a new one for the boy every couple of years as his needs evolve and just push stuff down the line. I can't help but think the REI packs (especially for the price) are a good bet here. I don't mind that they are smaller, as we're day-hiking (I don't do overnights unless I'm chasing Elk or Moose!) Their loads will be 5-7lbs MAX plus the pack weight, which should be perfectly doable in those.
here's everyone but me, taken 4 days ago.
I'll be carrying the 3-year-old (aka Love Chunk) on most of the hikes in a Kelty Journey 2.0... liking that so far, wife will have the tiny one.
---
Posts: 241
Joined: Thu Jul 05, 2012 10:09 am
Location: Lincoln, Nebraska
quick update:
we went with the REI packs, and I'm thrilled so far.
we did a little training hike on Sunday afternoon, got everyone some water, and some odds-n-ends to add weight to their pack.
Linus even figured a way to use the compression straps to attach his bow (no arrows!)... in another year he'll be bow-hunting with me and that will be his pack, so I'm glad we got that sorted right out of the gate. the Tarn (18L IIRC) is certainly as large a pack as he should be wearing, but he'll get 2-3 years out of it, maybe 4. and it has a REAL waist-belt so it can actually be loaded to 15-20lbs as he gets old-enough/strong-enough to safely carry that much weight.
Sally's Sprig pack is perfect, fits her perfectly, and the waist "belt" (just a plain strap) is a nice addition even though it can't really bear much weight, it keeps things from moving around.
the whistles built into the sternum straps are also a dynamite feature IMO.
a couple quick pics!
Sally!
Linus!
---
Who is online
Users browsing this forum: hrishikeshac, RandyMack and 35 guests