Forum rules
Please be respectful when posting - family and friends of fallen climbers might be reading this forum.
Posts: 54
Joined: Sun Apr 02, 2006 4:30 pm
Location: Greenwood Village, CO
I sit here still stunned by Talus Monkey's death. I am like many of you in our 14ers.com community who felt like they knew Talus Monkey yet never met him in person.

Here is my Talus Monkey story: My hiking buddy, StinkerTodd, and I had just summitted Holy Cross last August. We wondered how many 14ers.com "friends" we might have walked by during our hike and decided to start asking those we passed as we descended. We asked these two women, "Are you guys on 14ers.com?" One of the women replied, "I am." I asked what her screen name was. She replied, "Roozers." StinkerTodd shouted, "Hey, Roozers42." It was a fun moment. The next comment from StinkerTodd to Roozers42 still sticks with me, StinkerTodd said, "Hey, you have hiked with the Talus Monkey!" Roozers42 went on to tell us how fun Talus Monkey was to hike with and what a good guy he was. The point to my story is that StinkerTodd and I always thought first of Talus Monkey whenever we talked about 14ers.com.

StinkerTodd showed his 6 year old daughter pictures of Talus Monkey. They asked about his outfits and for general advice. Talus Monkey was always quick with a thoughtful reply, even to a 6 year old girl.

Talus Monkey was a rock star. I remember when I first saw that picture of him in his purple pimp suit atop Mt. Elbert surrounded by friends that I was a bit envious and thought how neat it would have been to be part of that hiking crew. I am like all of you in that we love being part of this 14ers.com community that Bill Middlebrook created. It is really a special place. I think Talus Monkey is smiling right now knowing so many remember him. He truly did touch a lot of lives. He had no way of knowing how many lives he impacted.

I called my buddy StinkerTodd this morning and we talked about the passing of Talus Monkey. We both had probably said "Talus Monkey" a thousand or so times in the past 2 years. We always wondered what he was up to even though we didn't know him. This is a tough loss. StinkerTodd and I plan to climb Humboldt this summer and I am sure we will be talking about Talus Monkey during our hike. We might even bring a can of Colt 45 with us. Rest in peace, Talus Monkey....
TalusMonkey - you will be missed.
---
Posts: 21
Joined: Tue Aug 29, 2006 5:08 pm
Location: Houston, TX
I am also shocked and saddened to here this news. It is funny how the internet makes you feel close to someone you have never met. All of Talus Monkeys stories are my favorite. I have read all of his trip reports and have always enjoyed his sense of adventure tempered with a sense of humor. He seemed to be a light hearted funloving person with many friends. There are too few people like that in the world.
---
Posts: 1558
Joined: Thu Aug 04, 2005 8:10 am
Location: Congress Park
i actually changed my quote to something TM said in response to StinkerTodd and TM's discussion of his 6-year-old daughter!
"Cynicism and ill-humored opinion have built a stronghold called the message board. Sweet mother of God, see a f***ing shrink, people."
--Corey Taylor
---
Posts: 435
Joined: Sun Jul 16, 2006 4:50 pm
Location: Colorado Springs
I have to say, I enjoyed the thread that Tauls began about the thermal efficiency and capacity of whipped cream. That was definately off the wall...

Dan
Bis zur Grenze gefordet, koennen wir alle mehr, als wir wollen -Reinhold Messner

One does not climb to attain enlightenment, rather one climbs because he is enlightened- Zen Master Futomaki
---
Posts: 520
Joined: Thu Jun 16, 2005 1:17 pm
Location: Boulder, CO and Billings, MT
My favorite trip with David was when he, my husband Scott, and I took a weekend trip to the San Juans to hike Redcloud, Sunshine, and Handies. We had phenominal weather and a great camping spot with virtually no one else around (except a few 4-wheelers).
The first day we hiked Redcloud and Subshine Peaks and starting talking about how funny it would be to start a thread about reducing Sunshine to 13er status. It took a lot of pictures to get the perfect "flying rock" shots. I think we even made a movie. Anyway, it was hilarious and a lot of fun. Since there are a lot of new people, I'll post a link to that thread from last summer since it seemed to make a lot of people laugh.
http://www.14ers.com/bb/viewtopic.php?t ... t=sunshine
---
Posts: 214
Joined: Thu Mar 09, 2006 8:26 pm
Location: Castle Rock, CO
First time I met David was at the trailhead at Missouri Gulch. Meteor and I had just come down from summiting Missouri Mtn. and were trying to pull out of the parking lot. Meteor stopped to let a couple hikers walk by to their truck, and I said, "Hey, that dude in the white hat is TalusMonkey". Well, Meteor didn't really recognize him and wasn't quite so sure, so I made him stop and roll down the window as a bet. Not identifying ourselves, we asked David (And CoDave, whom I hadn't seen any pictures of up to that point) what mountain they'd just come down from hiking (Belford and Oxford). When I mentioned that I looked forward to reading his trip report, he blinked confusedly and then suddenly caught on. He found it quite surprising and amusing that he'd been recognized at all. Quite different from nowadays, I guess, especially after the pimp suit adventure. The four of us remained there clogging up the parking lot for another 15 minutes or so just shooting the breeze and laughing.

Anyway, that's my "when I first met David" story.
---
Posts: 2322
Joined: Fri Feb 24, 2006 1:12 pm
Location: Denver
The only encounter I had with TM had nothing to do with climbing actually. I was at Target back earlier in the winter and saw him with his military haircut, gettin some goods, his face was too recognizable and I felt he was a friendly enough guy on the site and woulnd't seem like the kind of guy to get weirded out if I randomly said hi, so I did, I couldn't resist.

Thats it really, we never climbed together, just shot the s**t in a Target.
---
Posts: 619
Joined: Thu Jul 29, 2004 11:58 am
Location: Boulder, CO
I had the pleasure of meeting the Monkey shortly after he moved to Colorado. A friend and I were waiting for the sun to rise below the Loft route on Long's Peak. Out of the dark popped David and we started to chat. It turned out that he was way off route - intending to climb the standard Keyhole route. Although I was a little apprehensive about taking a newbie up a 3rd class route I'd never been on, I asked him if he'd like to join us.

His natural scrambling and talus hopping abilities were amazing and I was quite impressed. We climbed Mt. Meeker and then Longs Peak and descended the Keyhole route, enjoying a great day making new friends in the mountains.

I took an immediate liking to the guy and even though he was a complete stranger I felt compelled to invite him on a climb with me the following day in Indian Peaks. We again had a fantastic day in the mountains climbing Apache and Navajo Peaks. I remember him being a little nervous in the 4th class chimney on Navajo and telling me not to invite him on anything harder than that! He was a natural though and I had no doubt he could do it.

Since then we have climbed Castle, Conundrum, Huron, North Apostle, Ice Mountain, West Apostle, Little Bear, Ellingwood, Blanca, McClellan, Edwards, Argentine, Wilcox, Iron Nipple, "Huerfano", UN 13577, UN 13660, California Peak, Culebra, Red Mountain, Ruby and Sante Fe Peak together. He always made me laugh and I knew that if something ever happened in the mountains, he was the kind of guy I wanted on my team.
---
Posts: 115
Joined: Fri Mar 10, 2006 8:15 pm
Location: Amarillo, Texas
I shared a drink with Talus in a Mexican food restaurant in San Luis, with several of the rest of you. I think I was drinking tea. I'm not sure what he ordered but I know it wasn't tea. Anyway, I'm pretty sure that it was Talus that suggested that since I was from Texas, that I would be climbing the next day in my boots and jeans. Of course, I agreed that I was going just like I was dressed that night. I didn't, of course, and we had a great climb of Culebra, and Red Mountain. I now wish I had stayed around on Red Mountain to be in the photo. I met Talus and CO Dave again later in the summer as they were finishing up their Uncompaghre/Wetterhorn "Jihad", and I was taking a few buddies up from Texas to climb the peaks. Anyway, I have paused several times yesterday and today and said prayers for you, his friends and family.
---
Posts: 493
Joined: Mon Jul 26, 2004 12:13 pm
billyg0atgruff wrote:I shared a drink with Talus in a Mexican food restaurant in San Luis, with several of the rest of you. I think I was drinking tea. I'm not sure what he ordered but I know it wasn't tea.
If I remember correctly, David was drinking Mountain Dew at dinner that night... honestly, would it have been anything else? That brings up another funny memory of David's sense of humor. I don't remember what exactly he ordered to eat that night (we hiked together almost every weekend last summer so the memory of some of the meals kind of blended together), but I think it was either burritos or enchiladas. Anyway, David spoke about leaving his "mark" and "stain" on Culebra or Red Mtn the next day. As most of you probably know, David spoke of leaving a "present" on the summits many times. I'll miss his amazing sense of humor.
---
Posts: 11
Joined: Wed Jun 15, 2005 8:00 am
Location: Denver, CO
I haven't been active on the site for a few months, but when my husband read the story in the paper yesterday, we knew immediately who it was. I went to 14ers.com because I knew I'd find more on here. I am shocked and deeply sadened by what happened.
We met David a little over a year ago when we met up with a few 14ers members for an early-season ascent of Princeton. As many have said he was just a really likeable, funny guy and a really strong, devoted climber. When we hiked Princeton I remember he wasn't that many 14ers ahead of us, but then he emailed me last Fall and said that he was done with all of them, I was really impressed. The pics below are from our Princeton trip.
My condolences to David's and Caroline's families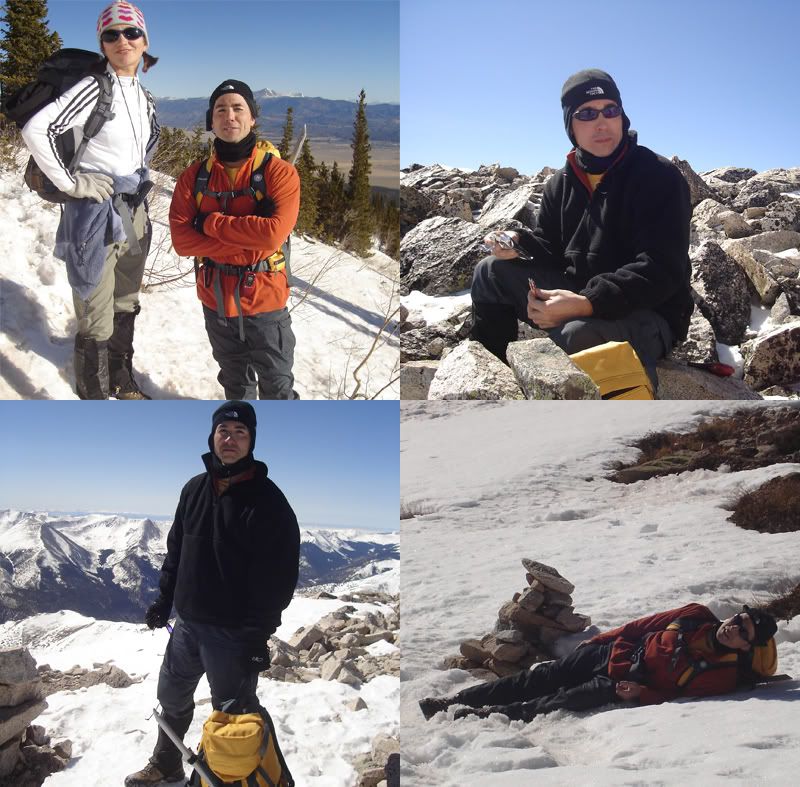 "Better than the mountains are only the mountains that you haven't climbed yet." - V.Visotsky
---
Posts: 1
Joined: Tue May 15, 2007 3:50 pm
Location: Lakewood, CO
I only got to meet Talus Monkey only once at work. It was during Halloween at MMS, that he wore the now famous purple pimp suit. His smile is what I remember most about that day.

I am sad that I never got another opportunity to speak to him after that.

Even though I didn't know him very well, I decided to go to his memorial service. It was just a chance for friends and family members to come to remember the Talus Monkey.

The shrine of pictures that he had hanging in his cube (40 in total) have been taken down. Now they have a memorial picture with Talus Monkey in his famous purple suit.

He truly is gone to soon.

Jeryl Pagliasotti (Lakewood, CO)
Jeryl L. Pagliasotti
---
Who is online
Users browsing this forum: Jasonicfederation and 11 guests