Forum rules
Please be respectful when posting - family and friends of fallen climbers might be reading this forum.
Posts: 27
Joined: Mon Feb 27, 2006 7:06 pm
Location: denver
I admired Spencer not only for his climbing ability and experience, but for his gentle nature. He was modest about his considerable achievements, but he was absolutely the voice of authority on every hike and climb. His nature photography was stunning. He had it all: strength, guts, wisdom, charm, talent, good looks and the beautiful Karen. To her I offer my deepest sympathy.
---
Posts: 176
Joined: Fri Apr 07, 2006 7:48 am
Location: Parker, CO
I had the privilege of meeting Spencer and his wife Karen a few years ago and have hiked with them a few times and visited their home. I was shocked to hear this news last night. I am so sorry for Karen and her loss. Spence will truly be missed.
I love to be in the mountain air, simply because I am happiest there!!,,,,www.ricksportraits.com
---
Posts: 134
Joined: Sat Aug 12, 2006 8:23 am
Location: Colorado Springs
Hello all. My name's Scott Rappold. I write for the Out There section at The Gazette here in the Springs. I'd like to do a story for tomorrow's paper on Spencer. If anyone who knew him well would like to share their thoughts and recollections about him, please shoot me an e-mail with your phone number at
srappold@gazette.com
or give me a call at (719) 476-1605. Thanks.
---
Posts: 209
Joined: Tue Feb 09, 2010 10:13 am
Very sad news. Spence was on my CMC trip to Bolivia in 2006 and was a real delight as a climbing companion.
---
Posts: 394
Joined: Wed Sep 12, 2007 7:26 pm
Location: Colorado Springs
Thanks for sharing Susan; a moving tribute. I never met him and this is a sad moment; however from what I am learning about the man I sincerely doubt he would have wanted it any other way. Rest in peace.
"I am not a fizzy yellow beer drinking ninny!"
---
Posts: 72
Joined: Sun Jul 01, 2007 5:32 pm
Location: Centennial, Colorado and Breckenridge, CO
Omigod. I'm so sad to hear about the loss of Spence.
He was my tent mate for two weeks while we hiked on a CMC trip in Bolivia.
We were also rope mates, and I attribute my summit of Huyana Potosi (19,950 ft) totally to Spence. We made a pact that we were going to summit together; we became good friends sharing a tent. When we reached 19k. Spence said, "I'm done". I argued with him and tried to convince him otherwise. He simply didn't care at that moment about the summit, but he convinced me to go on, and after a lengthy exchange, I did reach the summit a a couple hours later. He waited the entire time for me.
Trust is your most important currency, and I totally trusted Spence, and I'm sad today that he is gone
---
Posts: 406
Joined: Sun May 25, 2008 11:54 am
He loved the mountains. Spence was a giver. He loved sharing his time in the mountains with others.
On the 4 Pass Loop trip he led in 2009, he shared with us the place that was the beginning of his love affair with the Colorado mountains, way back in 1965.
He said that he and his dog came upon this small meadow and laid out under the stars, thinking about the fantastic day he just had, what was coming tomorrow. I named it
Spencer Meadow
.
My prayers go to Karen, his family and friends.
---
Posts: 25
Joined: Fri Jun 06, 2008 11:27 am
Location: Monument, CO
What a horrible loss for the climbing community! I will forever treasure the awesome pink climbing helmet I bought from him at the EPCSAR/CMC gear swap last year. I never had the opportunity to hike or climb with him but know many who did. Losing a climbing partner is one of the most difficult experiences to endure. My thoughts and prayers to all those who knew and loved him.
"You will go out in joy and be led forth in peace; the mountains and hills will burst into song before you, and all the trees of the fields will clap their hands." Isaiah 55:12
---
Posts: 12
Joined: Wed Mar 11, 2009 10:20 am
Location: Montrose, CO
Blast. I hate this part. Condolences to all who knew him.

Gerry Roach
---
Posts: 3856
Joined: Wed Jul 02, 2008 8:56 pm
grhigh wrote:Blast. I hate this part. Condolences to all who knew him.

Gerry Roach
Oh, wow. I didn't even know you were registered on 14ers.com. My condolences to everyone as well. Susanjoypaul and I exchanged a couple of emails last night. I thought I'd send her a note since I didn't know Spencer personally.
---
Posts: 1976
Joined: Fri Sep 08, 2006 1:11 pm
Location: Colorado Springs
More photos... and memories.
May 1st, 2005 - Mount Sherman, my first time up a 14er with Spencer, seen here on the far right. It was also my first 14er with Patrick Niedringhaus, second from the left, who we lost to an avalanche the following year. What I remember most from this hike was that we ended up in a white-out up high, and Spencer and his wife Karen stayed behind the rest of the group to tend to a couple of folks who were struggling in the bad weather. They all summited shortly after us. That was typical for Spencer - he always looked out for everybody, and was either up front, leading the hike, or in the back, making sure the slowest hikers were doing OK.
September 4th, 2005 - Uncompahgre Peak, at the saddle. Spencer stopped here to point out all the unnamed mountains within view, and we joked that at least one of them should be named "Mount Spencer." He said that naming peaks after anyone who was still alive was a really bad idea... especially if it was him!
September 5th, 2005 - Wetterhorn Peak, summit. We only spent a few minutes up here, as the clouds were building fast. On the way down we ended up in a nasty lightning storm, and Spencer instructed us to keep a safe distance apart, and descend quickly but carefully, as we had a lot of open ground to cover and needed to keep our heads about us. We all got out safely.
November 19th, 2005 - Mount Bierstadt, fueling up before the climb. Spencer was just getting over a bad bout with the flu, but he insisted on keeping his word to hike with us this day. It was just 4 degrees that morning, and we snowshoed all the way up to the top. We had a little scare up there, when Nate's glove went flying off and Patrick disappeared down the steep and icy east face to retrieve it. Spencer gave him a good scolding, and confided later, "If anything ever happened to one of those kids I would never forgive myself." Just weeks later, it was Spencer who called me with the heart wrenching news.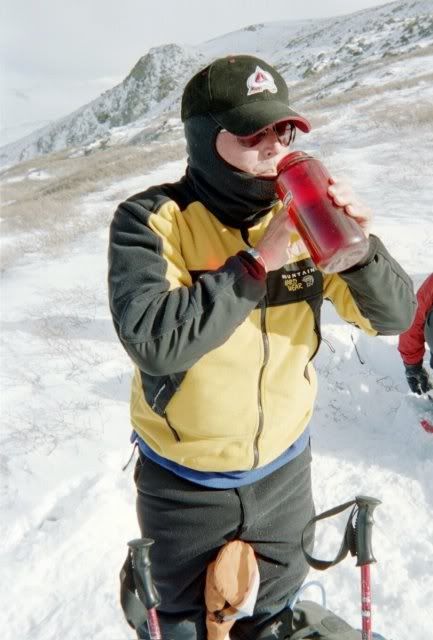 April 4th, 2006 - Mount Bross, after the descent. This was a bitterly cold day - in fact, many of us suffered from numb fingers and hands at the summit, even with several layers of gloves and mitts! After we came down, I asked Spence to stop for a picture with me, and, always the joker, he replied "only if you're in that sports bra." I told him he would have to settle for a tank top... he happily relented.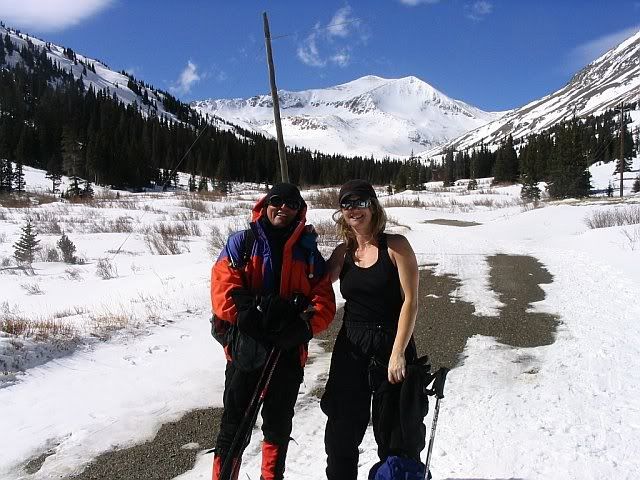 September 2, 2006 - Crestone Peak, and a common view of Spence for many of us. Even at sixty-six years old, he was the fastest hiker and climber in the group, but he always waited up for the rest of us.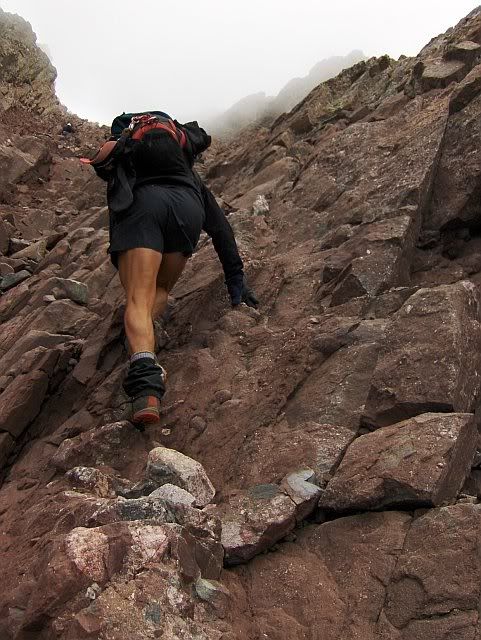 Spencer celebrated his 70th birthday earlier this year, but you'd never know it! Hiking, biking, climbing, snowshoeing, and a fixture at the Y and on the Incline for years, he rarely took a break. But if there's one thing he loved more than the mountains, it was sharing them with his friends, and especially his wife, partner, and best friend, Karen. My heart goes out to her, and I truly wish her peace and solace, love and healing, in the tender memories we all share of her wonderful husband, soul mate, and life partner, Spencer.
---
Posts: 3856
Joined: Wed Jul 02, 2008 8:56 pm
susanjoypaul wrote:After we came down, I asked Spence to stop for a picture with me, and, always the joker, he replied "only if you're in that sports bra." I told him he would have to settle for a tank top... he happily relented.
Sounds like quite the character! Thanks for sharing your memories and photos of him, Susan...
---
Who is online
Users browsing this forum: No registered users and 2 guests