Posts: 649
Joined: Tue May 25, 2010 9:20 am
How are the snow conditions in the LCW this year? I haven't seen any posts in a while... but I'm assuming, with the crazy dry spring, that it's probably fairly melted out.

Thinking of heading down there this weekend to get in some higher altitude runs on (hopefully) dry trails. Anyone been down that way lately and care to share what they encountered? I don't have a specific goal or agenda, other than to get in 20-30 miles each day, so willing to go where the trails are most dry.

A quick glance at the map, looks like these two loops would fit the bill if they are mostly clear:
Day 1: Wigwam TH, looping Bison and McCurdy and coming back via Lost Creek (Wigwam Trail)
Day 2: Wigwam TH, looping Windy Peak via Wigwam, Brookside-McCurdy, CT, Rolling Creek, and Wigwam (ran this one last year, it was quite nice)

Thanks!!
- S
---
Posts: 1162
Joined: Mon May 22, 2006 9:32 am
Location: Lakewood, CO
A few of us were "near" the Platte River portion of LCW over easter, and faced waist high snow on north aspects that were ABOVE 10,500 but BELOW treeline. (Everything else was dry.) Most of Wigwam trail (if I recall) is low enough that you would likely be dry. I would guess the section from Fridge Gulch to McCurdy Park would be most likely to be worrisome with he Bison loop you noted.

Interested in hearing what you see up there.

--D
"I used to think my Dad was Elvis. But I haven't told him that yet. I haven't told my Dad either." -S. Murdoch
LOJ
---
Posts: 649
Joined: Tue May 25, 2010 9:20 am
Derek wrote:A few of us were "near" the Platte River portion of LCW over easter, and faced waist high snow on north aspects that were ABOVE 10,500 but BELOW treeline.
Some of us ran into that same mess a few years ago... it wasn't pretty! Knee-to-waist deep unconsolidated sugar snow w/ an icy crust (that was brutal on the shins).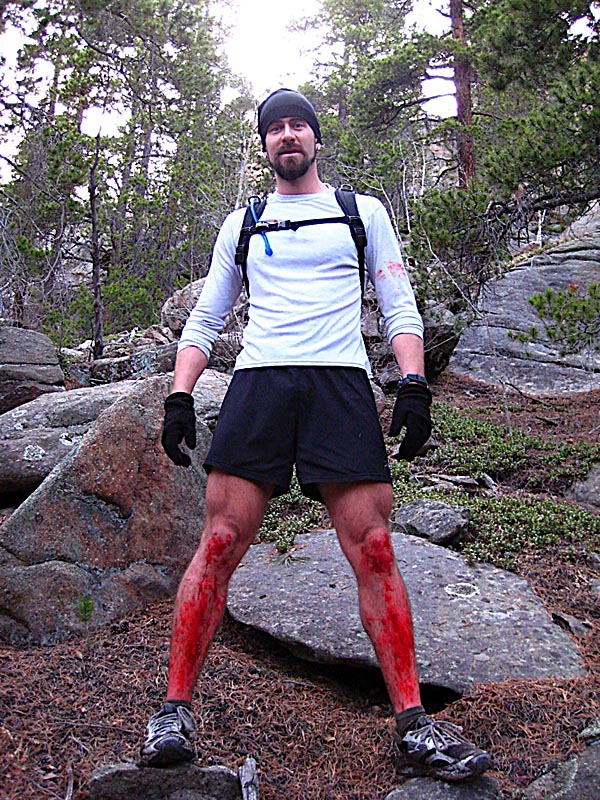 Thanks for the info, I'll post conditions when I get back!
---
Posts: 722
Joined: Wed Aug 01, 2007 12:16 pm
Location: Parker, CO
I spent just about every weekend in March/April in the LCW & Puma Hills and can echo what Derek wrote. South facing slopes were fairly dry. North facing slopes were a different story, however. This past Sunday, I went up the Ben Tyler trail (from the north access point) and ran into waist deep snow about 10K. It appeared to be about 3 inches of fresh stuff from the latest storms on top of some pretty deep stuff that had been there a while.
I take the mountain climber's approach to housekeeping - don't look down
---
Posts: 207
Joined: Mon May 16, 2011 2:49 pm
We climbed Bison Peak week before last (Ute Creek Trail) with only occasional small patches of snow remaining.

Likewise, Bison Arm Pass only had tiny patches of snow.

Micro spikes not needed.
---
Posts: 649
Joined: Tue May 25, 2010 9:20 am
Here's some updated conditions from the past weekend. We stayed in the northern LCW for both runs. Here are the two routes:
Red: Saturday
Green: Sunday
http://www.gpsvisualizer.com/display/1335160506-16029-174.29.143.157.html
Saturday (Red)
- North side of CT had snow starting where the trail goes from an old road grade to singletrack, about 10,000'. Snow is spotty until about 10,500', then deep and unconsolidated to the pass. Totally dry up to that point though. South side of pass is completely dry to North Fork TH.
- Road to North Fork TH is still snowed over and closed.
- Brookside - McCurdy has annoying snow for the first mile or so, from North Fork TH going south. Then it's clear to the Lost Creek TH.
- Lost Creek TH road is still snowed over and closed (at least at the campground).
- Wigwam Trail is mostly clear, with a few patches here and there, mostly avoidable.
- Rolling Creek Trail is clear on the south side of the pass, all the way to the pass. Deep unconsolidated snow on the north side of pass from pass to about 10,000' or so.
Sunday (Green)
- CT is clear and dry to the Payne Creek Trail
- Payne Creek trail is totally dry from CT all the way to the TH off Hwy 285. There's a *nasty* section of blowdown on the south side of the pass, around 9000'. Looks like a microburst took out every tree in a 40 acre area.
- Brookside Trail is clear from the Hwy 285 TH to 10,000'. Spotty and avoidable snow until about 10,500', then deep and unconsolidated to the pass. South side is clear into Craig Park.
- Brookside Trail from Craig Park to the pass across the Kenosha Range is *very* deep and unconsolidated snow. This section sucked, and was the worst of the weekend.
- CT from Brookside Jct back to North Park TH is dry.
Thanks for all the info, everyone!
---
Posts: 1162
Joined: Mon May 22, 2006 9:32 am
Location: Lakewood, CO
Thanks for posting this! Looks like spring has just about landed in the LCW. One hell of a run too.
Question, by chance do you happen to recall seeing any snow on the peaks just south of Wigwam trail? (west of Rolling Creek intersection...UN11230 and UN10926.) They were the treeless, rocky points, probably drew your gaze on the run through. Want to get these before summer heat, but late enough to be dry. I'm guessing that they may be dry now...
This is 11230 from the trail (from last spring) if it helps you recall:
Thanks again.
-D
"I used to think my Dad was Elvis. But I haven't told him that yet. I haven't told my Dad either." -S. Murdoch
LOJ
---
Posts: 1553
Joined: Wed Jun 13, 2007 6:33 pm
Location: Arvada, CO
We hiked the Goose Creek Trail from the Goose Creek Trailhead to the "Shafthouse" area as a dayhike on Friday. That area is completely clear of snow, and plenty dry (but, it is a lower elevation area of the wilderness). Some of the highest ridges looked like they might have a dusting of snow, but it sure didn't seem to be very significant.
---
Posts: 523
Joined: Fri Apr 16, 2010 9:41 am
Location: Denver
Sugar Madison wrote:Some of us ran into that same mess a few years ago... it wasn't pretty! Knee-to-waist deep unconsolidated sugar snow w/ an icy crust (that was brutal on the shins).

Thanks for the info, I'll post conditions when I get back!
Wow
I'll be damned if I feel like I will ever know anything, but if we don't keep moving on that last hill, we'll never know what's on the other side.


- - - - - - - - - - - - - - - - - - - - - - - -


The rain and thunder, the wind and haze are bound for better days. My life, my dream.

Nothin's gonna stop me now.




- - - - - - - - - - - - - - - - - - - - - - - -



What are you insinuating? Do you think I'm

Ranger

?
Because if you do than you are dead wrong.


- - - - - - - - - - - - - - - - - - - - - - - -


Sarcasm or not, it's not even funny to post something like this. Not at this time.

Reported.




- - - - - - - - - - - - - - - - - - - - - - - -



rage-quit mountaineer wrote:I give up. Bill, just delete my account.
---
Posts: 892
Joined: Thu Sep 21, 2006 10:05 am
Location: Boulder
[quote="Sugar Madison"][img]http://www.chrisgerber.com/photos/albums/2008/ct-epic-20080510/ct-epic-20080510-1312.jpg[/img][/quote]
Wow, looks like some nightmare snow conditions.
You know, if you get out more, you could clear that leg flab right up!
---
Posts: 66
Joined: Tue Apr 28, 2009 12:04 pm
Location: Denver, CO
Sugar, what kind of mileage and elevation did you cover for those runs? I'm trying to figure out my Saturday run and am considering LCW.
---
Posts: 649
Joined: Tue May 25, 2010 9:20 am
Derek: I don't recall those crags, specifically, but most of the rocky points/domes looked snow free. (Although in the trees is likely a different story).

pstew85: Saturday was 25 miles and only about 4400' of gain, Sunday was 32 miles and 6400' gain, so long runs w/o huge gain. Also of note regarding Sunday... we went over the wrong saddle across the Kenosha Range, on the Brookside trail. The trail was impossible to follow in waist-deep snow, so we followed a series of open (really marshy) meadows to the saddle just west of where the trail crosses, then dropped directly to the CT. That likely added a mile or two...

The big loop around Bison and McCurdy also looks great, but not sure of the distance... I'd guess 30 miles +/- 5 miles. I figured a side trip up both peaks would bump it closer to 8000' gain too, which would be nice. I'd like to hit that one in the next few weeks... if you happen to do it, can you post the stats for it? Thanks!
---
Who is online
Users browsing this forum: No registered users and 3 guests