Posts: 133
Joined: Fri Mar 30, 2007 5:24 am
Was wondering if anyone has been up there in the past week? Wondering how much snow is at the pass? Is Brainard Lake winter gate closed?

Thank you!!
---
Posts: 833
Joined: Fri Aug 24, 2007 12:49 pm
Location: Michigan
Brainard Lake gate is open but the gate below the Long and Mitchell Lake trailheads were still closed on Saturday. The snow drift on the road near the Long Lake TH is well shaded and it looked like it might stick around a little while longer.
I believe the pass itself is relatively dry on top...but there's
plenty
of snow on the way there. I'm pretty sure I took this photo looking up at where the pass trail is from near Lake Isabelle: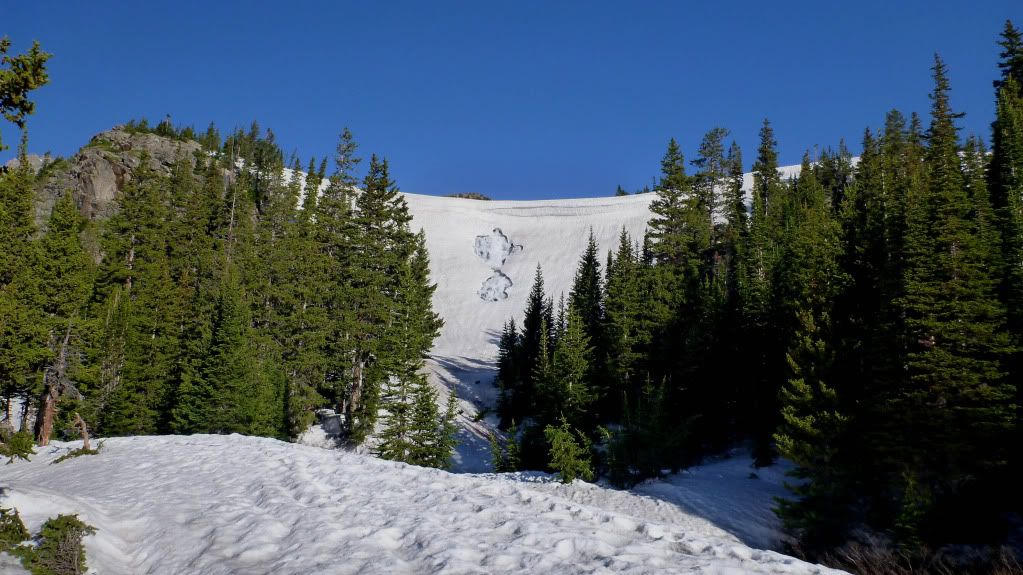 - A mountain is not a checkbox to be ticked
- Alpinism and mountaineering are not restricted to 14,000 foot mountains
- Judgment and experience are the two most important pieces of gear you own
- Being honest to yourself and others about your abilities is a characteristic of experienced climbers
- Courage cannot be bought at REI or carried with you in your rucksack
~ The Baron Von Bergschrund
---
Posts: 1839
Joined: Sat Jun 14, 2008 11:10 am
Location: Boulder, CO
Any photos of Paiute? Wondering if it is still "skiable"...
"Auto racing, bull fighting, and mountain climbing are the only real sports ... all others are games."
- Ernest Hemingway (or was it Barnaby Conrad?)
Your knees only get so many bumps in life, don't waste them on moguls!
http://otinasadventures.com
---
Posts: 133
Joined: Fri Mar 30, 2007 5:24 am
Thank you George! Exactly the beta I was looking for. Have a great weekend
---
Posts: 23
Joined: Fri Feb 24, 2006 1:28 pm
Has anyone seen the west side of Pawnee Pass? i e: the drop down to Pawnee Lake? -H
---
Who is online
Users browsing this forum: No registered users and 3 guests