Posts: 655
Joined: Fri Aug 10, 2007 9:07 am
Location: Littleton, CO
Going to a conference in Vail from the night of 10/28 through 10/30. Not knowing much about Vail other then the skiing and a few fancy restaurants, where can a guy go for a quick easy workout anywhere from 1-3 hours long? Nothing major like Mount of the Holy Cross so think of Fisco's Mt. Royal or something similar. Just a nice little perch without shooting up a whole day.
---
Posts: 437
Joined: Wed Aug 15, 2007 4:05 pm
Location: Lakewood, CO
not sure about bagging a peak but you could head up into deludge basin on the east side of vail
---
Posts: 90
Joined: Tue May 19, 2009 9:55 am
Location: Salt Lake City, Utah
Yeah if you're just looking for a workout (hike/trail run) check out some of the trails in East Vail. Another one closer by is the Berry Picker trail, which starts in Lionshead and winds up the mountain to the top of the gondola. You can just head east once you're on top and get some great views of the Gore range.
---
Posts: 189
Joined: Sat Sep 26, 2009 12:41 pm
Drive I-70 to Copper Mountain Resort then right on Highway 91. About 5 miles on the left is Mayflower Gulch. If you want to hike the road it is 1.5 miles to the closure gate at the old Boston site and keep heading up the valley. Good views. Or hike to the right up the old mining road to the ridge above Clinton Lake. Or find the trails to the left towards Pacific Peak.

West of Copper is the Colorado Trail on the way to Searle Pass.

East of Vail is the Two Elk Trail. Goes west from I-70. Also in Vail if you just want exercise hike up the Mill Creek Road from the Gold Peak area.
---
Posts: 29
Joined: Tue Feb 03, 2009 9:40 am
Location: Vail, CO
Remember it will still be big game hunting season - so if you are heading anywhere but on a dirt road, please remember to wear bright clothing. Trail conditions will range from dry to muddy, depending on what the weather's been doing.

That said, if you are staying anywhere from West Vail to East Vail, here's some options:
Dowd Junction / Forest Service Ranger Station - Meadow Mountain - a good dirt road that finishes at an old cabin; nice view of the valley and Gore Range peaks
West Vail - North Trail - trailhead is at the west end of the North Frontage road. Trail that travels north of I-70 to Red Sandstone road. Winds up and down, through aspens and sage hills.
Lionshead & Vail Village - numerous dirt roads and trails on Vail Mountain. Mill Creek road takes off from the base of the Vista Bahn, but will see a decent amount of vehicle traffic. Berrypicker or Liondown are good hiking trails.
Sandstone (north of I-70). Good trailhead .5 mile up Red Sandstone road for the northern terminus of the North trail. Lots of hunter traffic on the dirt road headed to Piney Lake. But, drive about 4 miles up Red Sandstone road to the Lost Lake trailhead - this follows a ridgeline through pines and meadows, not too much climbing and great views.
Middle Creek - trailhead is off the north roundabout at the main Vail exit. Good hiking trail along the creek and through aspens/pines.
East Vail - too many to list. All start out steep from the valley floor and then "level off".

Welcome to Vail & have fun!
---
Posts: 3294
Joined: Tue Sep 07, 2004 1:36 pm
Location: Edwards, Colorado
From the Vail Pass exit on I-70 take the Shrine Pass road to Shrine Pass and hike the trail to Shrine Mtn, its an unranked 11er but the views are pretty good of the Gore, Tenmile and Holy Cross, definitely fits the 1-3 hour bill. As MtnHigh said watch for hunters and wear orange. Royal Mtn isn't bad either, good views of Dillon Res, but too many trees. If you are up for it turn left when you hit that ridge and go up Peak 1 instead for better views, its a lot of elevation gain for a "quick jaunt" but worth it. From Mayflower Gulch south of Copper, Atlantic Peak is good, but not in 3hrs. Otherwise there aren't too many interesting peaks in that effort range, but plenty of trails you could start hiking along and see how far you get, Pitkin is the best East Vail trail in my opinion.
"We want the unpopular challenge. We want to test our intellect!" - Snapcase
"You are not what you own" - Fugazi
"Life's a mountain not a beach" - Fortune Cookie I got at lunch the other day
---
Posts: 1966
Joined: Sat Mar 11, 2006 7:33 pm
Location: Canon City, Colorado
+1 on ChicagoTransplant's recommendation for Shrine Mountain. That was a gorgeous hike with some friends a couple weekends ago !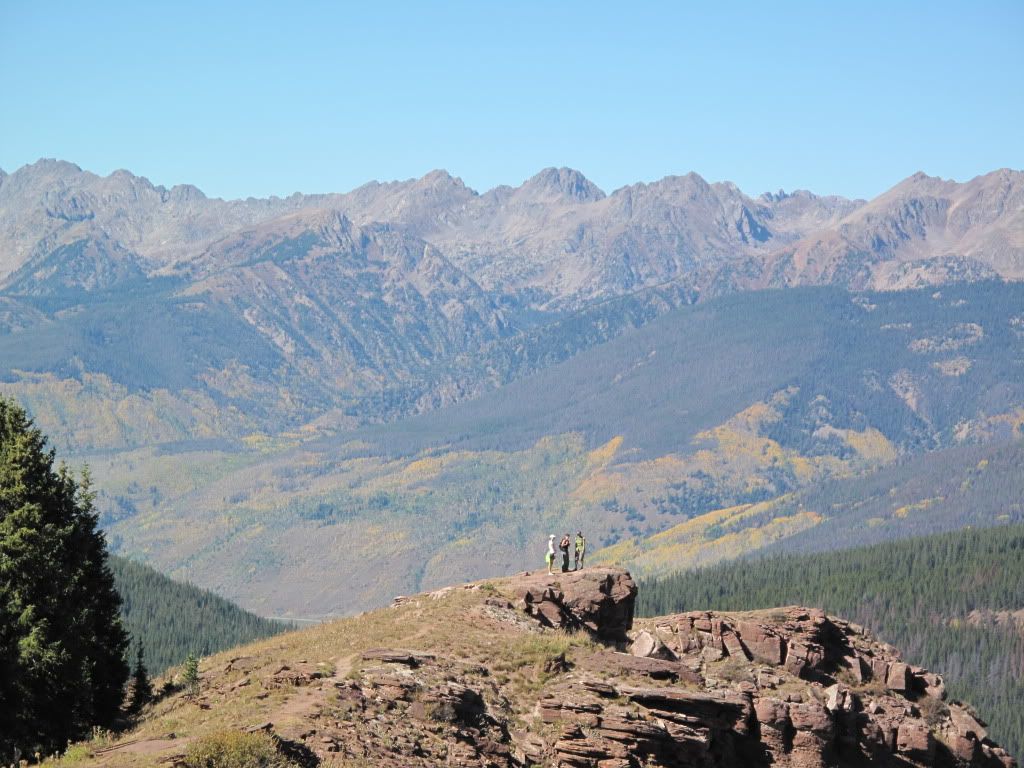 "Life is not measured by the breaths you take, but by the moments that take your breath away."
---
Posts: 158
Joined: Mon Feb 22, 2010 3:04 pm
Location: Erie, CO
Lionshead Rock out of Minturn in the Cougar Ridge trail is pretty straightforward. I love sitting on the rock and just hanging out - great views of Mt of the Holy Cross!!
---
Posts: 30
Joined: Fri Jan 23, 2009 7:20 am
Location: Fruita, CO
Lionshead Rock is definitely a favorite of mine! If you have time to drive out to Homestake, Whitney Lake is a nice quick 5 miler! In Vail, Lost Lake is also a nice hike. The Forest Station just off the exit to 70 has all the directions for the local hikes. Stop in and pick one out.

Have fun!
If you're lucky enough to live in the mountains...you're lucky enough.
---
Who is online
Users browsing this forum: No registered users and 2 guests