Posts: 214
Joined: Thu Mar 09, 2006 8:26 pm
Location: Castle Rock, CO
mtnduck9 wrote:try climbing Belford, but instead of the direct, steep route, continue south int the valley between Belford and Missouri to Elkhead Pass. There is a Great view of the next valley down with Harvard, Columbia etc. You can't see into this valley until the last few feet up to the Pass, so as the view appears, suddenly, it is quite dramatic.
Agreed! The morning Meteor and I climbed Belford, the view appeared, along with cloud banks pouring into the valley so fast it looked like billowing smoke:
Anyway, it was a lot better IRL
.
---
I'd agree with Del_Sur & RussellT. The approach to
Lindsey
is incredible. Definately not to be missed.
This is Blanca from Huerfano drainage, I missed my initial turn for Mt. Lindsey. I found an old mine even further up this drainage, almost at the base of Blanca that wasn't on my map or GPS! The lower drainage and upper basin are magical if you're lucky enough to have it to yourself.
But I'd have to cast my lot in with
Willow Lake
(Kit Carson/Challenger/Mt. Adams). I've been up here in all seasons, multiple times and it never fails to impress or amaze.
If anyone ever needs proof that God exists, I think these two places are it.
BTW, does anyone know how Mt. Lindsey was named and for what reason
:?:
---
Posts: 815
Joined: Tue Dec 12, 2006 2:17 pm
Location: crested butte
Lindsey was originally called old baldy. It was renamed in 1953 for Malcolm Lindsey, CMC president from 43-46. There's a lot more info on the guy in the Borneman/Lampert book, but that's the short version.
---
Posts: 2152
Joined: Fri Oct 14, 2005 12:55 pm
For me the best view in the Sawatch (non-14er) has been from Emerald. Unfortunately (or fortunately depending on your disposition) you won't be getting there easily. 14er related I have to agree with Huron although Massive from the west side was nice too.
---
Posts: 49
Joined: Wed Sep 22, 2004 8:18 am
---
Posts: 179
Joined: Mon Jul 31, 2006 7:21 pm
Location: Castle Rock, Co.
In no particular order:
Vestal/Wham Ridge
The Three Apostles from Huron
Yankee Boy Basin...Check out Mt. Gilpin....It looks like a layer cake.
Imogene Pass/Black Bear Pass
Uncompahgre/Wetterhorn from the paved highway south of Lake City at sunrise.
Wetterhorn from Wetterhorn Basin during a full moon.
Sneffels from Dallas Divide during Fall colors.
Crested Butte during Fall colors. Rent a jeep if you have to, it's worth it.
Crested Butte in a snowstorm on Christmas eve and morning.
The trail to West Maroon Pass during the height of wildflower season.
Oh-Be-Joyful trail summer/fall.
Paradise Basin/Divide near Schofield Pass summer/fall...good views of Maroon Peak.
View of Longs Peak from Twin Sisters.
View of Longs Peak from Chasm Lake.
View of Chasm Lake from the Notch Coulior on Longs Peak.
View of Longs Peak from Longs Peak or anywhere near Longs Peak.
Capitol Peak from any direction but the view on top of Capitol on a clear day defies desciption.
Mt.Wilson/El Diente across Navaho Basin from Rock of Ages Saddle just after sunup. Pack heat and shoot back if need be.
Twin baby Mountain Goats chasing each other around the old summit house and over the boulders on Mt. Evans.
The Crestones from either side, Colony Lakes or Cottonwood Lake.
Taylor Park fall/summer.
Pearl Pass
I had better stop now....I am drooling all over my self. Damn! I love Colorado!
Eat Dessert First!
---
Posts: 374
Joined: Fri Apr 28, 2006 12:00 pm
Location: Castle Rock, CO
Here's another vote for Willow Lake. I had seen many pics of it and the lake became the goal of the climb. It was better than I had imagined it would be. The rest of the climb became a cake-walk after that.
He who controls the spice, controls the universe.
---
Posts: 1120
Joined: Sun Jul 16, 2006 6:11 pm
Location: Centennial, CO
Sawatch: Holy Cross, the view coming over Half Moon Pass is pretty intimidating.

Sangres: I'd say Crestone Needle (But I haven't been to Willow Lake yet). Humboldt really comes into view and you have the Sand Dunes to your west, Kit Carson to the North and the Blanca Group to the South.
---
Posts: 172
Joined: Tue Jun 14, 2005 9:01 am
Location: Silverthorne, Colorado
My vote is Huron in Sawatch. Lots of great spots in Sangres. Hike in from town of Crestone to climb Kit Carson is beautiful. Summit of Ellingwood with view of Blanca and Little Bear. And agreee with mtgirl, the summit of Humbolt is great for views of the Needle and Crestone Peak. Summit shot with that in background is great.
---
Posts: 625
Joined: Tue Dec 19, 2006 2:34 pm
Location: Lake City, Co
My votes go for La Plata from Winfield, Holy Cross from Tuhare Lakes, and Willow Lake for Challager and Kit Carson.
The Dalai Lama when asked what surprised him most about humanity:
"Man. Because he sacrifices his health in order to make money. Then he sacrifices money to recuperate his health. And then he is so anxious about the future that he does not enjoy the present; the result being that he does not live in the present or the future; he lives as if he is never going to die, and then dies having never really lived."
---
Posts: 670
Joined: Wed Jul 28, 2004 12:15 pm
Location: Erie, CO
Skasgaard wrote:If anyone ever needs proof that God exists, I think these two places are it.
Don't intend to start any king of flame war, but I have never really understood this logic? Please explain? Thanks.
---
Posts: 7812
Joined: Thu Jun 08, 2006 1:23 pm
Location: Colorado Springs
doumall wrote:Don't intend to start any king of flame war, but I have never really understood this logic? Please explain? Thanks.
The "beautiful places exist, therefore there is a god" reasoning is is an example of "
confirmation bias
".
edit: My vote is for Willow Lake: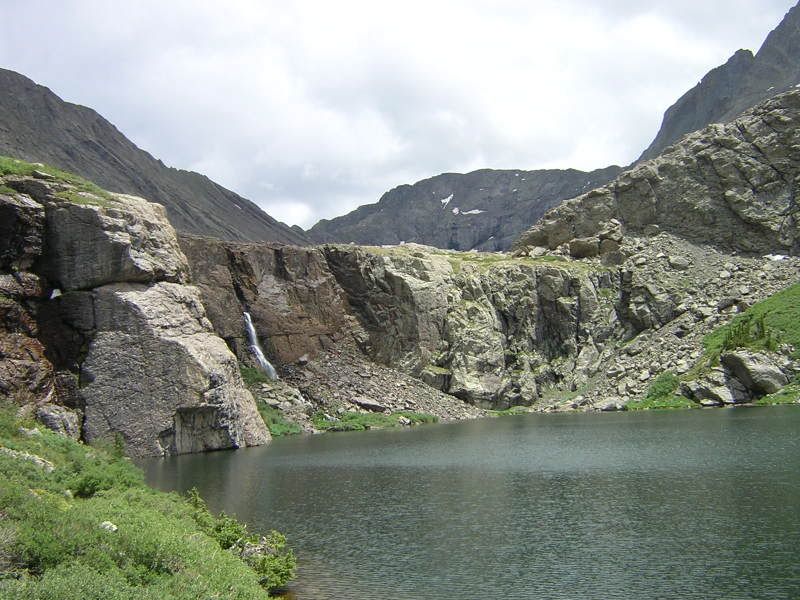 but the view from Elkhead Pass (Missouri Basin) is pretty awesome also: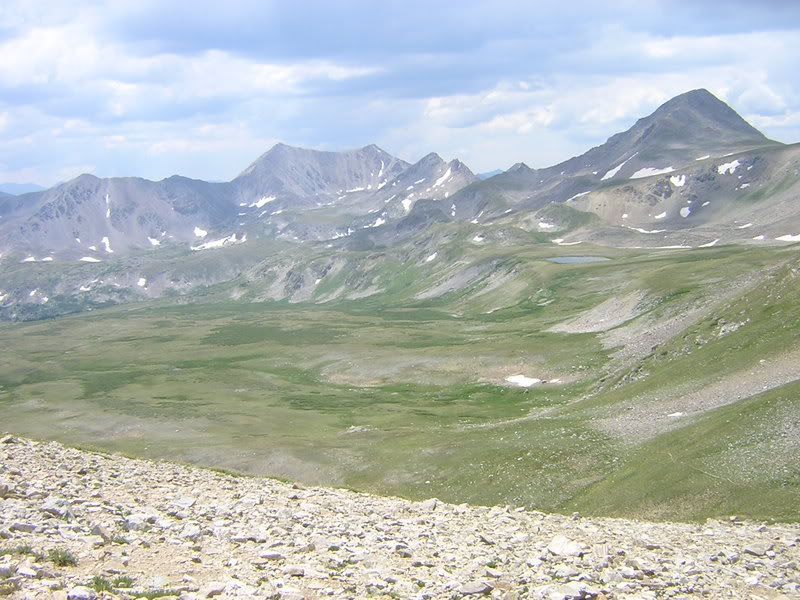 Willow Lake wins on tiebreakers, since there is awesome scenery (waterfalls, rock walls) for miles along the trail.
Last edited by
Jim Davies
on Thu Apr 19, 2007 2:51 pm, edited 2 times in total.
Climbing at altitude is like hitting your head against a brick wall — it's great when you stop. -- Chris Darwin
---
Who is online
Users browsing this forum: No registered users and 3 guests