i found this site after i came back from Colorado last year. i felt it was a shame that i didn't try to climb one of the many 14K peaks. our guide for my elk hunt had us all over the Roosevelt national forest trying find elk. we hiked 7 to 9 miles a day in 7k to 10K altitude. i had an absolute blast. since i am a flat lander from Iowa i had never hiked much in the mountains.

well this year i am going out to do another elk hunt in the Estes Park Area and i have a few hikes planned for me. i leave for Colorado on Aug 30th and my first hike will be Twin Sisters as a warm up. then 2 days later i want to do Mt Elbert. i have about 5 days in the Estes area before i have to be in elk camp.

i really appreciate all the info i have found here to help guide me to my first 14er which should be in a week or so. i have been training pretty hard and started running about 3 months ago. i am now doing 5 to 6 miles a day and averaging around 10 min miles. i have also dropped 32 pounds so far.

Tony
---
Posts: 626
Joined: Mon Jul 30, 2007 7:18 pm
Welcome to the board! It sounds like you have a good plan, good luck with your first 14er!
---
Posts: 126
Joined: Fri Mar 26, 2010 6:52 am
Location: Saukville, WI
Target Tony wrote:....

i really appreciate all the info i have found here to help guide me to my first 14er which should be in a week or so. i have been training pretty hard and started running about 3 months ago. i am now doing 5 to 6 miles a day and averaging around 10 min miles. i have also dropped 32 pounds so far.

Tony
You sound very similar to me. My motivation to be effective in the mountains has kept 50+ pounds off for a number of years now. I'm running 6 mi a day / 10 min miles. I also on occasion go to the local stairset and check my vertical ability - because I've found the real issue is it takes a lot of energy to haul this old frame up 3000' + in a reasonable time. I'm planning my next trip right now.
Enjoy & good luck!
Bill
"There are times when the most complicated actions are suddenly summed up, distilled, and strike you with illuminating clarity" - Maurice Herzog
---
Posts: 29
Joined: Mon Aug 05, 2013 7:35 am
Wow you are very ready for a 14er. Good job keep up the great training. Your awesone
---
Posts: 407
Joined: Fri Jul 27, 2007 9:46 am
Location: Illinois
I love it, doing the highest 14er first! But easy technically, so a good plan. Start early and don't challenge the weather if it's not right - but you no doubt know that from you elk hunt experience and research on this site.
A vaincre sans periol, on triomphe sans gloire
---
Posts: 483
Joined: Mon Jan 03, 2011 1:03 pm
Location: Castle Rock, CO
Best of luck to you!! I Also popped my cherry on Elbert. You will be fine... Elbert is long, but very straight forward.
To climb is to push yourself in a way you might not normally imagine is possible. If your stamina, skill, and luck are sound you will get to stand on top. ... I realized that with climbing, I'd found something that nourished my soul and could forge me into a better version myself - Jim Davidson
---
Posts: 241
Joined: Thu Jul 05, 2012 10:09 am
Location: Lincoln, Nebraska
pretty sure you're Elk Hunting right now Tony... good luck and I anxiously await the TR!
---
Posts: 73
Joined: Wed Mar 28, 2012 10:01 am
I hope it goes well! Be ready for some disappointment at those false summits.
---
Posts: 48
Joined: Mon Apr 01, 2013 7:44 am
Location: Wheat Ridge, CO
aweygandt wrote:I hope it goes well! Be ready for some disappointment at those false summits.
haha, so true. my boyfriend and I were disheartened many times.
---
Posts: 2
Joined: Fri Aug 09, 2013 12:31 pm
Best of luck Tony, on both Elbert and the elk hunt. Me and my wife, also flat landers from Iowa did our first ever mountain hike over the Labor Day weekend by climbing Mt Elbert. Had such a good time we are going back next weekend to try for a double at Greys and Torrey's.
---
well i am back. i had an absolute blast and i did accomplish 2 of the 3 things i wanted to do. i summited Twin Sisters and i summited Mt Elbert. i did not get an elk but i was really close to several bulls and just couldn't get a shot. i was in pretty good shape, and Twin Sisters was a fun climb that i did fairly easy. but it was a good test to start with. Mt Elbert did kick a little butt on me, but i went slow and made the summit in 5 hours.
here is my pic at the top of one of the Twin Sisters.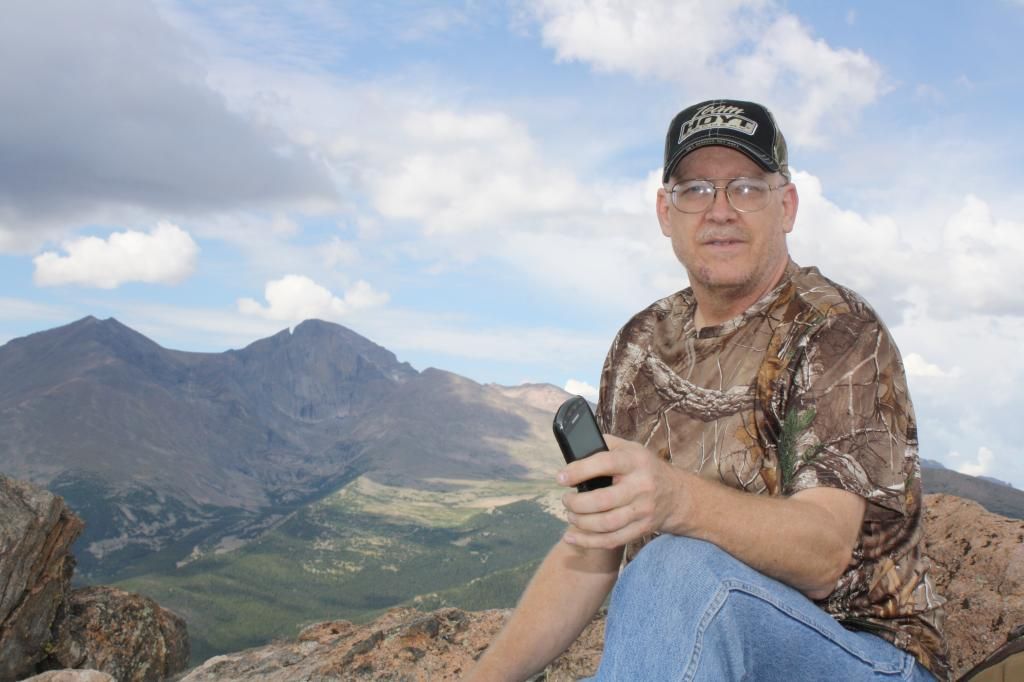 here is my pic at the top of Mt Elbert.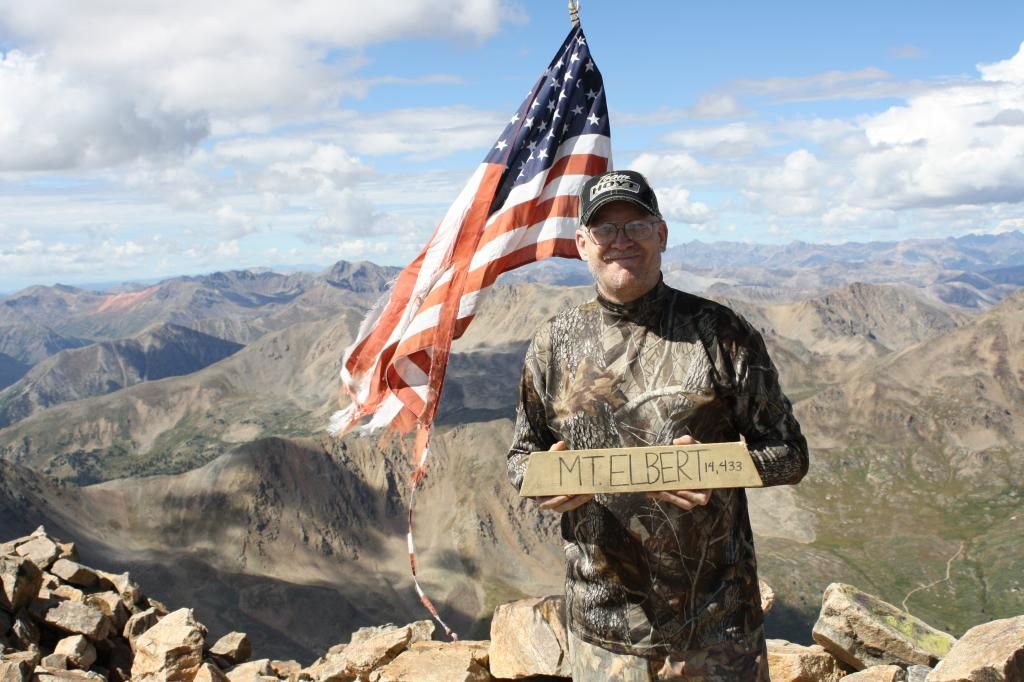 ---
---
Who is online
Users browsing this forum: cmcatlin, JaredJohnson, Shooter and 21 guests