Posts: 13
Joined: Tue Jun 17, 2008 10:02 pm
Location: Colorado Springs, CO
Hey everyone. My wife & I are looking to do the Salkantay trek to Machu Picchu this summer. We were wondering if anybody had experience hiking it, and if so, how does it compare to some of the Colorado 14'ers (most specifically for Salkantay section of the hike to the pass at over 15,000 ft.). Any info would be greatly appreciated! Thanks!
---
Posts: 21
Joined: Wed Feb 17, 2010 11:00 pm
Location: SW Colorado and Boulder, CO
I was in Ecuador climbing up to over 20,000ft this winter and I had no problems. Before that I had only been up Colorado 14ers and Mt. Rainier. I imagine you guys will do fine as long as you take a little time to acclimate and don't just shoot right up to 15k. have fun out there!
---
Posts: 370
Joined: Mon Apr 11, 2011 3:57 pm
Location: Summit County,Colorado
You may want to check out www. peaksandplaces.com you can see a slideshow and an itinerary. I did the Cordillera Huayhuash trek in 2006 and found that the 15,000' passes were not all that difficult. Peru is awesome!!
" At the heart of the climbing experience is a constant state of optimistic expectation." Galen Rowell
"Climbing K2 or floating the Grand Canyon in an innertube;there are some things one would rather have done than do." Edward Abbey
---
Posts: 926
Joined: Thu Jul 13, 2006 5:17 pm
Salkantay pass was no problem for me and I did it last year (June) coming from a week in the jungle so I wasn't altitude adapted at all. I arrived in Cusco and noticed a minor altitude adjustment period there. I departed for my trek the next morning and we climbed from like 9000' to 12,300' that day. It seemed relatively easy but I had some altitude symptoms late in the day as we approached our camp. They went away as soon as I had a chance to rest a bit and eat dinner. The next day we hiked up to the 15,200' high pass between the two 6K meter peaks (awesome!) ... I felt it was way easier than a typical Colorado 14er - I really wasn't troubled by the altitude at all. Really, it is no big deal. Do you know how to do pressure breathing? That seems to help me when I'm exerting myself at altitude.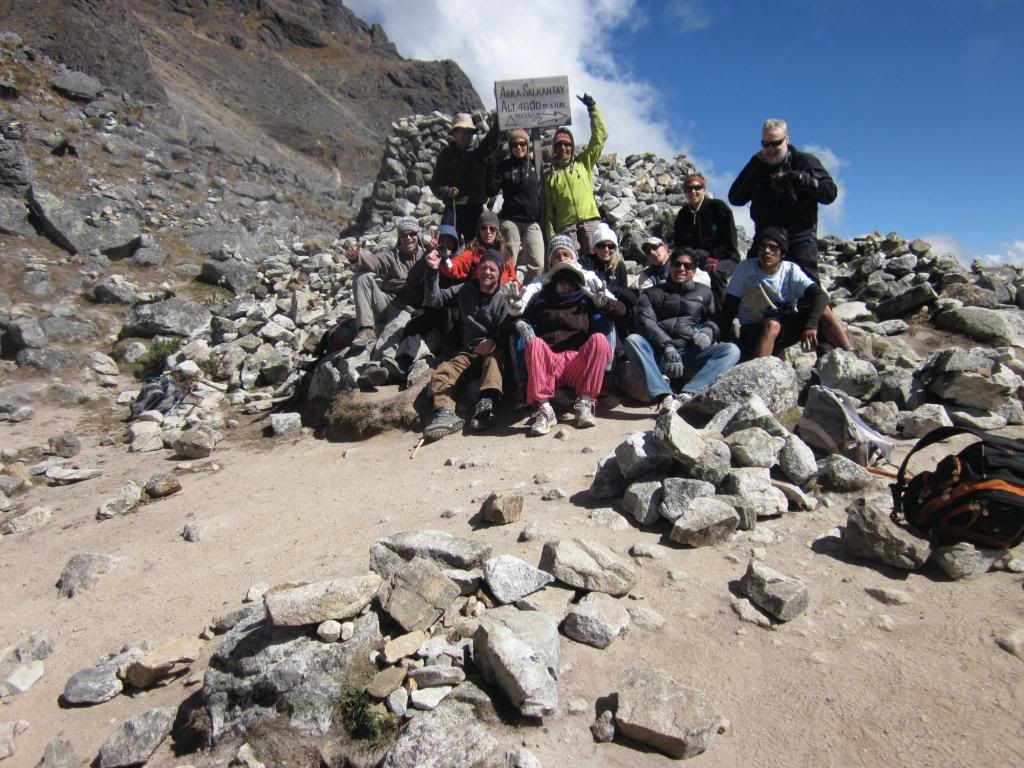 I have one comment on Peru - Coca Tea! Man, I wish we could use that stuff in CO. "La Hoya du coca no est druga!"
"Just because you have the gear does not mean that you are a Mountaineer!" My daughter's cynical comment about my hobby...
---
Posts: 13
Joined: Tue Jun 17, 2008 10:02 pm
Location: Colorado Springs, CO
Thanks guys for your help and input! We hope to have a great time!
---
Who is online
Users browsing this forum: No registered users and 5 guests