Posts: 2330
Joined: Sun Nov 18, 2007 7:16 am
Location: Omaha, NE
Maybe I'm dreaming a little. Maybe I have too much time on my hands on a Sunday afternoon. Maybe I'm curious as to what others have to say. Maybe I should just get to the point....
Give your opinion of a classic route on a 14er, per range.
My definition of a 'classic' is: aesthetic (the climbing and/or views), challenging, exemplified what hiking and/or climbing a 14er is to you.
Your opinion may use one or all of the aforementioned conditions of the definition. Or add your own definition!
Front
Route
: Y couloir, Pikes.
Reason: It was my first couloir climb on a 14er that towers above the town I call home. Pikes was also my first 14er, so it's special to me. Plus, the climb itself I believe to be an aesthetic climb when in the couloir, in particular above the rock step and in the last stretch leading to the summit.
Sawatch
Route
: Halo Ridge, Mt of the Holy Cross
Reason: Long day, beautiful views, great area of the range.
Mosquito
Route
: N couloir on Democrat
Reason: Nice moderate snow climb in addition to being an alternative to the standard route (E slopes).
Tenmile
Route
: W ridge or Cristo Couloir on Quandary
Reason: Nice alternatives to the standard route. W ridge route can be combined easily w/Fletcher (a centennial).
Sangre de Cristo
*
Route(s)
: N ridge, Kit Carson
E or W gully (on South face) on Crestone Needle
SW ridge on Ellingwood Point
Crestone Traverse, Peak to Needle
Reason(s): N ridge on Kit is a blast to climb w/exposure on incredible rock. Views ain't bad either.
Either gully on the Needle are fun, but I do prefer the E gully. Views and climbing are great!
SW ridge on Ellingwood is good fun climbing and nice alternative to 'standard' route.
The Crestone Traverse is an ideal way to combine both peaks with great views and climbing. The final up-climb on the Needle is exhilarating!
*Too hard to choose just one route!
Elk
Route(s)
: 'standard' on Capitol
E slopes w/snow on Snowmass
Reason(s): Capitol is Capitol. From K2 to the knife-edge to face to the summit is a good time to focus and scramble! Views are sweet!
T he approach is a nice backpack punctuated with a fun log crossing, Snowmass Lake is beautiful, and while the snow climb is tamer than what I expected it to be the ridge to the summit was fun. Views are awesome!
San Juan
Route
: E couloir, Eolus
Reason: Fairly steep, aesthetic views from within it, and it's in the Weminuche!
The Wild Card: The 13er Route of Choice
Gore Range
Route(s)
: SE ridge on Peak L
SW face couloir on West Partner
Reason(s): Peak L is fun, solid, scrambling w/great views of the range! Approach is long, but worth it.
SW couloir on W Partner is not steep or super inset, but it's a little curvy and ends with solid scrambling ahead to the summit.
---
Posts: 1041
Joined: Mon Jul 10, 2006 8:11 am
Location: The West Side
You must be bored in Louisiana?

I'm about to board a plane or I'd give my two cents Darin!
---
Posts: 984
Joined: Fri Jun 29, 2012 3:25 pm
d_baker wrote:

Sawatch

Route

: Halo Ridge, Mt of the Holy Cross
Two routes there, and I favor the
Halo via Notch Mtn w/ Notch Traverse
variation. Avoids the
endless switchbacks
of the Shelter Route (greyed out below, though it and Fall Creek back to TH are a nice bailout route or a 4-mile way for non-hiker friends to meet you at the shelter) and you can easily mix in (or bypass) some class 4 or 5 action south of the Notch. Recommend hiking CW, but CCW does offer the SR bailout as a late-day class 1 bail if there are storms or injury. Be sure to pack a lot of water as the ridge-running means only three consistent sources en route: East Cross Creek (inside the bowl), Fall Creek Trail's water fall (shown on Nat' Geo map), and the TH's stream.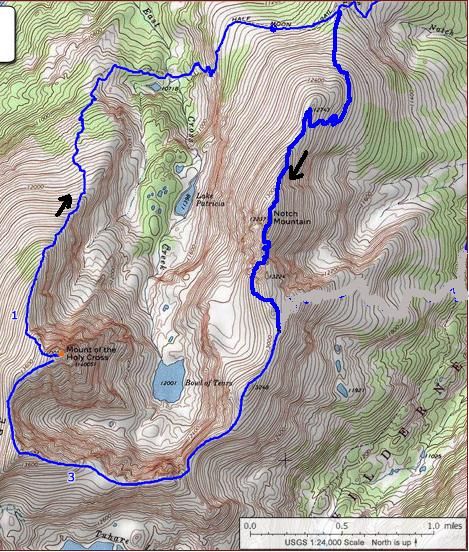 Not sure if I'll do more 14ers. The trip reports are too tiring.
---
Posts: 366
Joined: Wed Aug 11, 2010 3:02 pm
Location: Durr Country, Douglas County
My personal winners:

Front--Kelso Ridge, Torreys. Absolute blast of a route. The Loft and Keyhole are even cooler, but Longs is sort of in a class of its own...

Tenmile--West Ridge, Quandary. Haven't done this one yet...

Mosquito--Decalibron in winter. Because it's not the Mosquito range without crazy winds and bone-chilling temperatures!

Sawatch--Angel of Shavano. Just a pleasant, fun route overall...a runner-up might be Columbia via SE ridge. Looking forward to Halo Ridge and Ellingwood Ridge though...

Elks--standard routes on N Maroon and Capitol. Both are just incredible...

Sangres--Crestones traverse. Probably my favorite climb of all time

San Juans--Wetterhorn standard route. A bit shorter on class 3 stuff than I'd like, but otherwise incredibly enjoyable scrambling on a very aesthetic mountain...

Bonus 13er: a 3-way tie between the standard routes of Herard, Adams A, and Rio Grande Pyramid. Vermilion is up there too.
"If trees could scream, would we be so cavalier about cutting them down? We might, if they screamed all the time, for no good reason."
— Jack Handy
Mah peaks
---
Posts: 2332
Joined: Wed Jun 17, 2009 4:19 pm
Roach defines them as the most-used route. He sometimes gives a different snow and summer route.
---
Posts: 2467
Joined: Sat Jul 08, 2006 7:36 pm
Location: Lakewood, CO
peter303 wrote:Roach defines them as the most-used route. He sometimes gives a different snow and summer route.
WRONG!
from Roach's 14er guide, "For the best routes, regardless of difficulty, I use the designation *Classic*, and have given 49 routes this accolade."
Back to the original question:
13er route of choice: Arrow northeast face(ramp). Simple yet elegant, with a awesome profile view of the Wham Ridge of Vestal (also a "classic").
"Spent a little time on the mountain
Spent a little time on the hill"
---
Posts: 502
Joined: Sun May 06, 2012 2:56 pm
Location: Denver and Nathrop, CO
I haven't done it yet (hope to this summer), but I would think Ellingwood Ridge on La Plata would have to be on this list for the Sawatch Range.

I'd also agree with the previous posts for The Loft, Tour de Abyss, and Kelso Ridge for the Front Range.
"If you're bumming out, you're not gonna get to the top, so as long as we're up here we might as well make a point of grooving." -Scott Fischer
---
Posts: 780
Joined: Sun Apr 30, 2006 9:29 am
Location: Front Range
OK, I'm bored at work, I'll bite Darin...
Front
Route: Kiener's Route, Longs Peak.
Reason: Aesthetic approach to Chasm Lake, really the only way to experience a climb on the east face of Longs Peak without dropping a huge deuce in your pants. I guess there's also Notch Couloir, but Kiener's takes the cake. Easy class 4 traverse after a several hundred foot snow climb with incredible views of the Diamond, followed by a few pitches of easy low 5 and finishing off with a step across the top of the face. Super cool.
Sawatch
Route: Cross Couloir, Mount of the Holy Cross.
Reason: As classic as couloirs get, super aesthetic and visible from Notch Mountian, and makes for a great climb and/or ski.
Mosquito
Route: The class 1 stretch between the convenient store and the pump before filling up your car with gas en route to the San Juans.
Reason: You're heading to the San Juans.
Tenmile
(see Mosquito Range)
Sangre de Cristo
Route(s): Agreed on Kit's North Ridge or else Ellingwood Arete on the Needle.
Reason: Super fun scrambling in a grand setting, good conglomerate especially on Kit, you achieve spectacular positions on both routes and avoid crowds in general.
Elk
Route: Would have said S Ridge, but to switch things up, how bout the North Face of North Maroon.
Reason: Incredible snow climb up numerous steep hanging snowfields, the route cuts in and out of tiny chutes running between rock bands and is definitely a puzzle to solve when climbing from the bottom. Also provides an incredible ski run in an incredible setting. You don't have to have screws loose in your head to justify climbing/skiing it like you do with other snow routes in the Elks.
San Juan
Route: Since it's relatively fresh in my head, how bout the Boxcar on Mount Wilson.
Reason: Very inset, aesthetic couloir. Slate Creek cirque is spectacular and the Lizard Head region is tough to beat. I like how you can shoe/skin up the low-angle cirque, then ski back down the couloir to the bottom (or if you climb the couloir, you can hike back down through the cirque), so you have some ascent/descent options to switch things up.
The Wild Card 13er Route: Wham Ridge
Reason: Just look at it!!
---
Posts: 2577
Joined: Thu May 17, 2007 2:59 pm
Location: Littleton, CO
Okay, I'll start adding some.
Sawatch:
Tour de Massive from North Halfmoon Creek. Long day with 5 summits above 14,000'. Although some of the day is on one of the standard routes, much of the day is off the beaten path. North Massive has a few route possibilities, so how you handle this crux can really change how you think the day went. The descent back to North Halfmoon Creek is also less than straight forward so a bit of route finding is involved. This also gets you Roach's 59th "soft ranked" fourteener.
San Juans:
Chicago Basin group standard routes. Even though these are the standard routes I consider them to be classic. Features like riding the historic train, the backpack in, challenging routes and the goats all add to the experience. This group is often someone's finisher or among the final few. Many people allow extra weather days and many have to go back because they didn't get the whole group. The San Juans often have weather to dodge resulting in strategy with the order. Do you go for Eolus first or Wilson? The summit block on Sunlight is one of the most discussed summits of a fourteener. Will you stand on it or just slap the thing and call it good?
Red, Rugged, and Rotten: The Elk Range - Borneman & Lampert
---
Posts: 2330
Joined: Sun Nov 18, 2007 7:16 am
Location: Omaha, NE
rijaca wrote:13er route of choice: Arrow northeast face(ramp). Simple yet elegant, with a awesome profile view of the Wham Ridge of Vestal (also a "classic").
benners wrote:The Wild Card 13er Route: Wham Ridge
Reason: Just look at it!!
Double
How could I forget those?!
---
Posts: 583
Joined: Tue Feb 26, 2008 3:22 pm
Location: highlands ranch, co
I like to think of the classics as something that is doable by most mountaineers (< 5.4 and 45 degree snow) and if you had to recommend just doing one route per range what would you recommend. So for the ones i've done thus far, I'd do something like this.

Mosquito\TenMile
snow - west face of democrat
hike - west ridge of quandary

Sangres:
rock - ellingwood arete on the needle
snow - crestone south couloir

Front Range:
snow - keplinger on longs
rock - kiener's

Sawatch:
snow - north face of la plata
hike - halo ridge on hc

San Juans:
snow - wetterhorn east face
hike - never hiked in the san juans

Elks:
snow - bell cord
hike - snowmass standard

13er favorite:
wham ridge
---
Moderator
Posts: 4984
Joined: Mon Jul 26, 2004 8:54 am
Location: Woodland Park, Colorado
The SnowCap loop in the Elks was an amazing trip for me. Highly recommended.

Seems like any approach to the Eolus group in the San Juans is worthwhile.

For front range I'll just add the Y-Couloir of Pikes Peak to the routes already submitted. Nice couloir with several options, plus donuts at the top.

In the Sangres I loved the Crestones traverse. Fantastic rock for climbing.

Halo ridge has got to be the Sawatch classic, that or the cross couloir.
---
Who is online
Users browsing this forum: bmcqueen, Melissa_M, old and slow, Schatz and 16 guests