This was some years ago in september. I was in denver for a weekend, thought it would be fun to try a 14er. I was part of a 4 person group. Me and one other were first timers and the other 2 i had a feeling it was 1 of many hikes.
Our plan was to do Mt Bierstadt, but i guess the trail was too muddy or something and it was closed. So we decided to try square top mountain. Its about 9:00am and 70 degrees outside. Me and the other inexperienced hiker were in regular shorts and tshirts with sweatshirts in our backpacks. The other 2 had good stuff...zip on pants, med-heavy jackets etc..
So it starts out beautiful, its a long walk to the start of incline. We get about halfway up to the top and the weather starts to look nasty. It starts raining and id say the temperature drops to about 50. I put my sweatshirt on with a short sleeve pancho. It gets slippery so i couldnt keep my arms inside the pancho. We get about 400ft from the top and i get this terrible headache. I decide im going to sit down, and wait for them on the way down. I curl up into a ball and tuck my legs into my sweatshirt. Some time goes by and i begin to wonder where they are at. I am in the clouds and cant see 20ft in front of me. They finally come back and say they had been trying to find me for a half hour.
We start to head down and all the sudden it gets windy and COLD, it starts to hail. Below my shorts it felt like someone was shooting little rocks at the back of my legs with a slingshot. I was now wearing a sweatshirt with soaking wet sleeves starting to ice up, the bottom of my shorts the same. My shoes are soaking wet and my feet are freezing. We make it to the bottom and head home.
I brought a camera and left it in my bag because it was raining. The camera got soaked, but still worked. So towards the bottom the hail/rain stopped and i got a couple pictures...
This is looking up at the top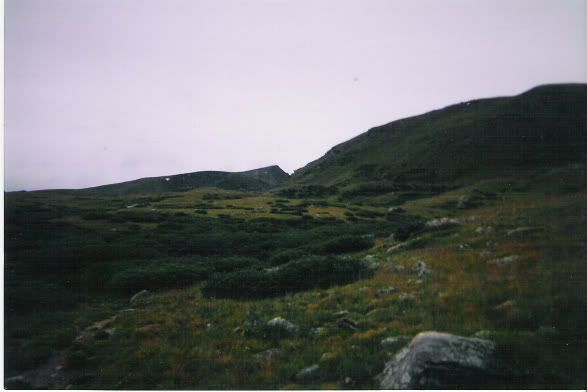 and this is walking down looking at mt bierstadt across the road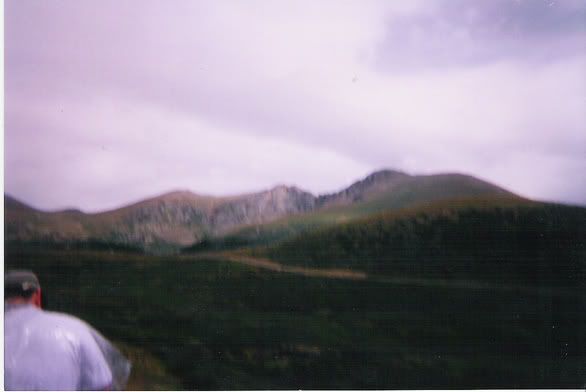 It was a bad experience, but now i look back and as cold as it was it was pretty fun. There was a couple breaks in the clouds 3/4 the way up and it was an incredible sight. Wish i could of gotten more pictures. The other 3 that went to the top said when they got there all they could see was there feet. A little mad that i didnt make it to the top, next time if that happens again i will have to force myself. Cant wait to do it again, although next time i will go prepared!
edit: btw i was 15 at the time, and i am 21 now...so it was quite a while ago.