Posts: 19
Joined: 7/28/2008
I've seen a lot of cool photos of people hiking on peaks with a floor of clouds below them and blue sky above. I think that would be pretty cool to see. My question is whether anybody knows of any strategies to encounter this, either through looking at temperature, weather patterns, etc. Maybe it is just luck but figured I'd check. Thanks
Posts: 702
Joined: 4/23/2008
Contact:
I encountered this twice last summer in the Sangres and the Wet Mountain Valley and out onto the plains is a good place for this to take place. After a rain or higher humidity period in the summer the cooler, moist air settles down into the valleys overnight and forms those low thick clouds while the peaks above are in the sun, as the day heats the clouds lower burn off, probably by around 8-9 in the morning. Higher humidity but cool enough night air causes those valley clouds.
Posts: 2012
Joined: 6/26/2007
Go climbing in the pacific northwest ... it happens in the Cascades all the time.

As if none of us have ever come back with a cool, quasi-epic story instead of being victim to tragic rockfall, a fatal stumble, a heart attack, an embolism, a lightning strike, a bear attack, collapsing cornice, some psycho with an axe, a falling tree, carbon monoxide, even falling asleep at the wheel getting to a mountain. If you can't accept the fact that sometimes "s**t happens", then you live with the illusion that your epic genius and profound wilderness intelligence has put you in total and complete control of yourself, your partners, and the mountain. How mystified you'll be when "s**t happens" to you! - FM
Posts: 1554
Joined: 6/13/2007
Presto wrote:Go climbing in the pacific northwest ... it happens in the Cascades all the time.
I agree completely!
I had some real neat above-the-clouds shots from Mt Rainier and Mt St Helens.
You are looking for low (to possibly low mid-level) stratiform cloud layers, which are very common in that area of the country. I'd post my pictures, but they were taken back before digital photography was common, and I haven't scanned them into an electronic format yet (maybe this thread will motivate me to do so).
Posts: 926
Joined: 7/13/2006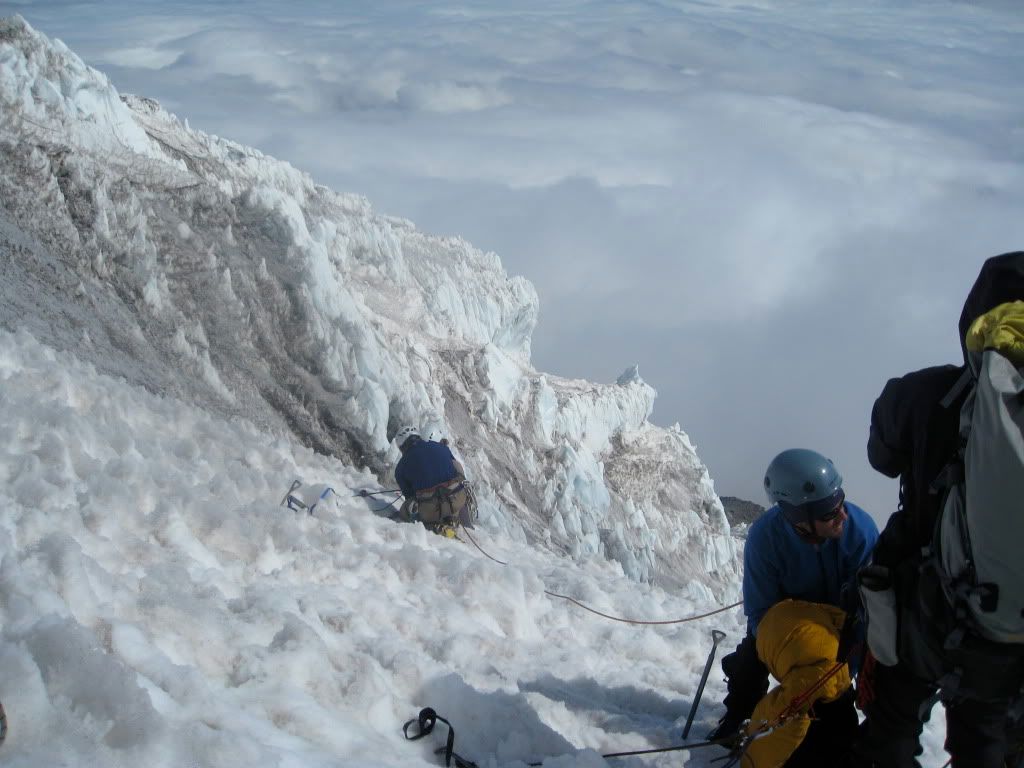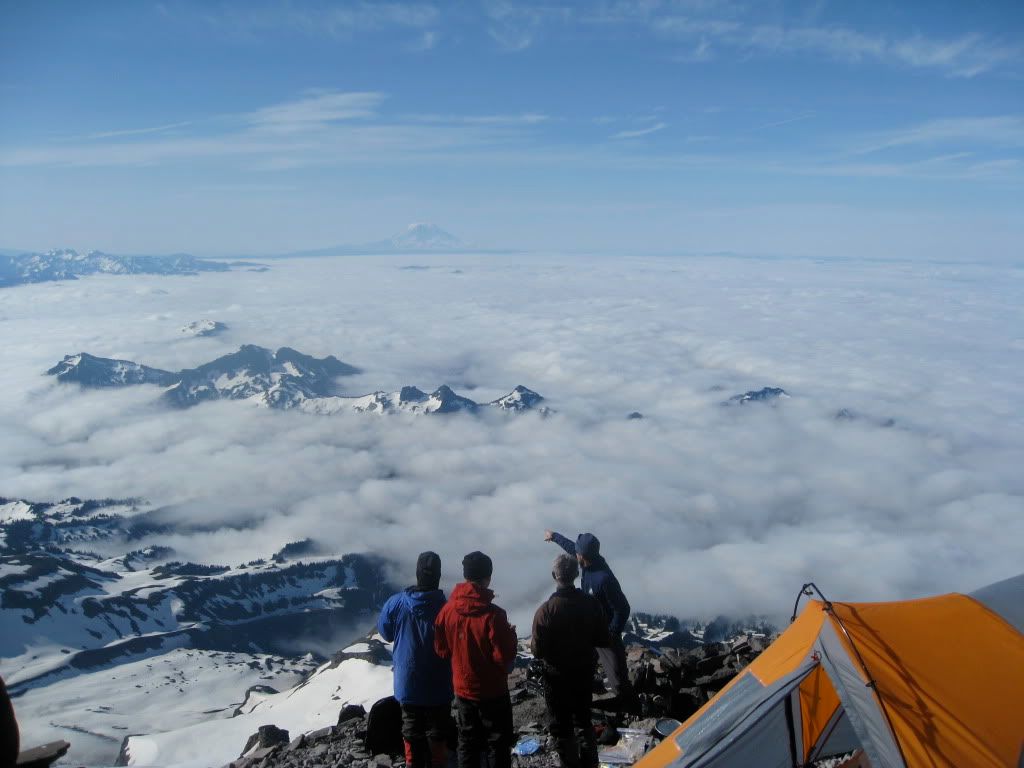 Rainier July '09
"Just because you have the gear does not mean that you are a Mountaineer!" My daughter's cynical comment about my hobby...
Posts: 992
Joined: 12/17/2009
I grew up in the Sangres (Wet Mountain Valley) and this used happen fairly often when I lived up there. I remember waking and driving to school and being above the clouds when I left my house and dropping down into them on the way to town, and my house was only at about 8600 feet.
"The greatest battle is not physical but psychological. The demons telling us to give up when we push ourselves to the limit can never be silenced for good. They must always be answered by the quiet, steady dignity that simply refuses to give in. Courage. We all suffer. Keep going." - Graeme Fife
"I found that nothing truly matters, that you cannot find for free." - The Gaslight Anthem
Posts: 446
Joined: 9/10/2006
Happens in the Arkansas Valley too:
The hump in the center is the radio towers on Princeton from September 2008.
The Sangres from the Princeton trail:
We are not passengers; we are crew.
Posts: 6457
Joined: 5/4/2005
Contact:
Salt Lake and all the other surrounding cities in winter are like that a lot of the time. It's not nice at all to be down in the nasty inversion (which unfortunately also has pollution), but it is nice to look down on.
The city is below and in the clouds:
Since it happens often, it is probably the easiest place in the lower 48 to see it. It also happens in places like the San Luis Valley, Grand Valley (Grand Junction), Moab, Pavant Valley, etc. but not as often. As mentioned, sometimes the Pacific Northwest sees it as well.
I'm slow and fat. Unfortunately, those are my good qualities.
---
Return to "Mountaineering Tales"
Who is online
Users browsing this forum: No registered users and 11 guests