Posts: 1016
Joined: 9/20/2006
"May your boulder be your blessing." - Aron Ralston
Posts: 1929
Joined: 6/29/2012
14er Checklist Not Entered
Simplified TorSen where you can see if both shafts rotate in the opposite direction the center gear can turn, but if only one has traction this can not lead to the "free" wheel spinning 2x as that would require a
worm gear
to drive the center gear (fine) and then the center gear to drive a worm gear (no can do). Hence, no slip to limit. Interesting to think what this would do in a turn tight and fast enough to lift the inside wheel. Then there are aftermarket
Detroit lockers
(mechanically automatic) and
e-lockers
(electric, eliminates pneumatics required for air locker) which likely have better street manners than Detroits.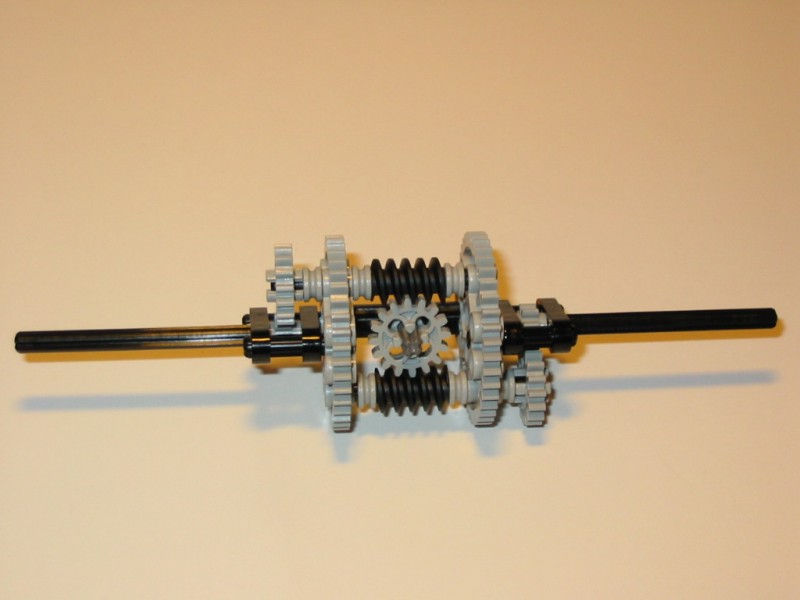 Not sure if I'll do more 14ers. The trip reports are too tiring.
"A few hours' mountain climbing make of a rogue and a saint two fairly equal creatures.
Tiredness is the shortest path to equality and fraternity - and sleep finally adds to them liberty."
Posts: 5
Joined: 5/17/2013
14er Checklist Not Entered
Klinger1986 wrote:I would say my top priorities...
I know you've said it and realize it, but the Cherokee is not out, so I have no idea what its reliability will be. No one does. It's all speculation. I don't put too much into Consumer Reports or what have you. Like some one here said, they all have lemons and sometimes it's just the luck of the draw.
A few more things to consider. The Nissan is rear wheel drive and body on frame and rides like a truck with leafs and a solid axle in the rear. The Cherokee is front and rear IFS and a unibody, front wheel drive (except with slippage or when locked, etc.) and I can only "assume" will drive more like a car. My gut tells me that with those things considered, the Nissan would take abuse better.
How many passengers do you expect to regularly have? The Nissan rear seats don't recline and are fairly upright. Also, rear ingress and egress is slightly awkward. That rear wheel well cuts into the rear doors.
Someone mentioned the 4Runner. I like the Trail Edition. It's also body on frame and rear driver with rear locker and other doo-dads. It's also a bigger vehicle. The Xterra is usually cross shopped and compared to the FJ Cruiser. I think the 4Runner TE starts around 37K. They just did a slight exterior refresh.
I'm not endorsing one over another. Opinions are opinions. I'm just hoping to provide more real world info so that you can make the decision that's best for you.
I loved my Pro-4X. I love my Grand Cherokee. I love my Rubicon. All three have taken me from Houston to Utah with no issues. I'm talking 3000+ mile road trip with plenty of camping and off-roading in each.
Here is an old head to head review (2008). I know, I know. 5 years old. Jeep now has the Pentastar and we're talking about the new Cherokee. But, it still gives you an idea of the Xterra's off road prowess. Fortunately and unfortunately, the Xterra hasn't changed too much since then.
http://www.motortrend.com/roadtests/suvs/112_0810_4x4_off_road_suv_comparison/viewall.html
Posts: 6526
Joined: 5/4/2005
Contact:
If they are well maintained reliability is pretty much equal across the board
That's like saying that all restaurants have the same quality across the board too. That simply isn't true, no matter which product you buy.
Maybe for something that is a single component, such as an egg treated in the same manner might have about the same quality and taste across the board, but not something (anything) that has different moving parts, has several ingredients, or is constructed differently or in a different place than another.
I'm slow and fat. Unfortunately, those are my good qualities.
Posts: 40
Joined: 3/22/2013
I just wanted to say thanks to everyone that voiced their opinions, and gave me a lot to think about. Now it is up to me to decide which vehicle will suite my needs best.
"Don't cry because it's over, smile because it happened." -Dr. Seuss
---
Return to "Gear, Climbing Prep, Safety, etc."
Who is online
Users browsing this forum: seano and 16 guests