Posts: 98
Joined: 11/18/2009
Glacier Paul,

If your out there, how are the conditions up there?

Gerry
Posts: 1112
Joined: 7/10/2006
PM lostsheep5 or globereal, both were up there last weekend and know what the conditions are like.
"In our youths our hearts were touched with fire" - Oliver Wendell Holmes
Posts: 381
Joined: 3/22/2008
14er Checklist Not Entered
Yesterday was nice, we did not get any snow, we got a dusting last night and are supposed to get around 5" by tonight. Right now it is breezy and still slightly snowing. We have a lot of snow from these last few storms, but not quite as much as the other side of the divide. There will be wind drifted spots and wind blown clear spots, all the way up to James Peak from the glacier, or Steuart Rd. to Mt. Bancroft, or Rainbow Rd. to the C.D.T. or the upper lakes to Eva, Parry, etc. You may want snowshoes for a traverse up the glacier toward James, and for other areas mentioned and off the beaten path. There are some 4' + deep spots here and there. Last weekend we did have some blizzard type conditions. I will have more input to the entire area now that we are home schooling our kids. Physical education living up here at St. Mary's, is at least 2 hours per day of hiking, snowshoeing, skiing, sledding, hockey (on our lake), rock climbing, etc. and I am the gym teacher. Physical education at the local school is 2, 25 minute sessions a week, daily there is 2, 15 minute times for recess and in between a 30 minute "rest" period or nap time.( the school actually spends 4 times more time teaching Spanish, than physical ed.) My 6 year old boy can hike roughly 9 miles, but cannot do a nap. I suppose I will have to start working in trip reports as part of our writing and photography(art) lessons. More to come with this.
Posts: 296
Joined: 7/19/2009
Benners, Zambo, lordhelmut, and I skiied James Peak yesterday. We did not take the standard route from the parking lot to the lake, but joined the standard route at the lake, so I cannot speak to the snow conditions on that first 1/2 mile. On the glacier and above (all the way to the summit) the snow was hard wind hammered satsrugi (sp?) and snows shoes were not necessary (unless you want them for traction). There is very sparse coverage on the tundra between the glacier and James Peak, we were able to skin entirely across it, but could not find a continuous skiable snow ribbon on the decent (there may be one, we just did not find it.). I believe Benners has some pictures from our trip. All that being said, if the weather reports hold true, the snow should be very different in just a few days.
"...cause I got changed by what I've been shown, more glory than the world has known, keeps me ramblin' on..." - Josh Garrels (Farther Along)
Moderator
Posts: 1641
Joined: 8/4/2005
Contact:
Just bumping this thread to see if anyone has new beta on snow conditions on James Peak since this weeks' storms? Is there continuous snow from the summit? Thanks!
Posts: 2321
Joined: 2/24/2006
Contact:
USAKeller wrote:Just bumping this thread to see if anyone has new beta on snow conditions on James Peak since this weeks' storms? Is there continuous snow from the summit? Thanks!
Hey Caroline, we had continuous snow from the summit of James to St.Mary's Lake, with about 5 minutes of taking them off due to the tundra getting flat and some bare sections. I imagine you'd have to take them off for a short period of time at any time of year due to the winds that flow through that region. Regardless, I imagine after the storms that hit since we were there 2 weeks ago have made the coverage even better. We hit it on good conditions. Another line to check out are the chutes that run down to the lake, short but fun steep turns. I'm trying to get takers for either day this weekend, you could ski 4 or 5 different chutes in an afternoon.
Posts: 2742
Joined: 11/2/2005
Contact:
lordhelmut wrote:I imagine you'd have to take them off for a short period of time at any time of year due to the winds that flow through that region.
I skied it without taking the skis off one June (I think, might've been late May), but then again I was on tele equipment so I not only hated myself but my equipment too, and just skied over tundra and grass and little creeks.
Posts: 203
Joined: 9/1/2010
14er Checklist Not Entered
We're heading up on Monday to climb bancroft. Not sure if we're going to attempt the east ridge or the standard route yet. It says (Winter park area) the weather is going to be about 40% chance of precip and low temperatures. Can anyone translate to what this might mean on the mountain?

Thanks
Posts: 98
Joined: 11/18/2009
Went to Copper Mt today. Was supposed to be sunny and low 30s. Cloudy and never got above 15.
A friend and I are going to ski the glacier tomorrow. This will be his first BC day. Mostly we want to get him some experience in some place relatively safe and with easey access. Thanks to Paul for his parking lot.

FYI. When I was in high school we hiked up to the glacier a few times to ski it. This was in the late sixties. At that time the glacier came all the way down to the lake and was about a hundred feet thicker and ran up the sides of the gully a couple hundred feet on either side. If you look closely you can see the the high mark on the rocks. Sort of like a high water line in a reservoir. You'll also notice there are not trees growing in this area except fot the willows down at the base.

Gerry
Posts: 381
Joined: 3/22/2008
14er Checklist Not Entered
We did not get the snow the West side of the divide received, with these last couple storms. More wind brought snow than was actually falling, so there could be wind loaded slabs. I am betting the conditions are basically the same as on Nov.21, CObuckeye's post. The chutes to the left of the lake are sweet short runs, great for sledding to. As far as Monday goes, NOAA/NWS's site is saying we could get around 5" by Monday am, and up to 3" during the day. If you enter "Alice,CO" on NOAA's site, this gives you the forecast for St. Mary's.
Gerry, do you remember the blue ice cave adjacent to the lake, at the bottom of the glacier? Thanks also for the thanks, I get more rude/unbelievable comments from folks visiting up here about my parking lot. One I got last week, " All the money better be going into preserving this area, or you can go f*#! yourself." I thought having my porta-potties and trash/recycle cans were integral with preservation of the area. My boy and myself can be found picking up trash/dog poop not just in our parking lot, but all the way up to the lake. Not to mention establishing the only legal parking/access, that I keep open and plowed all year instead of rocking it off to everyone, basically preserving parking for the masses, since there is no other "legal" parking up here.
I figure folks who are disgruntled, don't realize that well over 50,000 people hike to the glacier yearly, so it is not their personal private playground as I assume they think.
Have fun out there, and be safe!
Posts: 409
Joined: 6/21/2007
Paul, just add one more sign that says that and you might be able to educate the public enough to cut down the grief you are getting. Make sure you mention how NF would not go ahead and put the parking lot in, provide toilets, or anything else.
Posts: 790
Joined: 4/30/2006
Contact:
As glacierpaul stated the chutes above the lake are in great condition right now; good snow and surprisingly stable (though I'm sure this is about to change). Didn't get a look at James Peak but I'm assuming coverage is still more than sufficient for a summit descent. A few ski shots from yesterday: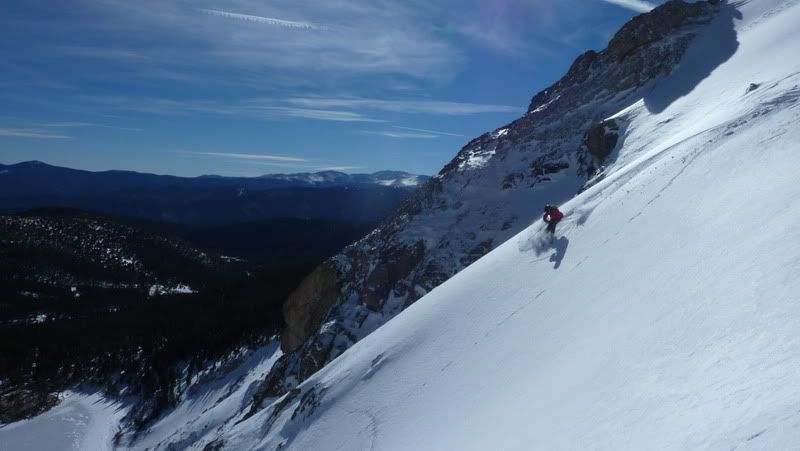 ---
Return to "Ski/Ride the CO Peaks"
Who is online
Users browsing this forum: No registered users and 5 guests